#12 Paintings by Helena-Reet Ennet: "Flashy", August 2019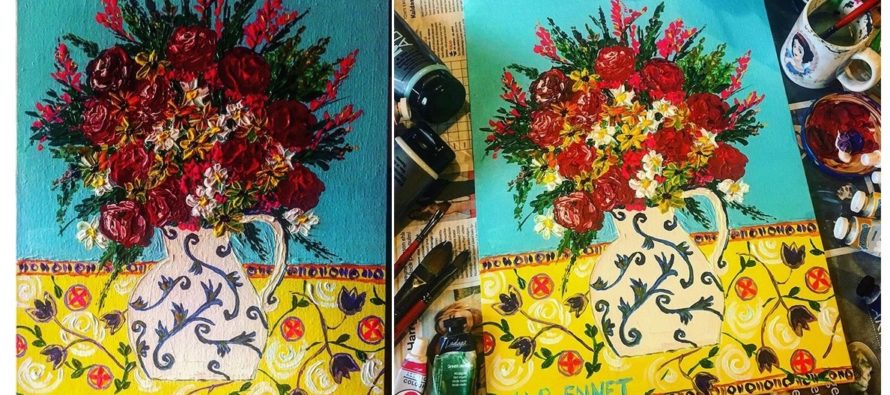 My twelfth acrylic painting is a flower painting again, I called it "Flashy". I love the colors, I love flashy, fussy and flamboyant style.. mix of Baroque and Rococo. I´m also currently in love with Naivism. Mixing different styles and patterns is also intriguing. When my last two paintings were inspired by famous French artist Pierre-Auguste Renoir, then this one is inspired by living Irish painter Lucy Doyle. How beautiful her works are! So colorful, so Versace! 😀 I am so much in love with her art. I found her from Instagram, and I instantly knew, that I will find a lot of inspiration from her works. She uses strong and emotionally stimulating colours, what fits my childish painting style. As she is a huge fan of Pierre Bonnard and Henri Matisse, I made through their masterpieces as well.
Minu järmine, järejekorranumbriga kaheteistkümnes akrüülmaal on taas lillemaaling, panin sellele nimeks "Toretsev". Ma armastan värve, ma armastan toretsevat, säravat ja kirgast stiili .. segu barokist ja rokokoost. Hetkel olen armunud ka naivismi. Huvitav on segada ja miksida erinevaid stiile ja mustreid. Kui minu kaks viimast maali olid inspireeritud kuulsast prantsuse kunstnikest Pierre-Auguste Renoirist, siis seekordne maal on inspireeritud tänapäeva Iiri maalikunstniku Lucy Doyle'i töödest. Kui ilusad on tema maalid! Nii värvirikkad, nii Versace! : D Hetkel olen tema käekirja täiega armunud. Leidsin ta Instagramist ja teadsin kohe, et leian tema teostest palju inspiratsiooni. Ta kasutab tugevaid ja emotsionaalselt ergutavaid värve, mis sobib minu lapsiku maalimisstiiliga. Kuna ta on Pierre Bonnardi ja Henri Matisse'i tohutu fänn, käisin inspiratsiooni mõttes läbi ka nende meistriteosed.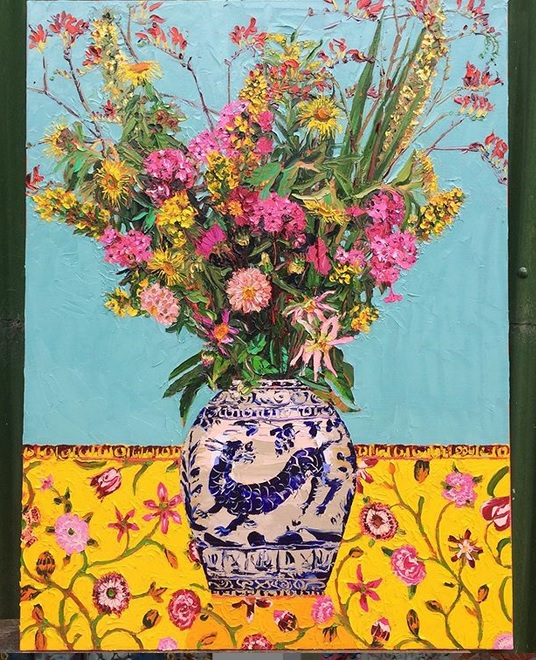 Flower painting by Lucy Doyle
(My today´s inspiration photo/ Minu tänane inspiratsioonipilt)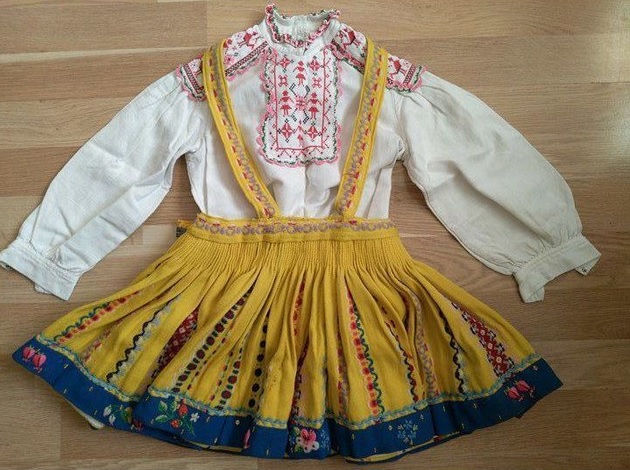 (And my second inspiration. I am very much in love with Estonian national costumes… Endless source of inspiration!!!/ Ja teine inspiratsioonipilt. Olen võlutud Eesti rahvariietest ning rahvariided (seelikud, vööd, mustrid) on minu jaoks lõputuks inspiratsiooniallikas)
And here below you can view pictures of the completion of my painting
Allpool pildid minu maali valmimisest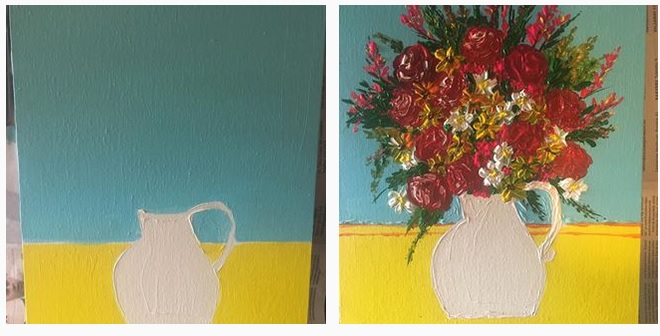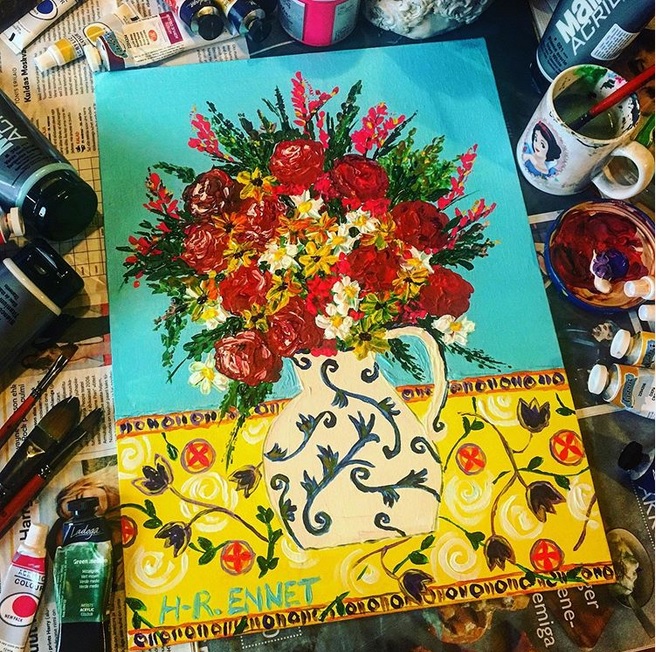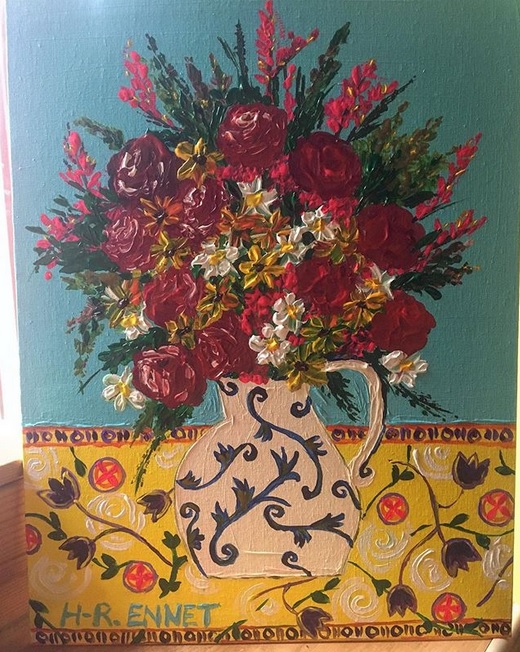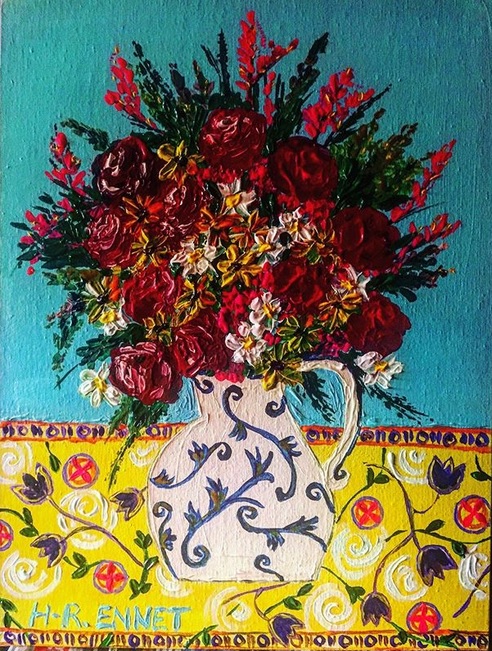 "Flashy"
acrylic painting (30x40cm)
signed H-R. Ennet
{painted by Helena-Reet Ennet, 2019 August}

---
---