#28 Paintings by Helena-Reet Ennet: "Cattail, which is not in the picture", November 2020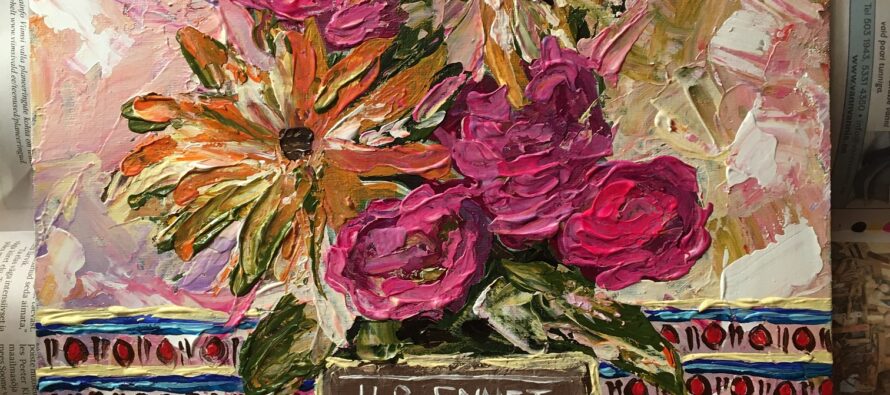 "Cattail, which is not in the picture" is in my flower painting, which I completely redesigned at the last minute. I originally planned one, another came out … basically I made the same "mistake" as when painting "The Chaos" (you can see the painting The Chaos HERE). Although I like the final solution of both paintings, they were both born by GOING TOO FAR (obvious exaggeration !!). The more I paint, the more I realize that I don't have to add so much paint so thickly and strongly. You don't have to exaggerate and try to do something "complicated and exciting". Simple painting is very beautiful! But I'm studying … it's my painting number 28 ( I am still a complete beginner!)
The painting has received a lot of positive feedback in terms of its color schemes and style. Like many of my flower paintings, the motif of folk costume-belt runs through here. For me, this painting carries a message – PROGRESS, EVERYTHING IS IN CONTINUOUS CHANGE! For me, this was just such a changing period in life. Everything changed, overnight and unexpectedly. At the same time, I felt tired of the past as an anxiety in anticipation of what was coming! Anyone looking at this painting could feel that anything is possible! Life is full of surprises!
—
"Hundinui, mida pole" on minu lillemaal, mille tegin viimasel minutil täiesti ümber. Algselt plaanisin üht, välja tuli teine… põhimõtteliselt tegin sama "vea", mis maali "Kaos" puhul (maali Kaos näete SIIT). Kuigi mulle mõlema maali lõpplahendus meeldib, sündisid need mõlemad ikkagi nö LIIALE MINNES.. Mida rohkem maalin, seda enam saan aru, et ma ei pea värvikihte nii palju tegema ning värvi nii paksult ja tugevalt lisama. Ei pea sugugi liialdama ja kõigest hingest püüdma midagi "keerulist ja põnevat" teha. Lihtne maal on väga ilus! Aga õpin..see on elus üldse alles kahekümne kaheksas maal.
Maal on saanud palju positiivset tagasisidet oma värvilahenduste ja stiili poolest. Nagu paljudest minu lillemaalidest, jookseb ka siit läbi rahvariide-vöö motiiv. Minu jaoks kannab see maal sõnumit – PROGRESS, KÕIK ON ELUS PIDEVAS MUUTUSES! Minu jaoks oli elus just selline periood. Kõik muutus, üleöö ja ootamatult. Tundsin üheaegselt väsimust möödunust kui ootusärevust saabuva ees! Igaüks, kes seda maali vaatab, võiks tunda, et kõik on võimalik! Elu ongi üllatusi täis!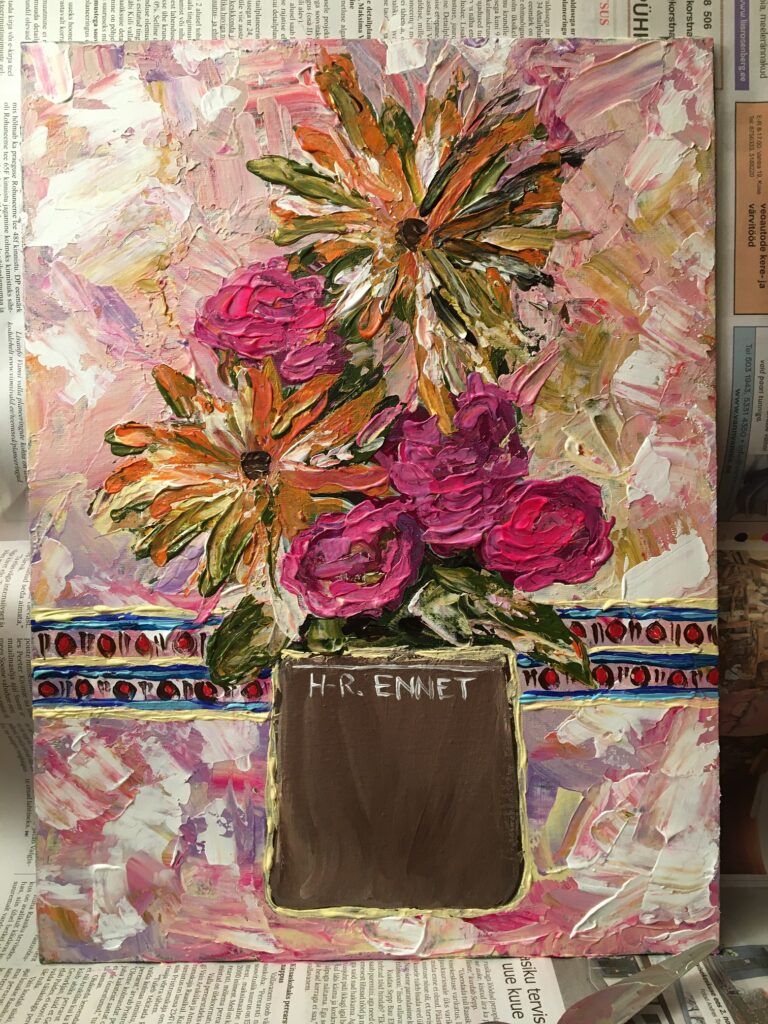 "Cattail, which is not in the picture"
acrylic painting (30x40cm)
signed H-R. ENNET 2020
{painted by Helena-Reet Ennet, 2020 November}
Here are some examples of partial work and some details:
Siin on näha näiteid poolikust tööst ja toon välja mõned detailid valmis maalist: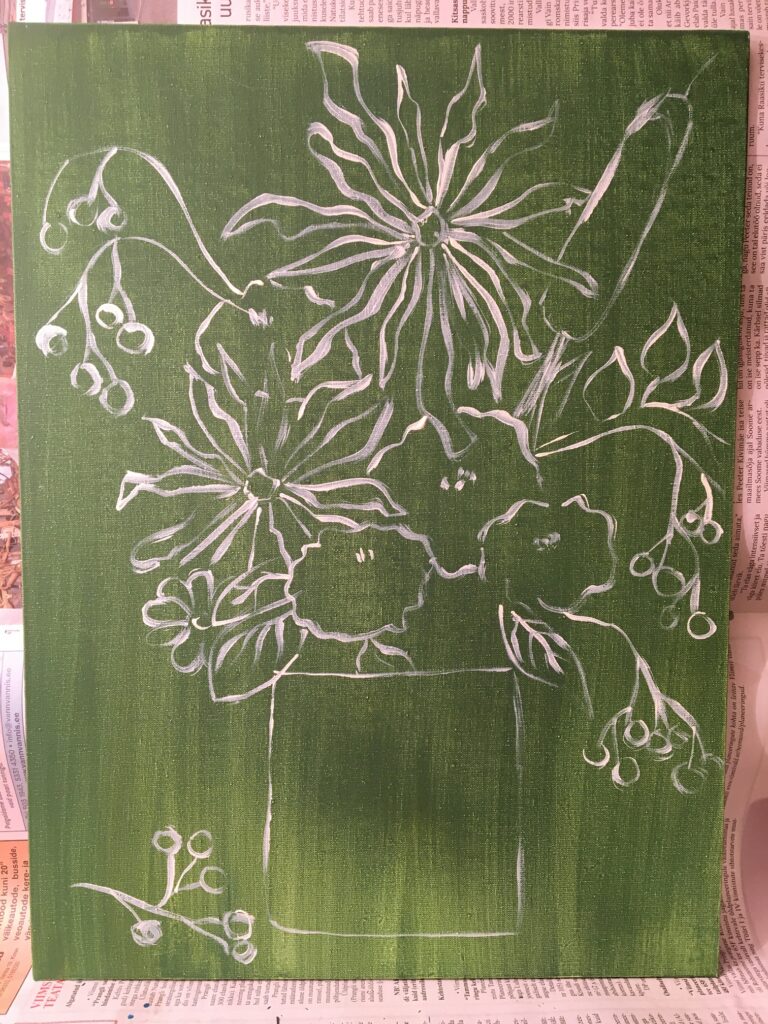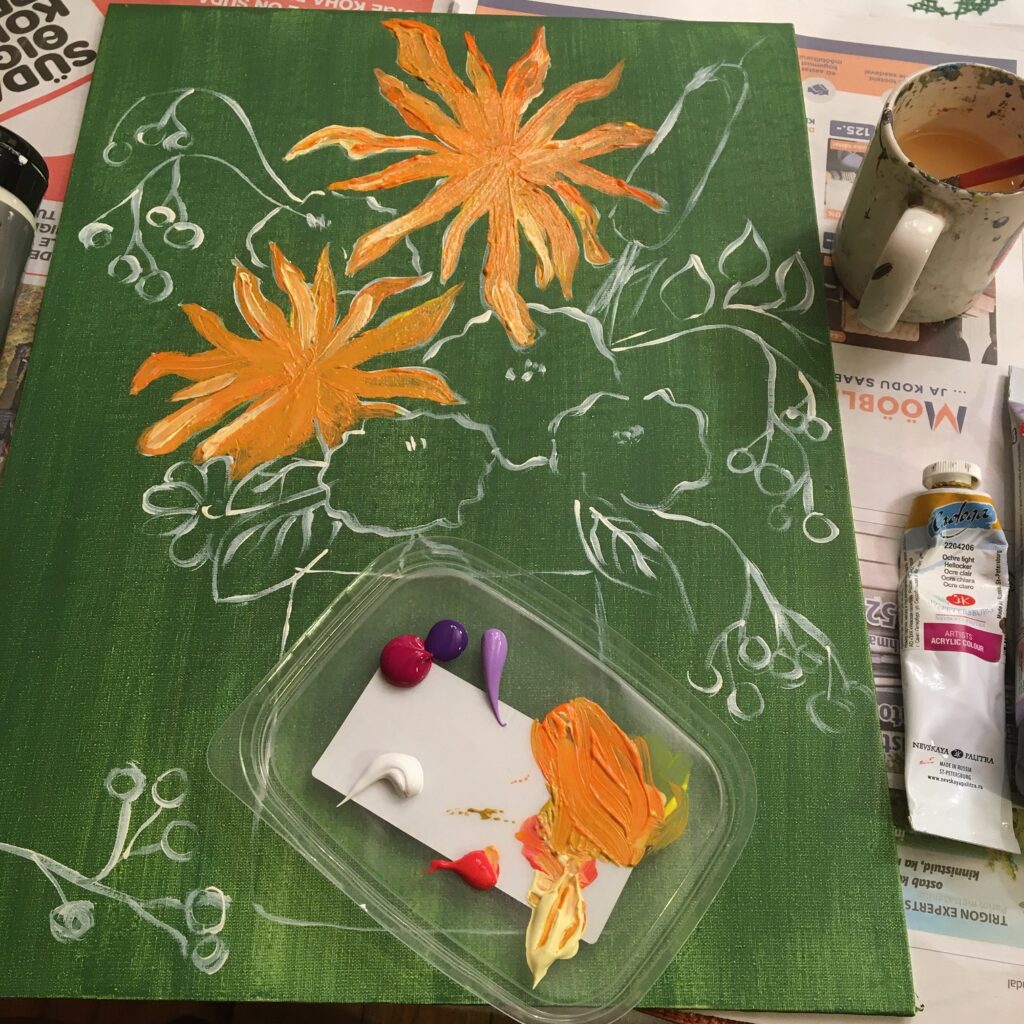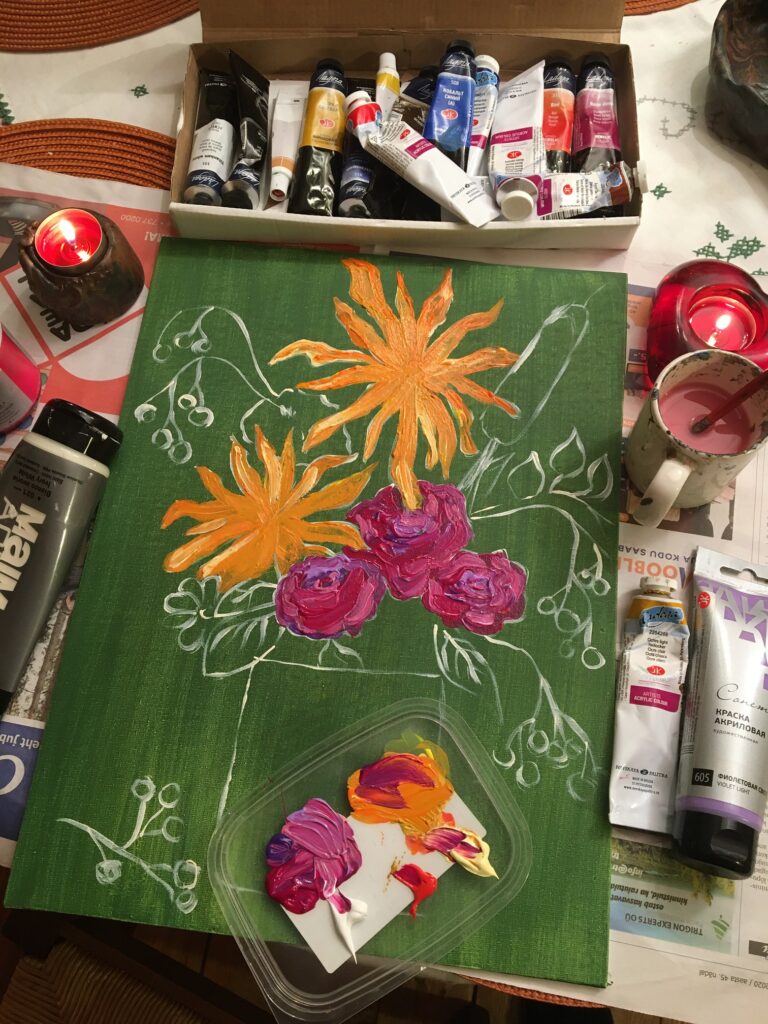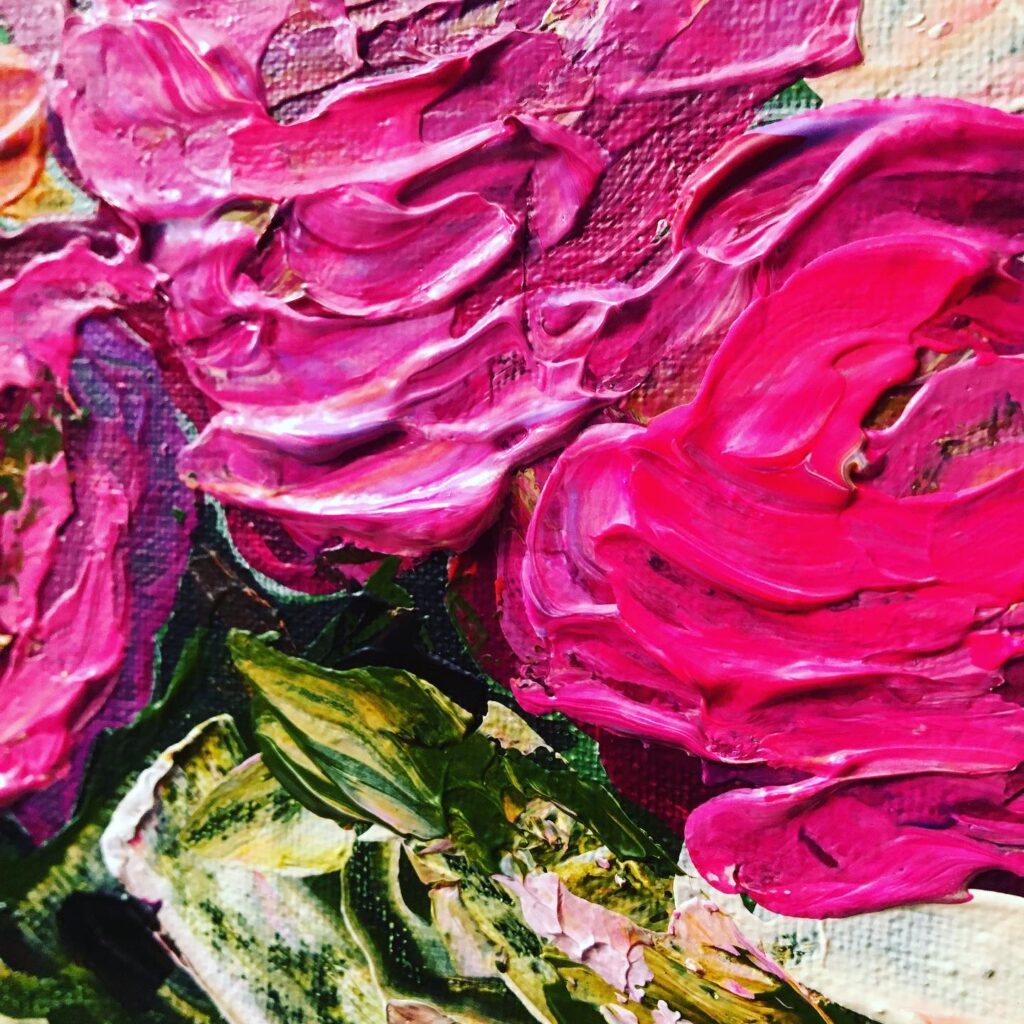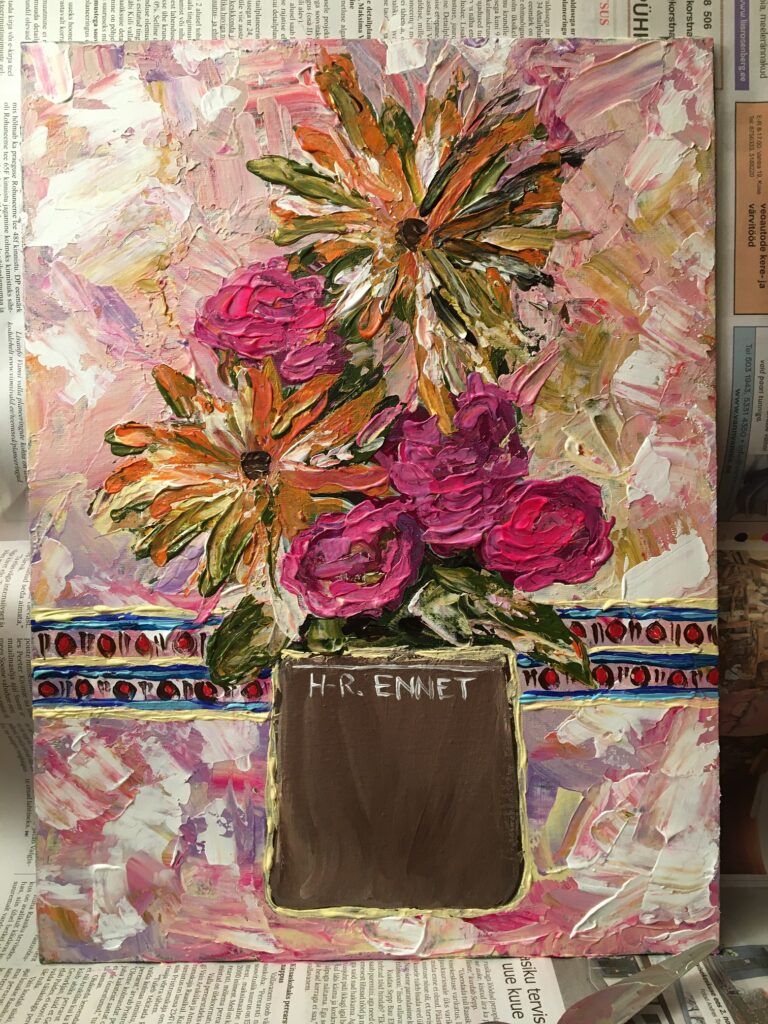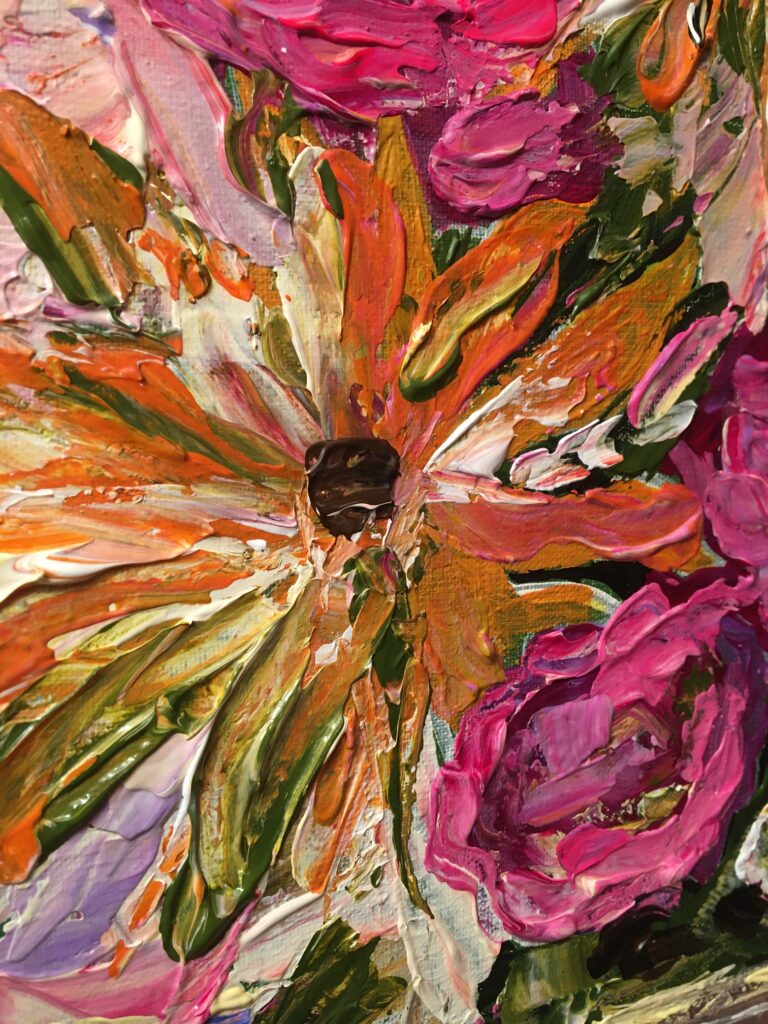 ---