About Elisheva & Shoshana (E&S)
Hand made high quality products from Estonia – purest ingredients/materials, honest, caring and effective. All our products are developed to harmonise nature's most active remedies with your body's unique needs.
☘ Nature friendly hair&body care (Hand made)

Knitwear (Hand made)

– Nordic/Arctic nature friendly beauty innovation –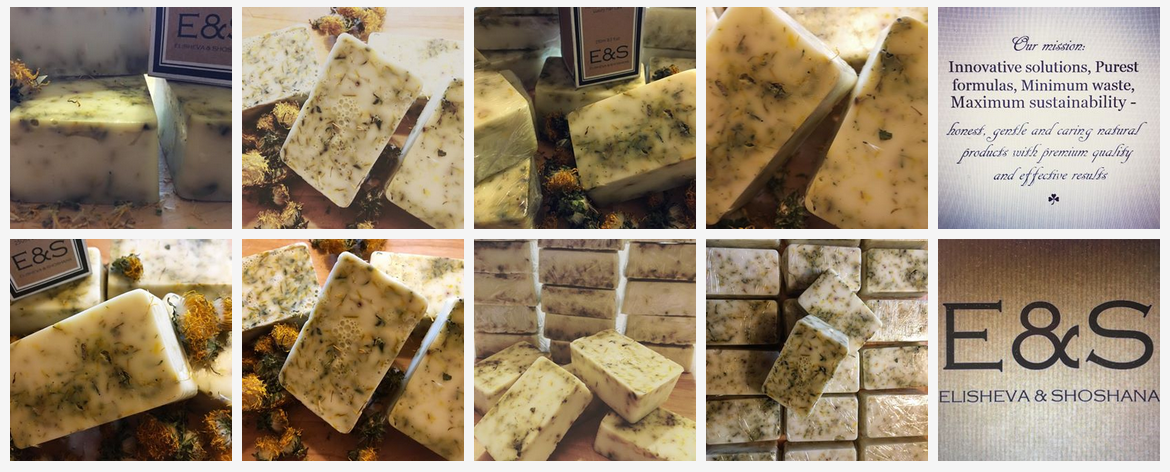 Our story:
When creating this brand already back in 2013 I had in mind doing something in favor of the good (spare the animals and the nature, live economically, consume what is natural and of quality) as well as doing something with my darling daughters – Estella Elisheva and Ivanka Shoshana. I wished for us to have so to say "our project" together.
For some years we simply produced content for the blog elishevashoshana.com/blog/ and cooperated with various enterprises. Then we began to produce for the nearest and dearest and for our acquaintances quality handmade articles of knitted tissue. Now coming soon for sale are the first products of nature friendly cosmetics. The prime products to be launched for sale in the pharmacies, eco-shops, (natural) cosmetics stores and our resellers are the care and treatment products – high quality and with purest of the pure ingredients, various soaps, bathing salt and SPA-products – most of the products are suitable for people with sensitive skin and with allergies, also for babies and expecting mothers. The recipes for E&S products have been composed by leading experts – in close collaboration with pharmacists, chemists and doctors, and the products are prepared by hand to maintain the quality and the spirit of each and every product. All the products have abundantly absorbed resources of devoted preliminary work, research, time and loving care. Whichever product is picked, I would be happy to use it myself and on my children!
Product design stage is complete, the prime samples are there (without lables, though). Currently I am working on the architecture of the homepage (elishevashoshana.com) and building the product register (barcodes, certificates, and then lables). It has been for so long that I have striven for running my own cosmetics line! Therefore it is super exciting to be taking the first steps today!
With warm greetings,
Helena-Reet Ennet
(25.09.2018)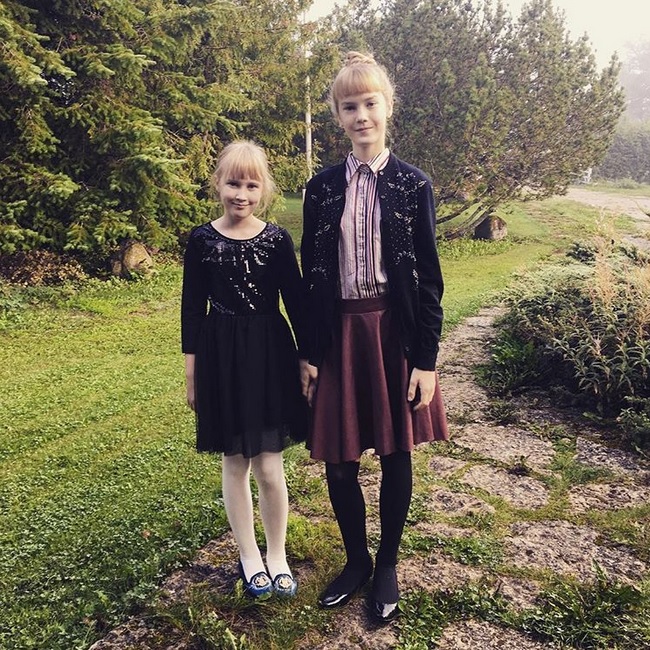 Sisters Ivanka Shoshana & Estella Elisheva  ( 📷 Helena-Reet Ennet, sept 2018 )

Love and inspiration behind the E&S brand – my younger daughter Ivanka Shoshana, who is autist and opened my eyes to see all world differently and my older daughter – violinist and vegan friendly Estella Elisheva, who is very talented with all kind of craft ideas and is already a great help with the E&S ´s art side. Together, with our little certified countryside home laboratory team, we wish to bring the best and purest products to your bathroom!


🇪🇪 Meie lugu:
Lõin selle brändi juba 2013. aastal mõttega teha midagi head (hoida loomi ja loodust, elada säästlikult, tarbida vaid naturaalset ja kvaliteetset) ja teha midagi koos oma kallite tütarde – Estella Elisheva ja Ivanka Shoshana´ga. Tahtsin, et meil oleks üheskoos nn. "oma projekt".
Aastaid kirjutasime lihtsalt elishevashoshana.com/blog/ all blogi ja tegime koostööd erinevate firmadega. Siis hakkasime lähedastele ja tuttavatele kvaliteetseid käsitööna valminud kudumeid tegema. Nüüd aga tulevad peagi müüki esimesed kosmeetikatooted. Esimesena tulevad turule – apteekidesse, ökopoodidesse, (loodus)kosmeetikapoodidesse ja meie edasimüüjatele hooldustooted – väga kvaliteetsed puhtamast puhtama konsistentsiga erinevad käsitööseebid, vannisoolad ja SPA-tooted – enamus tooted sobilikud nii tundliku nahaga inimestele kui ka allergikutele ning samuti beebidele ja last ootavatele naistele. E&S toodete retseptid on koostatud kõik tippspetsialistide – farmatseutide, keemikute ja arstidega tihedalt koostööd tehes ning valmivad käsitööna, et säiliks toote kvaliteet ja hing. Igasse tootesse on pühendatud palju eeltööd, uurimist, aega ja armastust. Iga toode on selline, mida kasutan hea meelega ka ise ning oma lastel!
Tootearendus on valmis, esimesed näidistooted on olemas (ilma etikettideta). Hetkel ehitan kodulehte (elishevashoshana.com) ja registreerin tooteid (triipkoodid, sertifikaadid ning hakkan etikettidega tegelema. Olen oma isiklikku kosmeetika liini soovinud teha juba ammu! Seega on super põnev teha täna esimesi samme!
🇸🇪 Vår historia:
Jag skapade detta varumärke redan år 2013 och tanken var att göra någonting gott (ta vara på djur och naturen, leva sparsamt, konsumera enbart naturliga varor med kvalité) och göra någonting tillsammans med mina kära döttrar Estella Elisheva och Ivanka Shoshana. Jag ville ha "ett eget projekt" tillsammans med dem.
Under årens lopp skrev vi bara blogg med adressen elishevashoshana.com/blog/ och samarbetade med olika slags företag. Sedan började vi tillverka handstickade varor med bra kvalité till våra närmaste och våra bekanta. Men snart kan man köpa de första naturkosmetikaprodukterna. Först ut ti ll marknaden – till apotek, ekobutiker,
(natur-)kosmetikaaffärer och återsäljare – kommer personvårdsprodukter: handgjorda tvålar, badsalt och SPA-produkter av mycket god kvalité, med det renaste rena innehåll. De flesta produkterna passar även för dem med känslig hud och för allergiker, även för spädbarn och gravida kvinnor. Alla recept på E&S produkter är gjorda med tätt samarbete med experter med spetskompetens – farmaceuter, kemister och läkare – och de tillverkas för hand för att bibehålla produkternas kvalité och själ. Varje produkt är ett resultat av mycket planeringsarbete, forskning, tid och kärlek. Varje produkt är sådan som jag själv gärna använder för mig själv och för mina barn.
Produktutvecklingen är klar, de första produkterna är färdiga (utan produktskyltar). Just nu skapar jag en hemsida (elishevashoshana.com) och registrerar produkterna (streckkod, certifikat och börjar göra skyltar). Jag har sedan länge velat göra egen personlig naturkosmetikalinje! Och därför är det jättespännande att ta de första stegen idag!
🇫🇮 Meidän tarinamme:
Loin tämän tuotebrändin jo vuonna 2013 ajatuksenani tehdä jotain hyvää (vaalia eläimiä ja luontoa, elää säästäväisesti, kuluttaa vain luonnollista ja laadukasta) ja tehdä jotain yhdessä rakkaiden tytärteni Estella Elishevan ja Ivanka Shoshanan kanssa. Halusin, että meillä olisi yhdessä ns. "oma projekti".
Vuosia kirjoitimme vain elishevashoshana.com/blog/-osoitteessa blogia ja teimme yhteistyötä erilaisten yritysten kanssa. Sitten aloimme valmistaa läheisille ja tuttaville laadukkaita käsityönä valmistuneita neuleita. Mutta nyt tulevat piakkoin myyntiin ensimmäiset luonnonkosmetiikkatuotteet. Ensimmäisinä markkinoille – apteekkeihin, ekokauppoihin, (luonto-)kosmetiikkakauppoihin ja jälleenmyyjillemme – tulevat hoitotuotteet: erilaiset erittäin laadukkaat, sisällöltään puhdastakin puhtaammat käsityösaippuat, kylpysuolat ja SPA-tuotteet. Pääosa tuotteista sopii sekä herkkäihoisille henkilöille että allergikoille, samoin vauvoille ja raskaana oleville naisille. Kaikki E&S-tuotteiden reseptit on laadittu tiiviissä yhteistyössä huippuasiantuntijoiden – farmaseuttien, kemistien ja lääkäreiden – kanssa ja ne valmistetaan käsityönä, jotta tuotteen laatu ja sielu säilyisivät. Jokaiseen tuotteeseen on omistettu paljon esityötä, tutkimista, aikaa ja rakkautta. Jokainen tuote on sellainen, jota käytän mielelläni itse ja lapsillenikin!
Tuotekehittely on valmiina, ensimmäiset näytetuotteet ovat olemassa (ilman tuotekylttejä). Tällä hetkellä rakennan kotisivua (elishevashoshana.com) ja rekisteröin tuotteita (viivakoodit, sertifikaatit ja alan järjestää tuotekylttejä). Olen halunnut tehdä oman henkilökohtaisen luontokosmetiikkalinjan jo kauan sitten! Niinpä onkin huippujännittävää ottaa tänään ensimmäiset askeleet!