#10 Paintings by Helena-Reet Ennet: "I´ll name it Greens", July 2019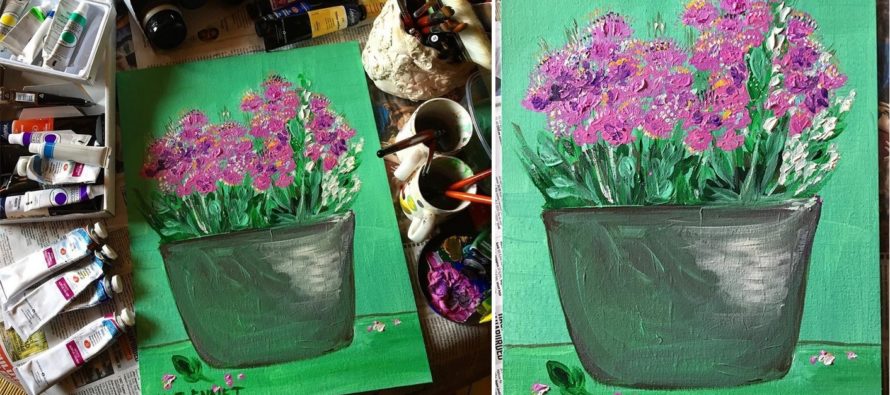 As some of you maybe have noticed, I number my paintings – it´s in my personality to sort everything and keep in order. So, this said, I´ll write the number here again as well.  My flower painting number 5 and 10th acrylic on canavas. I´ve painted only 10 paintings in my life, but it already feels like I have done it for years. Such a new fantastic passion of mine!
When I started to paint it, I went through my saved pictures in Instagram.  I like very much the colors on this Chiara Ferragni´s picture (view below). First I thought that I´ll make this flower bouquet with Chiara´s Fendi dress colors (turquoise blue + organge) background… that was my first idea. I started to stir background color (this turquoise blue) but it turned green. It turned out so lovely green, that I didn´t wanted to change it and suddenly I had a vision of two pots with greens.. but the transformation of my picture didn´t end there… At one point I didn´t like that there were two pots, so I turned it to one big pot and named it "I´ll name it Greens". 🙂 Wonderful picture what is perfect to embellish some stylish Scandinavian countryside kitchen!
—
Võib-olla mõnded teist on juba märganud, et mulle meeldib oma pilte nummerdada – see on mul loomuses, mulle meeldib, kui asjad on korras ning sorteeritud. See öeldud, kirjutan numbri siia ka. Lillemaalidest on see viies ning üldse akrüülmaalidest kangal kokku kümnes. Kuigi olen ainult kümme maali teinud, on selline tunne, nagu oleksin maalimisega juba aastaid tegelenud. Võrratu uus hobi!
Enne, kui ma seda maali tegema hakkasin, käisin läbi oma Instagrammi seivitud pildid. Seivisin kunagi ühe Chiara Ferragni pildi, sest mulle tohutult meeldis selle värvikombinatsioon. Alguses mõtlesingi, et teen selle sama lillebuketi ja Chara Fendi kleidi värvides (türkiis sinine + oranz) tausta… see oli mu esmane mõte. Hakkasingi värve segama, ent seda kleidi türkiisivärvi segades, saavutasin hoopis rohelise. Nii armas roheline toon tuli ja ma ei tahtnud seda enam türkiissiniseks toonima hakata, sest mulle tuli uus visioon üleni rohelisest maalist kahe vaasiga… aga sellega pildi tranformatsioon veel ei lõppenud… Ühel hetkel ei istunud mulle enam, et seal on kaks potti ning tegin nende asemel ühe suure. Pilt sai nimeks "Ma nimetan seda rohelisteks" (eesti keeles kõlab valitud nimi suht imelikult, aga noh, selline see nimi sai) . Pilt tuli väga ilus ja sobib ideaalselt kaunistama mõnda Skandinaavia maakodu kööki!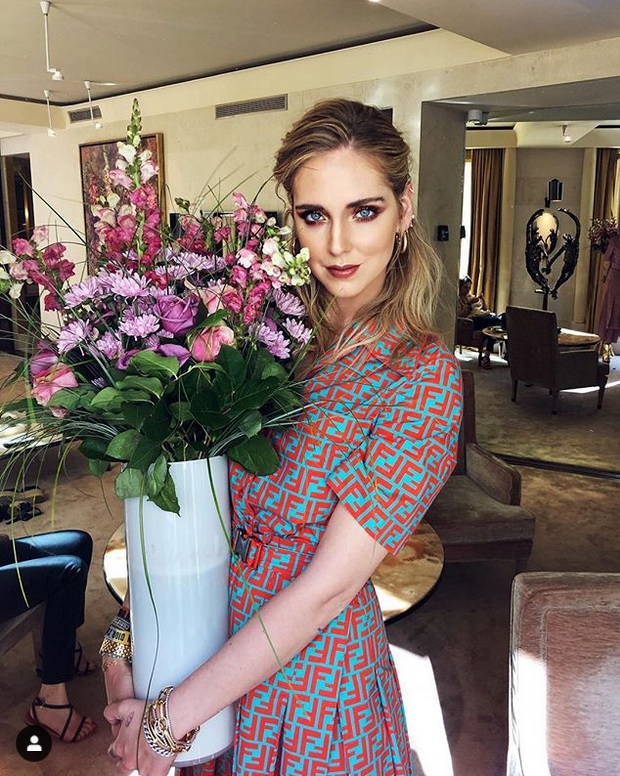 The colors of this Chiara´s picture are very inspirational!
Selle Chiara pildi värvid on väga inspireerivad!
Photo: Chiara Ferragni (Instagram)
And here you can see the transformation of my painting
Ja siin näete kuidas maal töö käigus muutus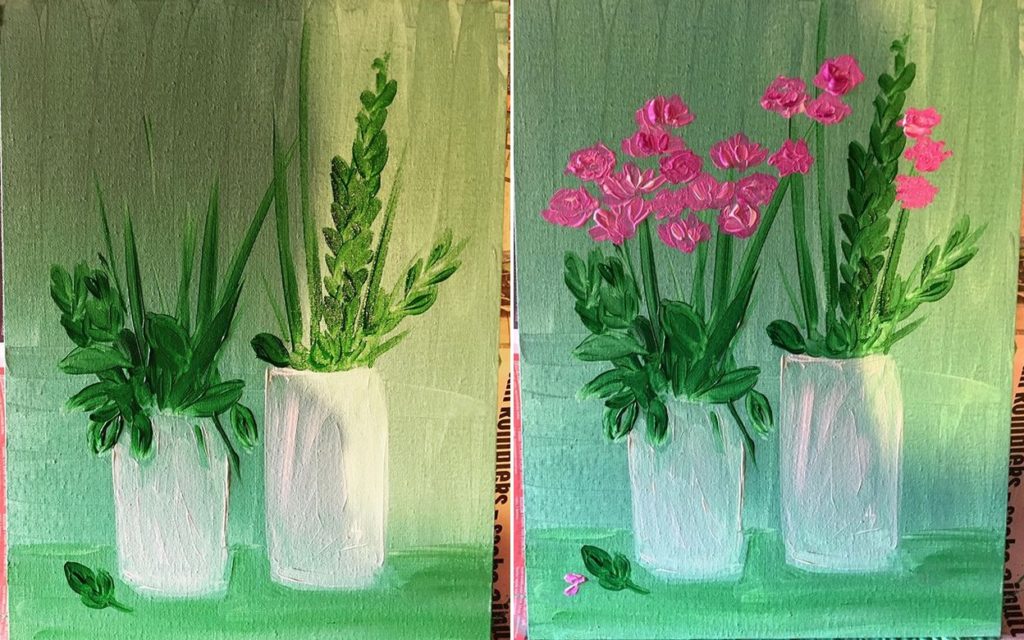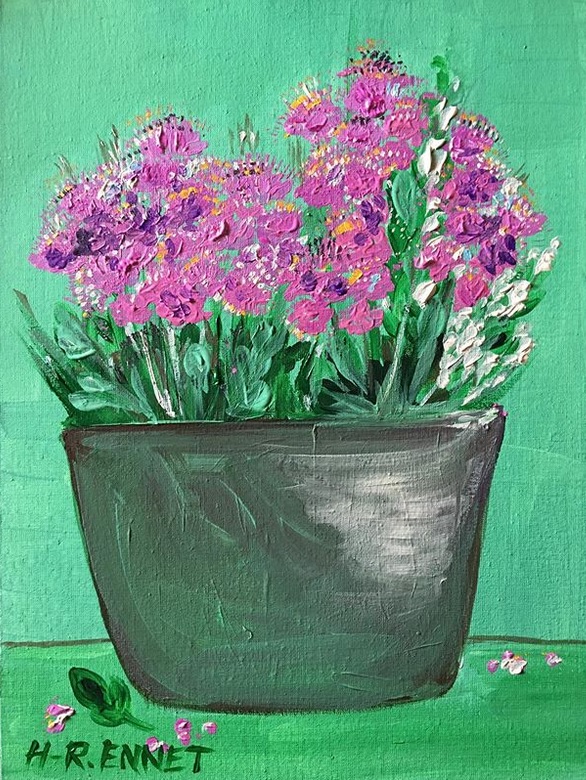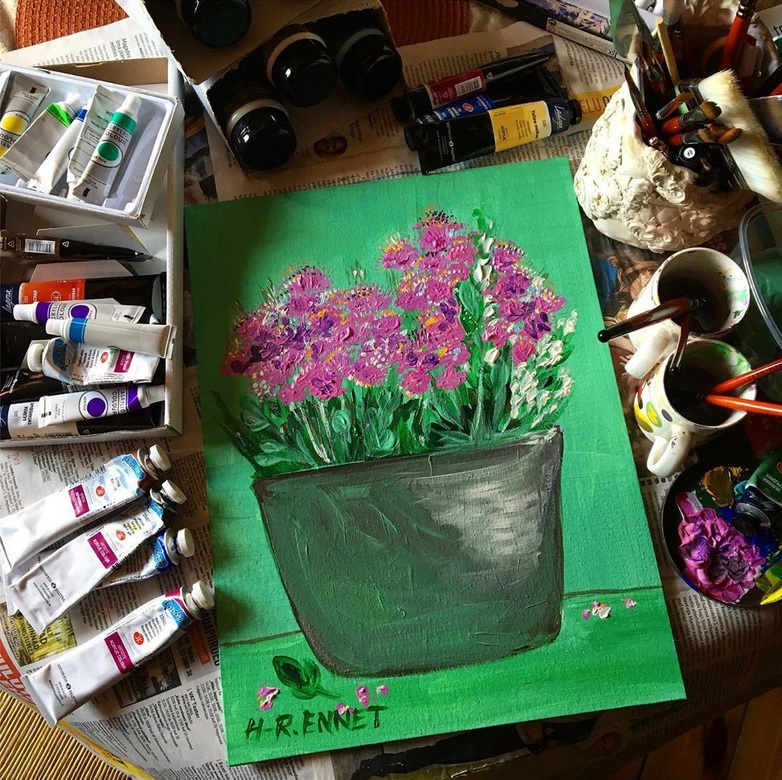 {30x40cm acrylic painting "I´ll name it Greens" painted by Helena-Reet Ennet, 2019 July}
signed H-R.Ennet
---
---