#3 Paintings by Ivanka Shoshana: "Estella Elisheva on the beach", June 2019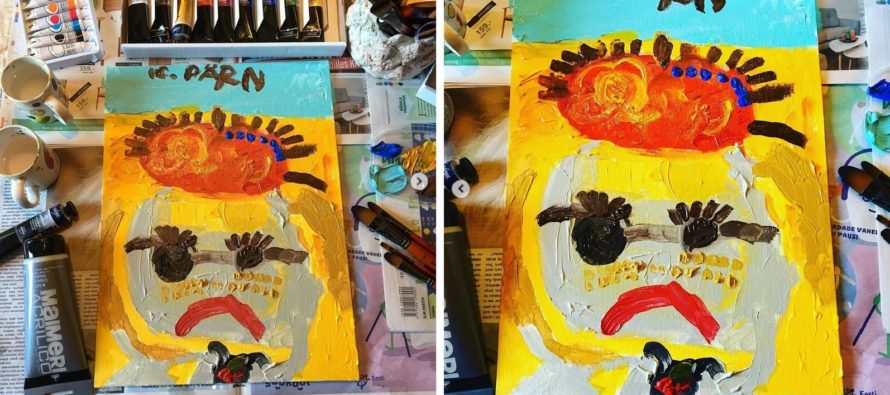 Yesterday Ivanka Shoshana (11) asked me – can she paint?! It was late and I said that, let´s paint tomorrow. She went directly to bed, although it wasn´t so late.. (if you go early to bed, tomorrow comes quicker.. hehe) It was eight o´clock. Today she painted her third acrylic painting. She didn´t love to paint in kindergarten or in primary school. She rarely took the pen or colors. But since I bought a real canvas and professional brushes and colors, she is very excited! Her painting theme was "Estella Elisheva on Mändjala beach". The first thing she draw was a blue water and red sunshade (yes, it is a sunshade, not a hat!) and then she said that Estella Elisheva is fashionable, that´s why her lips are down. I asked her like a hundred times, why you make her so sad, but she said, it is not sad, it is fashionable. Estella Elisheva was a long time in Israel with concerts and now almost a week in violin camp – she misses her, that is sure. But there is sth else.. her last painting was "Ivanka and Viki on the beach" (view HERE) – there she depicted two joyful people. There can be a relatively deep idea as well – two people/friends are happy, if you are alone, you can be fashionable, but not happy. Estella and Viki are very good friends and if they are all three together, Ivanka can be sometimes this one who is left behind… This can be the second point – she reflects her feelings like this. Anyway – another amazing painting! I do have a sense of critical mind, believe me, but I must tell – Ivanka has a super distinguished and recognizable style – like Jüri Arrak for example. You can recognize the paintings right away! It´s a great gift!

Eile Ivanka Shsoshana (11) küsis, kas ta võiks maalida?! Aga kell oli juba suhteliselt palju ja ma tegin ettepaneku, et ta värviks homme. Seepeale otsustas ta otsejoones magama minna, kui kell nüüd nii palju ka polnud.. (aga kui sa lähed kiirelt tuttu, saabub homme ju kiiremini.. hehe). Kell oli kaheksa. Täna joonistas ta oma elu kolmanda akrüülmaali. Kui ta lasteaias käis ja ka algkoolis, siis talle joonistamine ei meeldinud. Ta võttis väga harva pliiatsi või värvid kätte. Aga peale seda, kui ma tellisin professionaalsed lõuendid, värvid ja pintslid, on ta väga elevil! Tema tänase maali teemaks oli "Estella Elisheva Mändjala rannas". Kõigepealt joonistas ta sinise ranna ja siis punase päikesevarju (jah, see punane on päikesevari, mitte müts!) ja siis ta lisas, et Estella Elisheva on moodne, seetõttu on ka tema suunurgad allapoole. Küsisin sada korda, et miks ta õe nii kurvaks teeb, aga tema vastu, et see pole kurb vaid moodne. Estella Elisheva oli pikka aega Iisraelis kontsertreisil ja nüüd juba pea nädal viiulilaagris – ta igatseb teda, see on kindel. Aga midagi on selles maalis veel.. tema viimane maal "Ivanka ja Viki rannas" (vaata SIIT) – sellel kujutab ta kahte rõõmsat inimest. Seal võib olla suhteliselt sügav mõte – kaks inimest/sõpra on koos rõõmsad, aga kui sa oled üksi, siis võid olla moodne, aga sa pole nii õnnelik. Estella ja Viki on väga head sõbrannad ja kui nad on kolmekesi koos, siis võib juhtuda nii, et just Ivanka võib end mõnest mängust kõrvalejäetuna tunda… See võib olla tema maali teine mõte – ta peegeldab oma tundeid nii. Igatahes – järjekordne imeline maal! Uskuge mind, mul on alles terake kriitikameelt, aga ma pean ütlema – Ivankal on väga eriline ja äratuntav stiil – nagu Jüri Arrakul näiteks. Käekirja/maalid tunneb kohe kaugelt ära! Ma arvan, et see on imeline anne!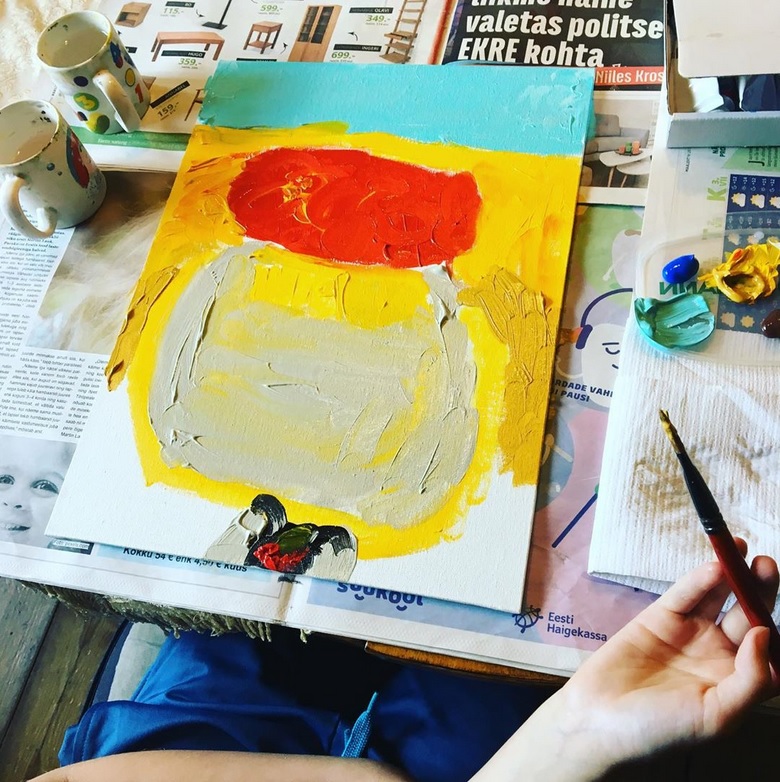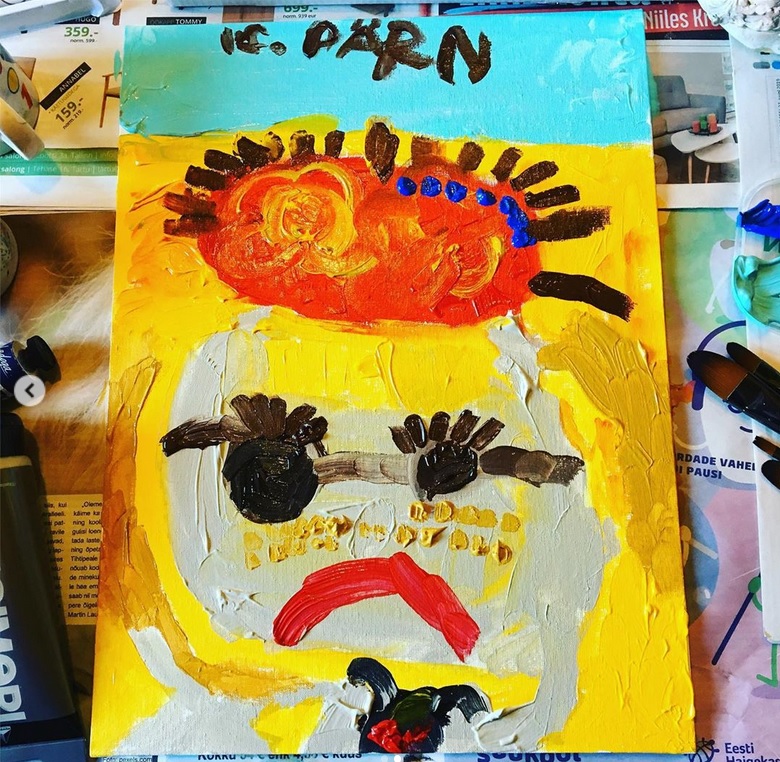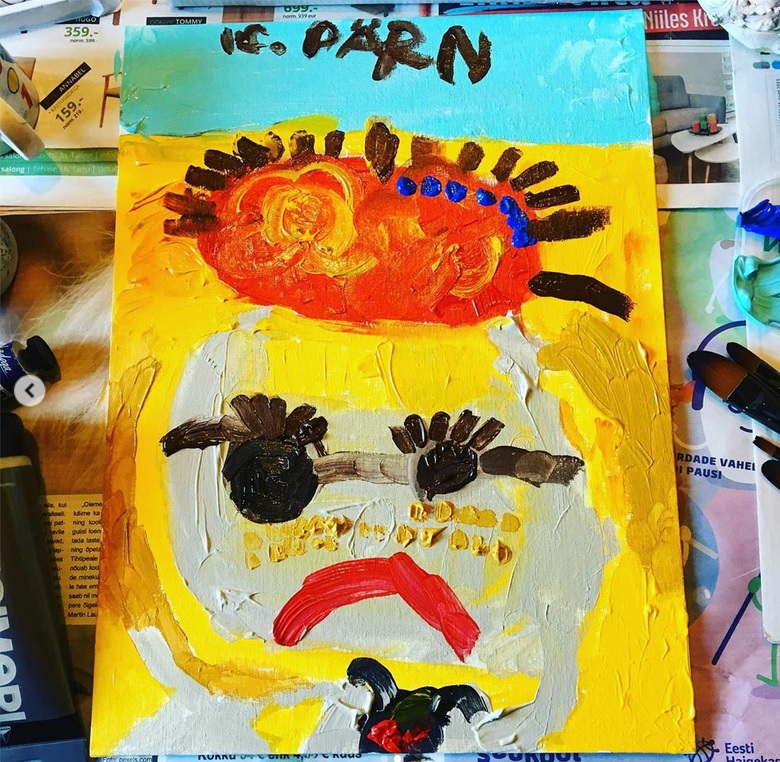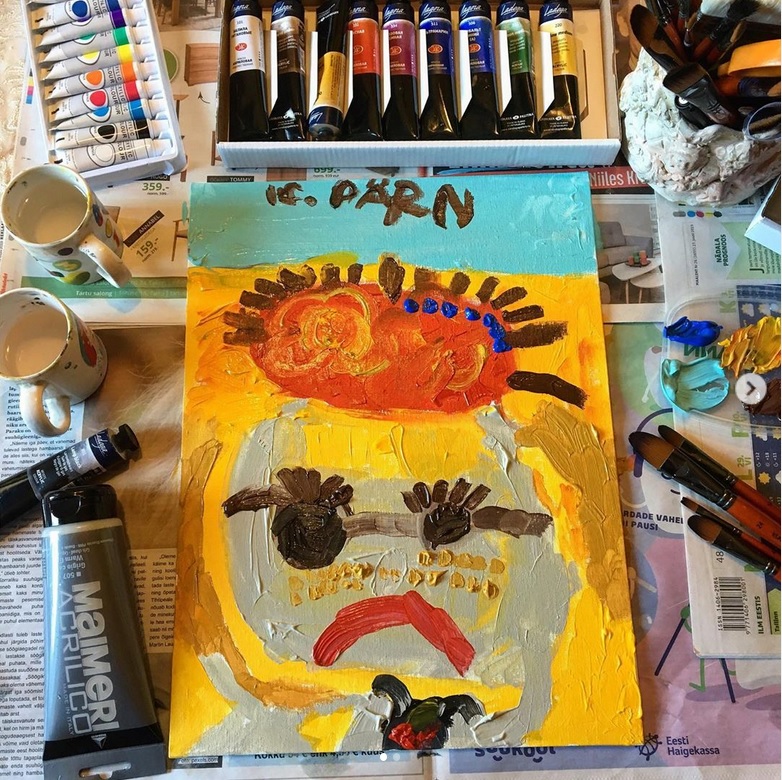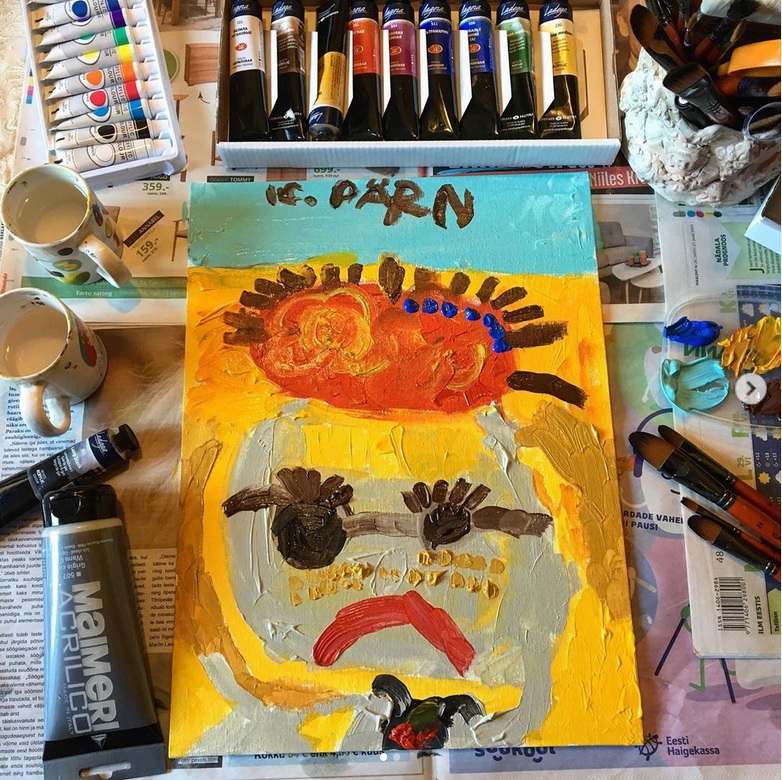 {painted by Ivanka Shoshana, 2019 June}
acrylic, 30x40cm
signed I.S. PÄRN
---
---