WE WON Estonian National Museum exposition contest by the stand idea "Our home-based witch kitchen"!!!!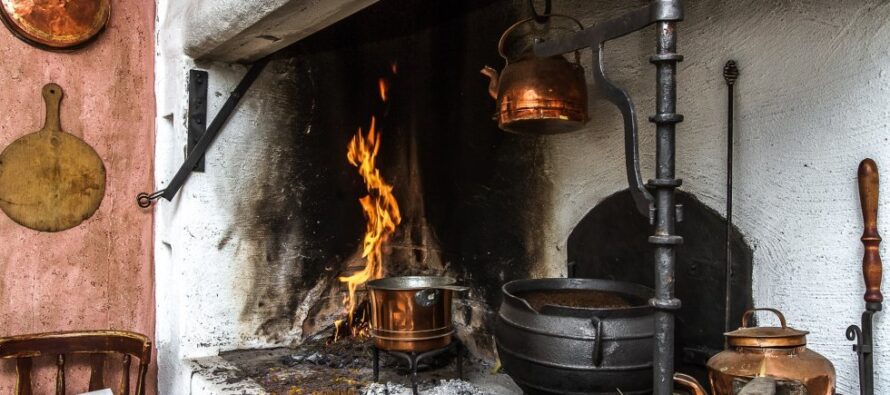 Such a great news we have!! WE WON Estonian National Museum exposition (ERM) contest by the stand idea "Our home-based witch kitchen" and our art exhibition (paintings, ceramics, hand made cosmetics, handicraft etc) will be presented in ERM´s partnership hall next spring and summer (2021)!!!! We are so honored and glad!!!

Here is the ERM´s press release:
Estonian National Museum exposition contest won by the stand idea "Our home-based witch kitchen"
Exposition idea contest "Your exposition" audience vote collected most support for the idea "Our home-based witch kitchen" (in Estonian: Meie kodune nõiaköök), that brings to the viewer a fragment of the Estonian farm kitchen and the fascinating activities that can be done in a cozy kitchen at the long table all together. The winning exposition will be launched in the summer of 2021 in the partnership hall of the Estonian National Museum.
Authors of the idea of this exposition are a mother with two daughters: Helena-Reet Ennet, Estella Elisheva (14) and Ivanka Shoshana (12). "I am very grateful to everyone who believed in our idea. My youngest daughter is a child with special needs. I wished for us to have together this very "own project". So now in our family there is this tradition to go in for these manual activities – clay fashioning, and burning in the oven, painting with acrylic paint, tying herbs to bundle and hanging them to the stove for drying, and making nature-based cosmetics. It pleases to do this together and it soothes the spirit! Now we have reason and enthusiasm to continue with the witch kitchen undertakings," explains author of the idea Helena-Reet Ennet. The contest "Your exposition" lodged 13 exposition concepts. All competing ideas won their keen followers, but the lead of this one idea among them was glaring.
"In the contemporary hurry it leaves a pleasant impression when a concept of a museum exhibition embraces common proceedings of a family. Indeed the purpose of the partnership hall is to reflect daily life and reveal passionate and pretenseless creative expression," indicates manager of expositions at ERM, Kristjan Raba, and goes on to elaborate that people more and more visit their expositions as a family event.
ERM partnership hall is designed to accommodate exposition ideas with lay origin, expositions compiled by citizens routinely not involved in museum work and display curacy, however, they have an interest, an important idea or subject matter that they wish to share and bring to the public. Contest for exposition ideas is held by Estonian National Museum for the 6th year.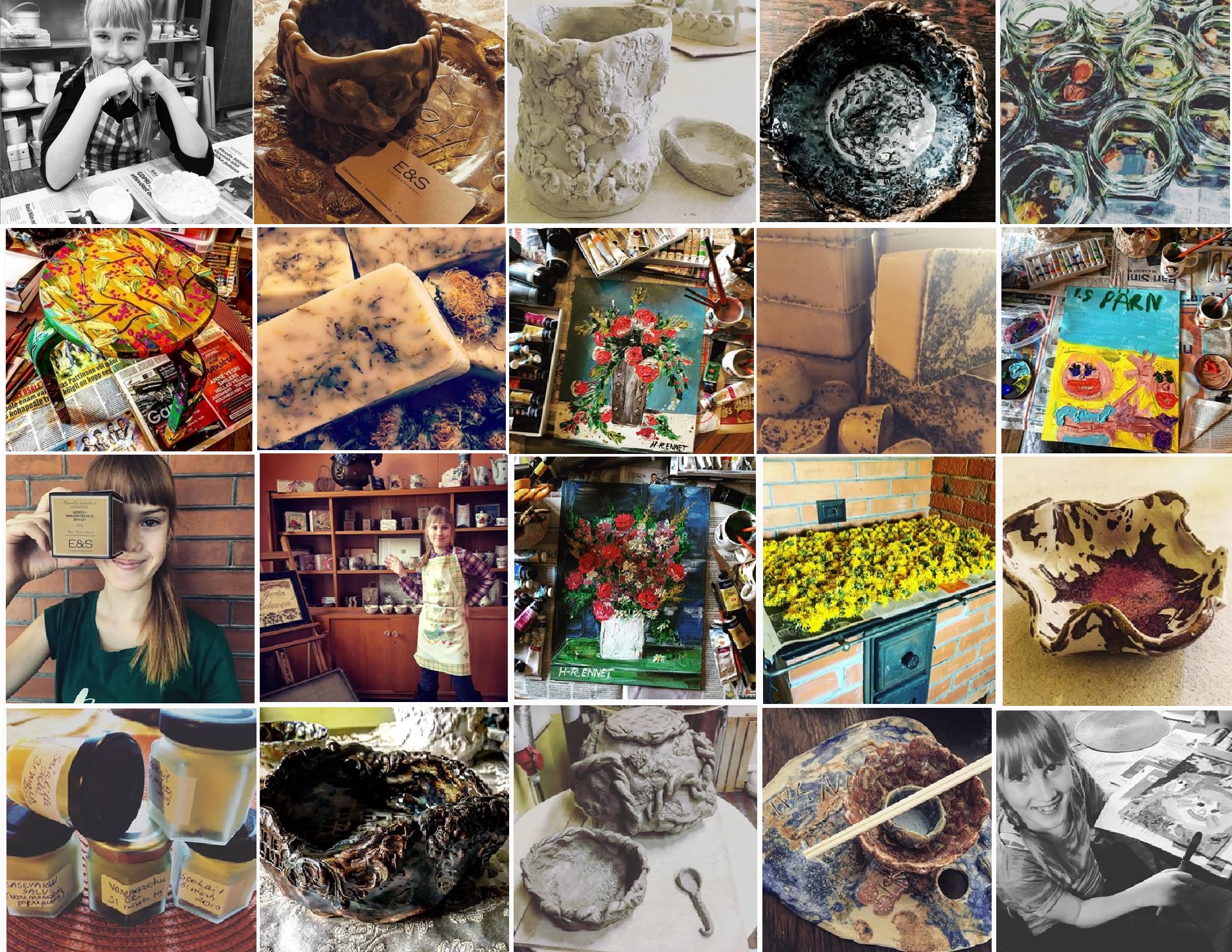 Natuke pilte meie tegemistest

Meil on super tore uudis!! ME VÕITISIME Eesti Rahva Muuseumi (ERM) näituseideede konkursi oma stendiideega "Meie kodune nõiaköök" ja meie kunstinäitus (maalid, keraamika, käsitsi valmistatud kosmeetika, käsitöö jne) avatakse järgmisel kevadel/suvel ERMi partnerlussaalis!!!! Oleme nii õnnelikud ja tänulikud! Suur au meie jaoks!
ERMi pressiteade:
Näitusekonkursi võitis idee "Meie kodune nõiaköök"
Näituseideede konkursi "Oma näitus" publikuhääletusel kogus enim hääli idee "Meie kodune nõiaköök", mis toob vaatajateni killukese Eestimaa taluköögist ja põnevatest tegemistest, mida hubases köögis pika laua taga koos tehakse. Võidunäitus avatakse ERMi osalussaalis 2021. aasta suvel.
Näituseidee autorid on ema koos kahe tütrega: Helena-Reet Ennet, Estella Elisheva ja Ivanka Shoshana. ""Olen nii õnnelik ja väga tänulik kõigile, kes meie näituse ideesse uskusid. Minu noorim tütar on erivajadusega laps – autist. Et teda rohkem igapäevaellu kaasata, lõin brändi "Elisheva & Shoshana". Eesmärk oli teha midagi head (hoida loomi ja loodust, elada säästlikult, tarbida vaid naturaalset ja kvaliteetset) ja teha midagi koos oma kallite tütarde – Estella Elisheva (14) ja Ivanka Shoshana´ga (12). Tahtsin, et meil oleks üheskoos nn. "oma projekt". Nüüd ongi meie peres traditsiooniks saanud ühised käelised tegevused – savist pottide, vaaside, taldrikute ja tasside voolimine ning ahjus põletamine; akrüülvärvidega erinevatele lõuenditele maalimine ent ka näiteks ravimtaimede vihtudeks sidumine ja köögi ahju kohale kuivama panemine ning üheskoos koduse looduskosmeetika (seepide, vannisoolade jne) valmistamine. Koos teha on tore ning pakub hingele palju – iga üks meist on oma enda elu kunstnik ning kodurahu ja õnne looja! Nüüd on meil põhjust ja entusiasmi veelgi enam üheskoos koduses nõiaköögis toimetada! Loodan, et suudame olla nende ootuste tasemel, mida meilt nüüd oodatakse. Tänan kõigest südamest nii enda, oma laste kui kõigi puudega inimeste nimel meile hääle andjaid ning loomulikult ERM´i peret selle imelise ja erakordse võimaluse eest! Suur suur aitäh," rääkis võiduidee autor Helena-Reet Ennet.
Konkursile "Oma näitus 2020" esitati 13 ideed. Pöidlahoidjad jagus neile kõigile, kuid võitja edu teiste ees oli selge. "Kiirel kaasajal on võluv kui näituseidee tahab esile tuua ühistegevused perega. On ju ka osalussaali mõte kajastada argielu ja kirglikku ning siirast omaloomingut," sõnas ERMi näituste juht Kristjan Raba ja lisas, et ka näitustel käiakse üha enam just koos perega.
ERMi osalussaal on mõeldud näitusteks, mille taga on inimesed, kes igapäevaselt muuseumitöö või näituste kureerimisega ei tegele, küll aga on neil huviala, mõni oluline teema või idee, mida nad soovivad jagada. Näituseideede konkurssi korraldab ERM kuuendat aastat.
Featured picture is illustrative/Avapilt on illustreeriv
---
---