HOW TO win big by dreaming big, ie our first big ART EXHIBITION "Our Domestic Witch Kitchen" (Meie kodune nõiaköök) in Estonian National Museum (ERM)!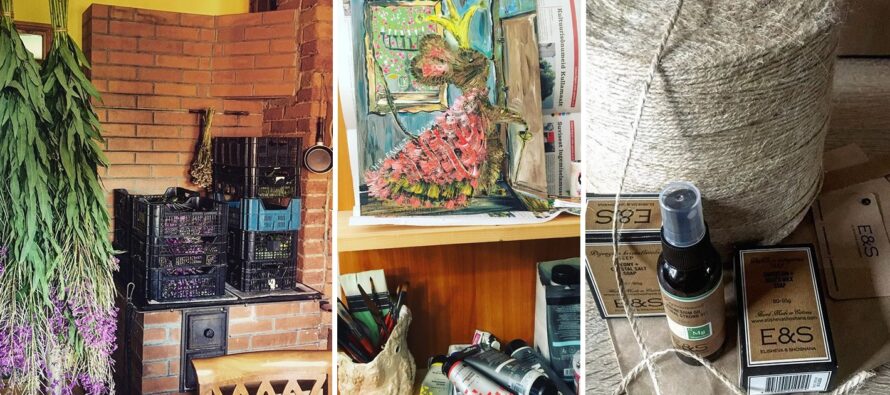 In October 2019, I made a blog post (IDEA: Ivanka Shoshana´s art exhibition: Her handmade ceramics + oil paintings) where I wrote that I am happy that my child with special needs (Ivanka Shoshana is autistic) has found a hobby – she loves to make pottery (clay dishes and statues) and she likes to paint. We do it together, because I also love to paint and I also make ceramics for myself and for sale and for gifts. Since Ivanka has an artistic talent, she has a completely cool style, I thought that I could organize an exhibition for her (for example at her own school). But as you know, when I do something, I always plan everything big.
I have been a frequent visitor to art museums lately, and watching and covering cultural news on NordenBladet's page, I noticed that in the ERM it is also possible for so-called freelance art lovers to organize their own exhibition. For six years now, a competition called "Own Exhibition" has been organized, where people vote for  their favorite exhibition ideas. So I sent samples of our art work to participate in the competition. And we won !!! So cool! Thanks again to everyone who voted for us. Now we have our very own exhibition in the Estonian National Museum in an area of ​​130 m2. I know it's a once-in-a-lifetime opportunity! The first exhibition and immediately in the most prestigious exhibition complex. We will open the exhibition in spring / summer 2021. The victory has injected us a lot of enthusiasm and I immediately feel like I am full of inspiration.
So, it´s always good to dream big and believe in yourseldf and in your dreams! 🙂
—
Kuidas suurelt unistades suurelt võita e. Meie esimene suur KUNSTINÄITUS "Meie Kodune Nõiaköök" Eesti Rahva Muuseumis (ERMis)!
2019 aasta oktoobris tegin blogipostituse, kus kirjutasin, et olen õnnelik, et minu erivajadusega laps (Ivanka Shoshana on autist) on leidnud endale hobi – teeb keraamikat (savist nõusid ja kujusid) ning maalib. Teeme seda koos, sest ka mina armastan maalida ning valmistan nii endale koju kui müügiksja kingitusteks keraamikat. Kuna Ivankal on kunstiannet, tal on täiesti omamoodi lahe stiil, siis mõtlesin, et võiks talle näituse organiseerida (alustuseks näiteks kasvõi ta oma koolis).. Ent nagu te teate, kui mina midagi ette võtan, siis ikka suurelt.
Olen viimasel ajal tihe kunstimuuseumide külastaja ning jälgides ja kajastades kultuuriuudiseid NordenBladet´i lehel märkasin, et ERM-is on võimalik ka nö vabakutselistel kunstihuvilistel oma näitus korraldada. Juba kuus aastat korraldatakse konkurssi nimega "Oma näitus", kus rahvas hääletab oma lemmikideede poolt kandideerima esitatud näituseideede seast. Nii saatsingi enda ja Ivanka Shoshana tööd kandideerima. Ja me võitsime!!! Nii lahe! Siinkohal veelkord suur tänu kõigile, kes meie poolt hääletasid. Nüüd tuleb meil Eesti Rahva Muuseumis päris oma näitus 130m2 suurusel alal osalussaalis. Ma tean, see on elu võimalus! Esimene näitus ja kohe kõige prestiižemas näitustekompleksis. Näituse avame 2021 kevadel/suvel. Võit on süstinud meisse palju entusiasmi ja ma tunnen kohe kuidas olen täis inspiratsiooni.
Nii et, alati on mõistlik unistada suurelt ja uskuda endasse ja oma unistustesse! 🙂

Read also:
WE WON Estonian National Museum exposition contest by the stand idea "Our home-based witch kitchen"!!!!
---
---