It´s dandelion a o´clock!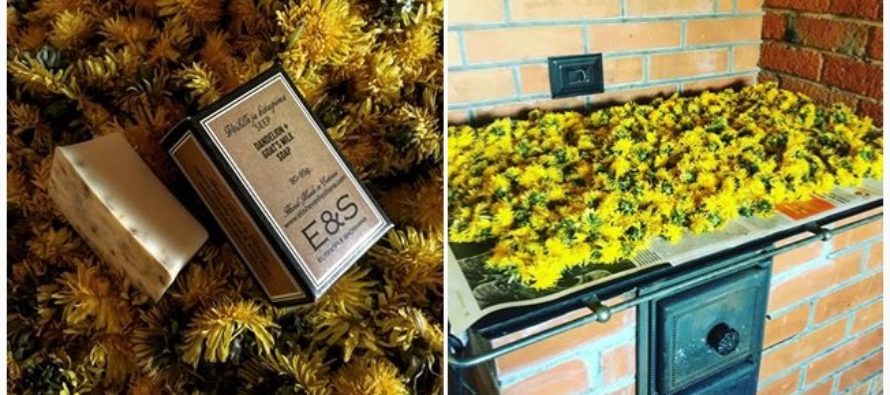 Today was a wonderful weather, and as the dandelions are already blooming beautifully, I decided pick them up. Dandelion is a powerful plant, which I collect every year. I eat it raw (roots, stalks, leaves and flowers) and I also collect the herbs for winter. I dry them and make a delicious herbal tea in the winter. In addition, I make a dandelion extract and hand made soaps from dried dandelions. Our E & S Handmade Goat Milk + Dandelion Soap is a serious hit product, especially among people with sensitive skin or skin problems. Read about the product HERE. I pick up dandelions from the cleanest fields in Estonia, far from toxic city pollution. To be more accurate, I get majority from my own home garden. I like to know that herbs are harvested from the purest nature. I am so sad when I hear that people poison land, it is sth people shold never do. I'm a completely against it. Dandelion nourishes and pampers the skin and is itself by the way a good natural protector against parasites in nature. So it has a strong antiseptic effect – you´ll get hands clean with pure nature! Goat's milk containing vitamins A, B6, B12 and E has shown good results in skin cell renewal and good for acne treatment.
Täna oli imeline ilm ja kuna võililled on juba ilusti oma kollased õied lahti laotanud, otsustasin neid korjama minna. Võilill on väetaim, mida igal aastal kogun. Söön seda toorelt salatis (nii juurt, lehti, vart kui õisi) ning õienuppe korjan ja kuivatan, et neist talvel maitsvat raviteed keeta. Lisaks teen võilille ekstraktist ning kuivatatud võililledest seepi. Meie E&S´i käsitsi valmistatud Kitsepiima-Võilille seep on tõsine hitt-toode, eriti just tundliku nahaga inimeste seas. Loe tootest SIIT . Võililli korjan Eesti puhastelt põldudelt, linnasaastest kaugel, suurema jao saan oma enda koduaiast. Mulle meeldib teadmine, et ravimtaim on korjatud puhtast loodusest, rikkumata-mürgitamata maalt. Olen täielik taimetõrje vahendite vastane. Võilill toidab ja hellitab nahka ning on muuseas ise hea parasiitide tõrjuja. Seega omab tugevat antiseptiist mõju – käed puhtaks loodusega! A, B6, B12 ja E vitamiini sisaldav kitsepiim on näidanud häid tulemusi naharakkude uuendamisel ning aknese naha ravis.
Oh.. by the way today was a Mother´s day. I was presented with delicios cake and beautiful flowers.
Muuseas, täna oli ju emadepäev. Mulle kingiti imemaitsev tort ja kaunid lilled.
IPGKFVTI
---
---