#9 Paintings by Helena-Reet Ennet: "Luxury", July 2019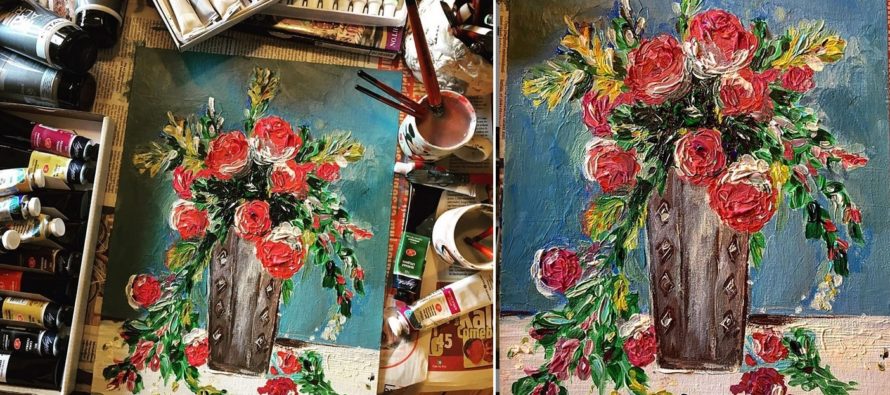 This is my new acrylic painting (dimensions 30x40cm) called Luxury. I really love it and can´t wait to find a beautiful frame to it. In the other hand, I have so many paintings that probably it will be easier to deposit them without a frame. Also when one buys a painting, she or he loves to find a suitable frame by themselves. Psst… ask me what I had for inspiration this time?! 😂😂😂 Sth really huge!!! Sth they keep in State Hermitage Museum! Today I was inspired by world famous Pierre-Auguste Renoir and his painting "Roses and Jasmine in a Delft Vase". Pierre-Auguste painted it when he was 40 years old. I am also 40 years old just now, but unlike him I haven´t been a painter all my life. Painting is a hobby, what I lately found and this is my fourth acrylic flower painting and painting #9 in my whole life.
Minu uus akrüülmaal (mõõdud 30×40 cm) kannab nime Luksus. Tõeliselt ilus tuli ja ma juba tahaks näha seda raamitult. Teistpidi vaadates aga olen kogu aeg dilemma ees – raamida või mitte, sest maale on ilma raamita lihtsam hoiustada ning müües inimesed tihti soovivad just raamita maale, et saaksid endale sobiva raami ise valida.  Psst.. küsige minult, mis mis või kes mind seekord inspireeris?! 😂😂😂 Lendame ikka väga kõrgelt!!! Leidsin inspiratsiooniallika Ermitaažist! Nimelt sain täna inspiratsiooni Pierre-Auguste Renoiri maalist Roosid ja jasmiin sinises vaasis.Pierre-Auguste maalis selle neljakümne aastaselt. Ka mina olen 40-aastane, aga erinevalt temast pole ma muidugi terve elu maalikunstnik olnud. Maalimine on minu jaoks hiljuti avastatud hobi ning tänane töö oli minu neljas lillemaal ning üldse üheksas enda maalitud maal elus.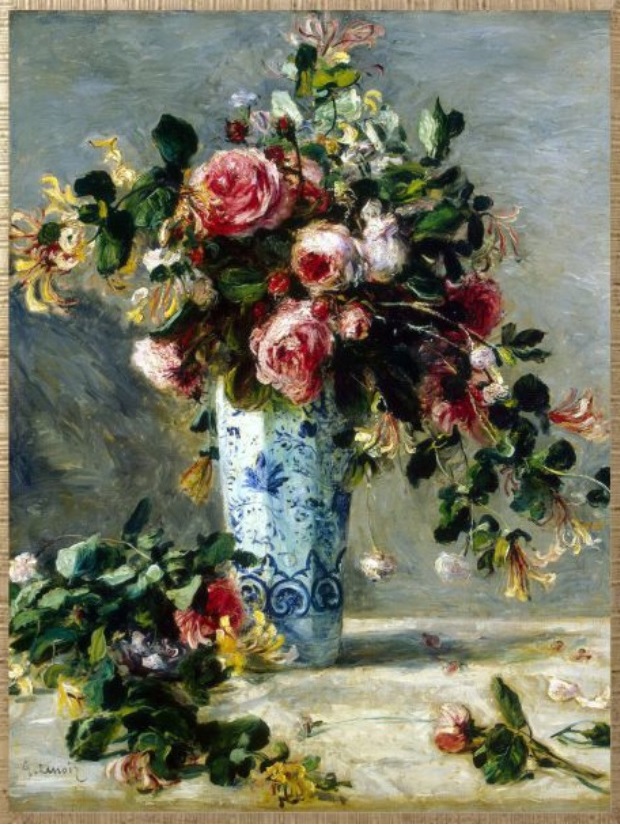 Author: Pierre-Auguste Renoir
Origin: France, Circa 1880/1881
Style: Impressionism
Source of entry: formerly in the collection of Otto Krebs, Holzdorf
Exibition: French Painting: 19th – 20th centuries
Added some pictures while still painted it as well!
Postitan mõned pildid oma töö käigust ja lõpptulemusest!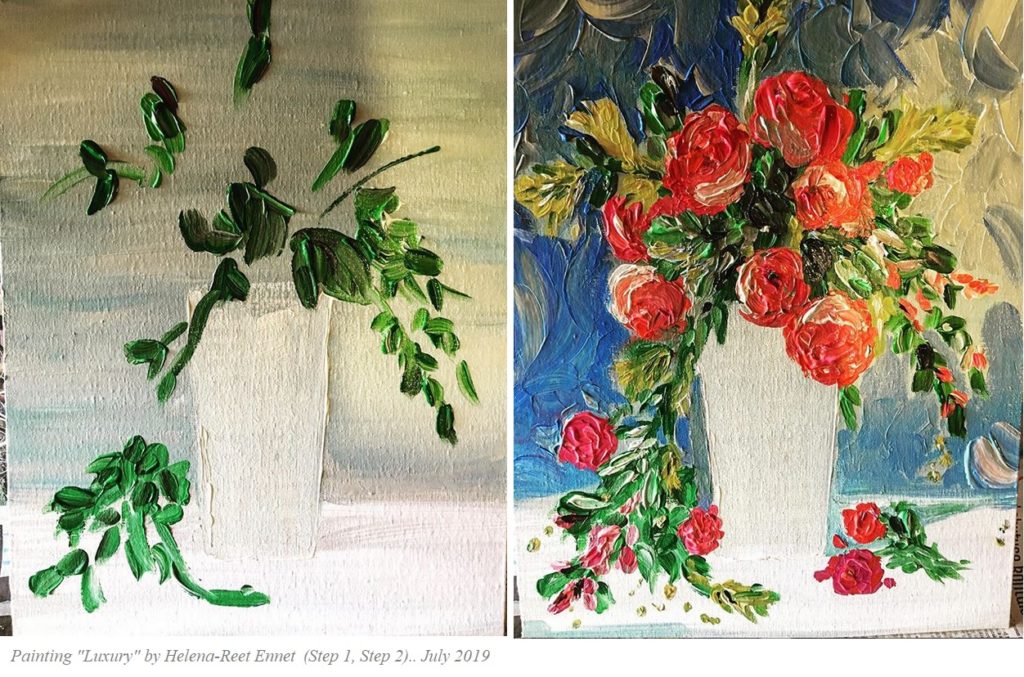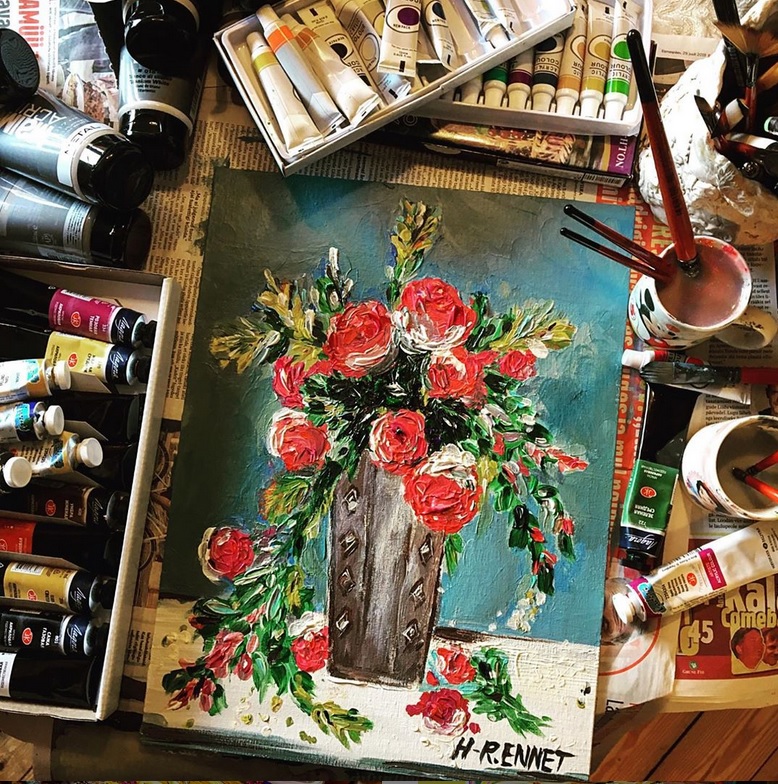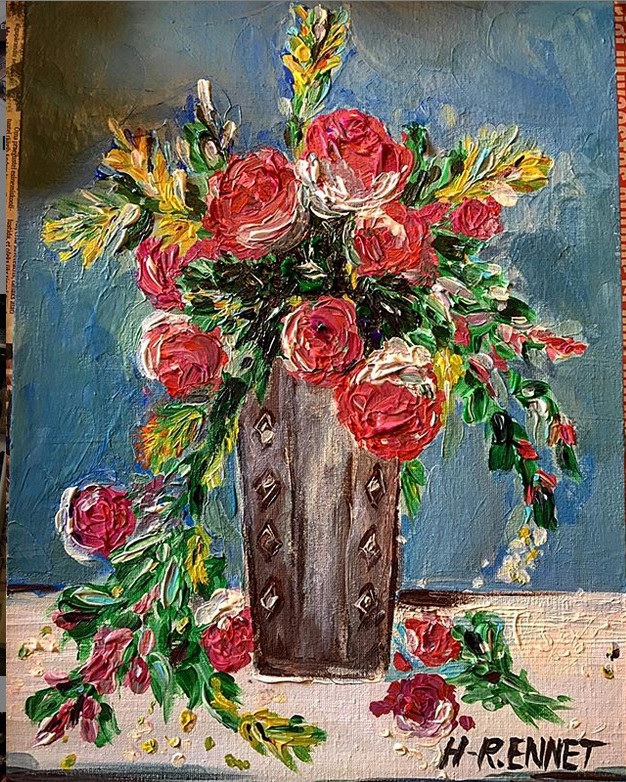 {30x40cm acrylic painting "Luxury" painted by Helena-Reet Ennet, 2019 July}
signed H-R.Ennet
---
---