#22 Paintings by Helena-Reet Ennet: "His Highness Mouse the First" (series – painting nr.7), October 2020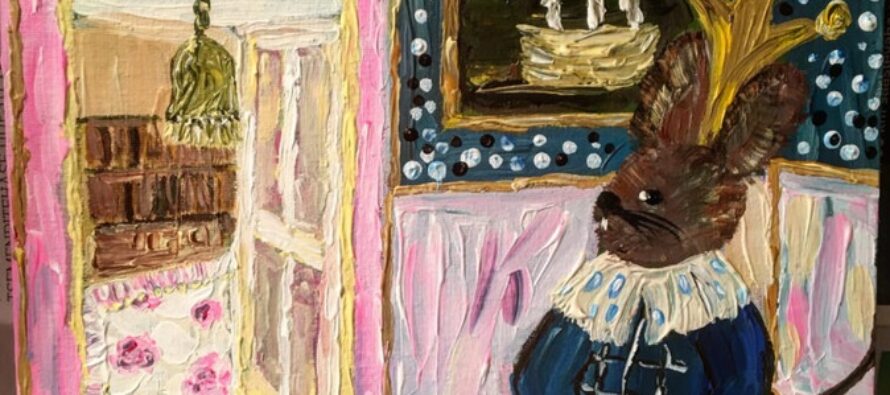 Seven pictures from my Mouse series are ready! So great! This is the first mouse painting in brighter and happier colors (I have mostly used gloomy and dark tones in the first six paintings). I thought that since the book is coming for the little ones, it might be appropriate to make some paintings in happier and more vibrant colors as well. I tried a little different color application technique on this painting also (well, I don't know if it's a technique, but I added a lot of color so that many places are prominent on the canvas. Usually I have made some details only with the use of such a "lush" color, but this painting has more "lush" than usual. His Highness Mouse the First stands in his magnificent blue robe with a crown on his head and a sword in hand in his hallway, in the background there is a library room with an open door. The floors are covered with soft and gorgeous carpets, there is a painting on the wall where the cheese cake is decorated with three candles and there are plates and pots on the shelf above the door. The wall is spotted (this spotted / dotted motive  runs through several other paintings in my mouse series).
—
Seitse pilti minu Hiire-seeriast on valmis! Nii lahe! See on esimene hiire maal, mis on säravamates ja rõõmsamates värvides (esimesel kuuel maalil olen kasutanud valdavalt süngid ja tumedaid toone). Mõtlesin, et kuna raamat tuleb kõige pisematele, siis oleks ehk paslik mõned pildid ka rõõmsamates ja särtsakamates värvilahendustes teha. Katsetasin sellel maalil natuke teist värvi pealekandmise tehnikat (no ma ei teagi, kas see on tehnika, aga lisasin värvi ohtralt, nii et paljud kohad on lõuendil esiletükkivad. Tavaliselt olen mõne detaili ainult sellise "lopsakama" värvi kasutusega teinud, ent sellel maalil on seda "lopsakust" tavapärasest rohkem. Tema Kõrgeausus Hiir Esimene seisab oma uhkes sinises esindusrüüs kroon peas ja mõõk käes koridoris, kust avaneb uks raamatukogu tuppa. Põrandaid katavad pehmed ja uhked vaibad, seinal on maal, kus juustutorti ehib kolm küünalt ning uksekohal riiulis on toretsevalt välja seatud taldrikud ja potid. Sein on täpiline (selline täpiline / mummuline motiiv jookseb mitmest teisest hiire-seeria pildist samuti läbi).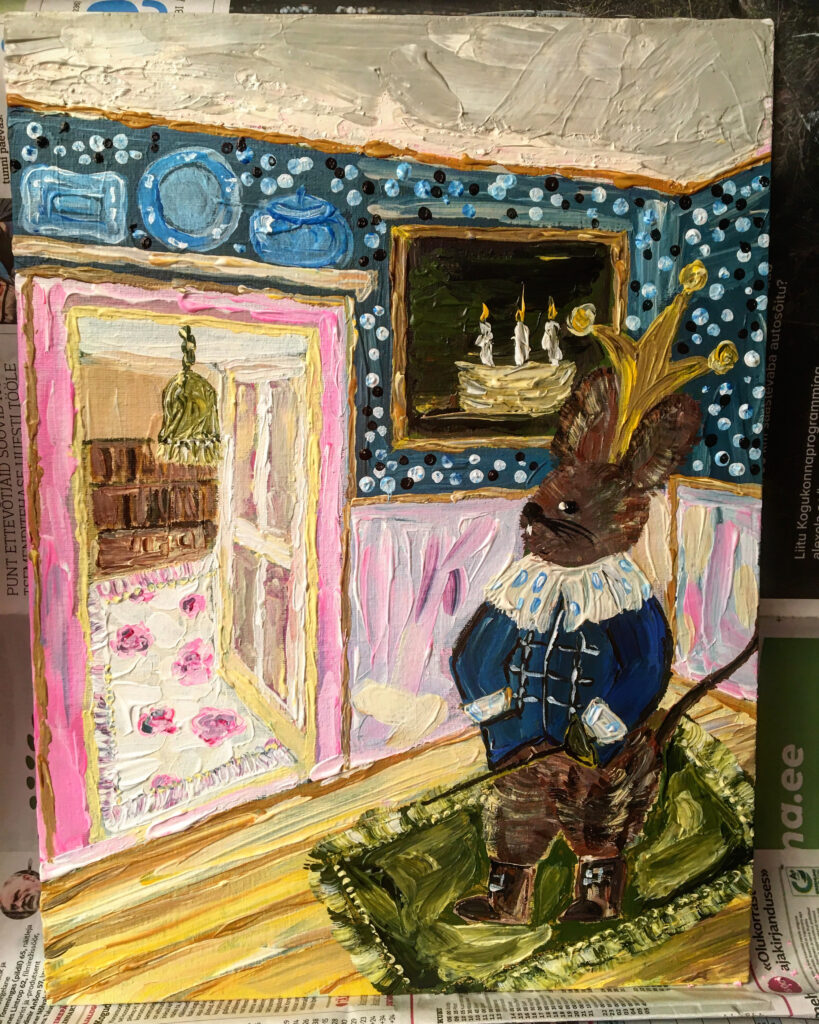 "His Highness Mouse the First" (series – painting nr.7)
acrylic painting (30x40cm)
not signed yet
{painted by Helena-Reet Ennet, 2020 October}
Here are some examples of partial work and some details:
Siin on näha näiteid poolikust tööst ja toon välja mõned detailid valmis maalist: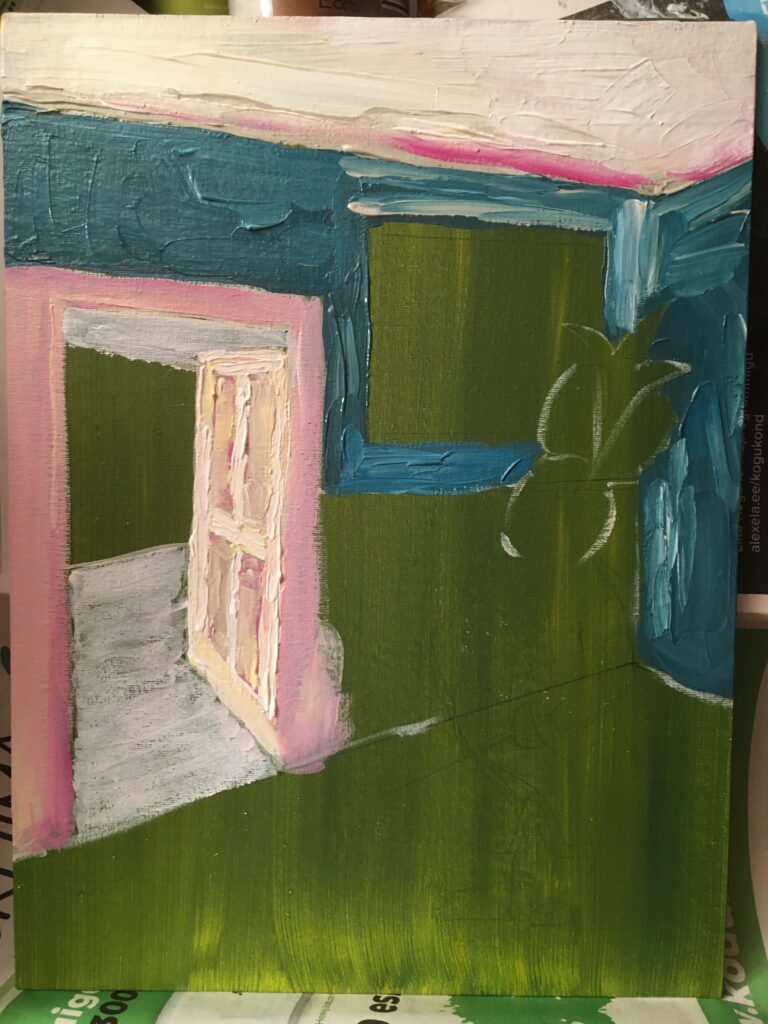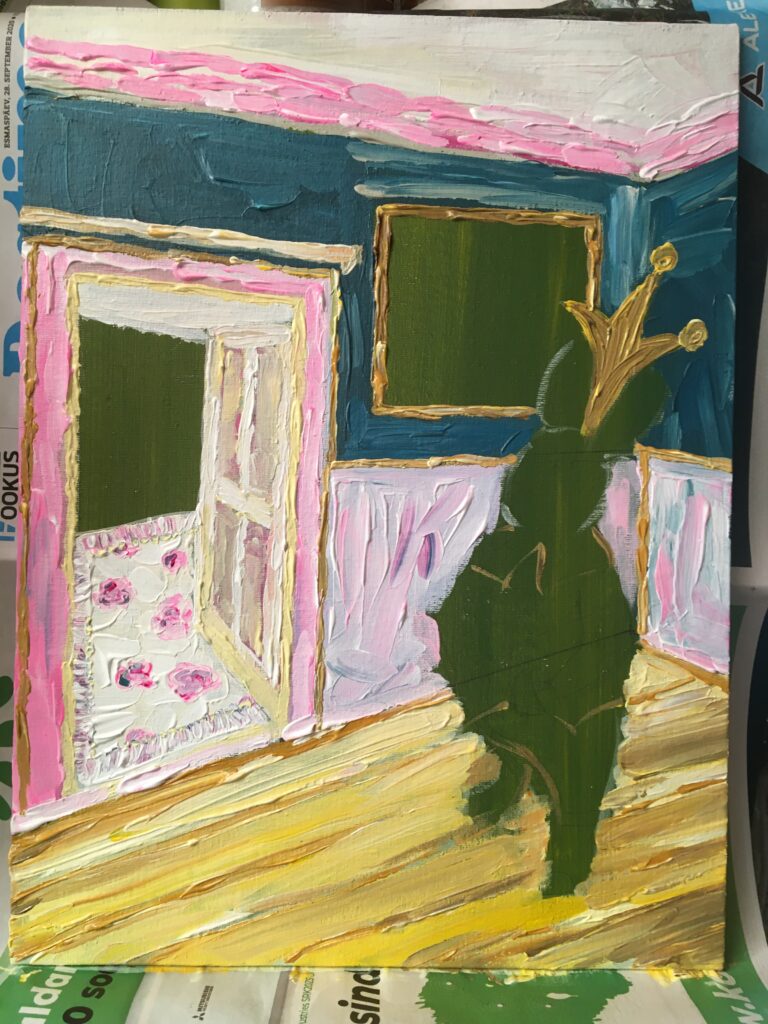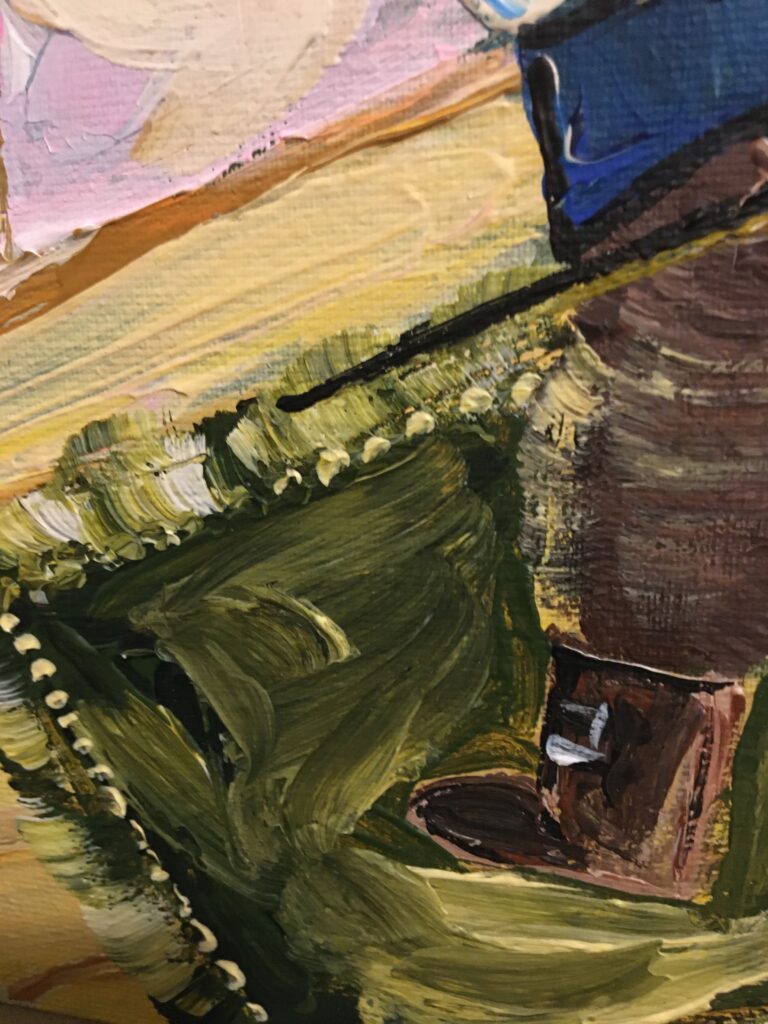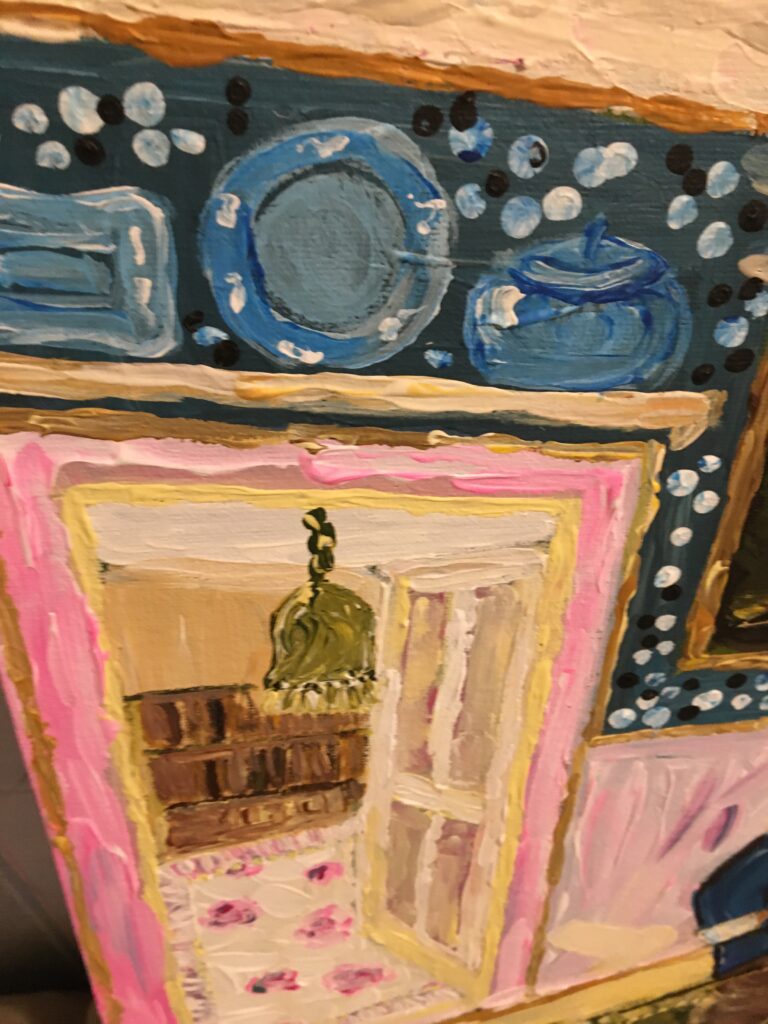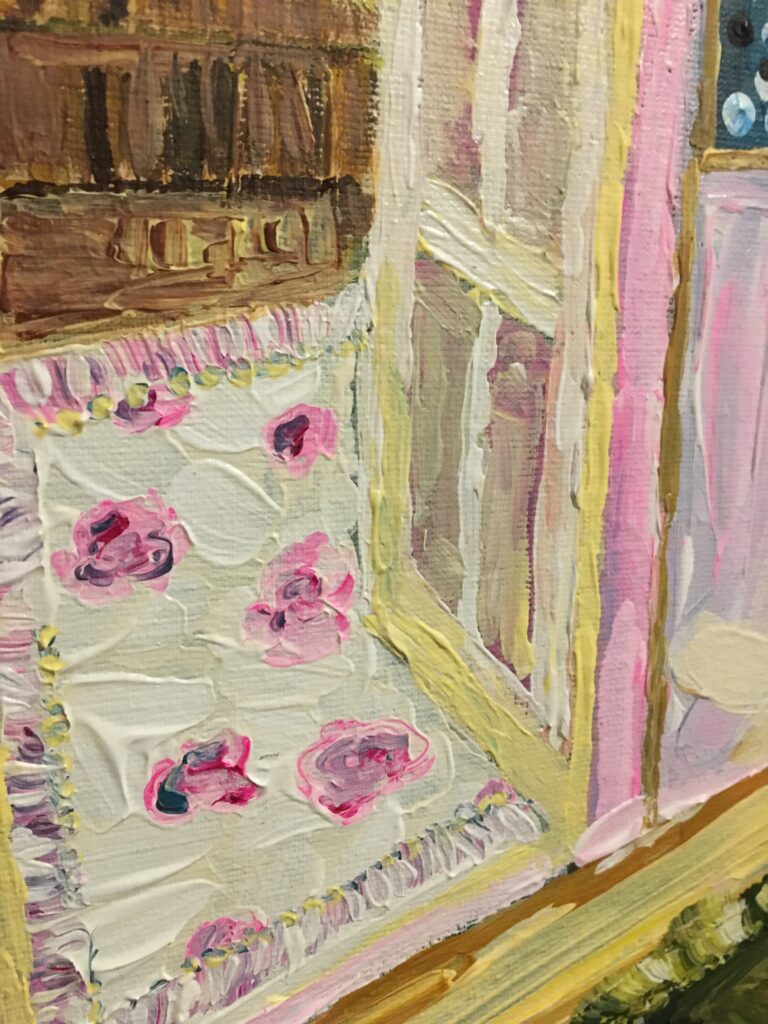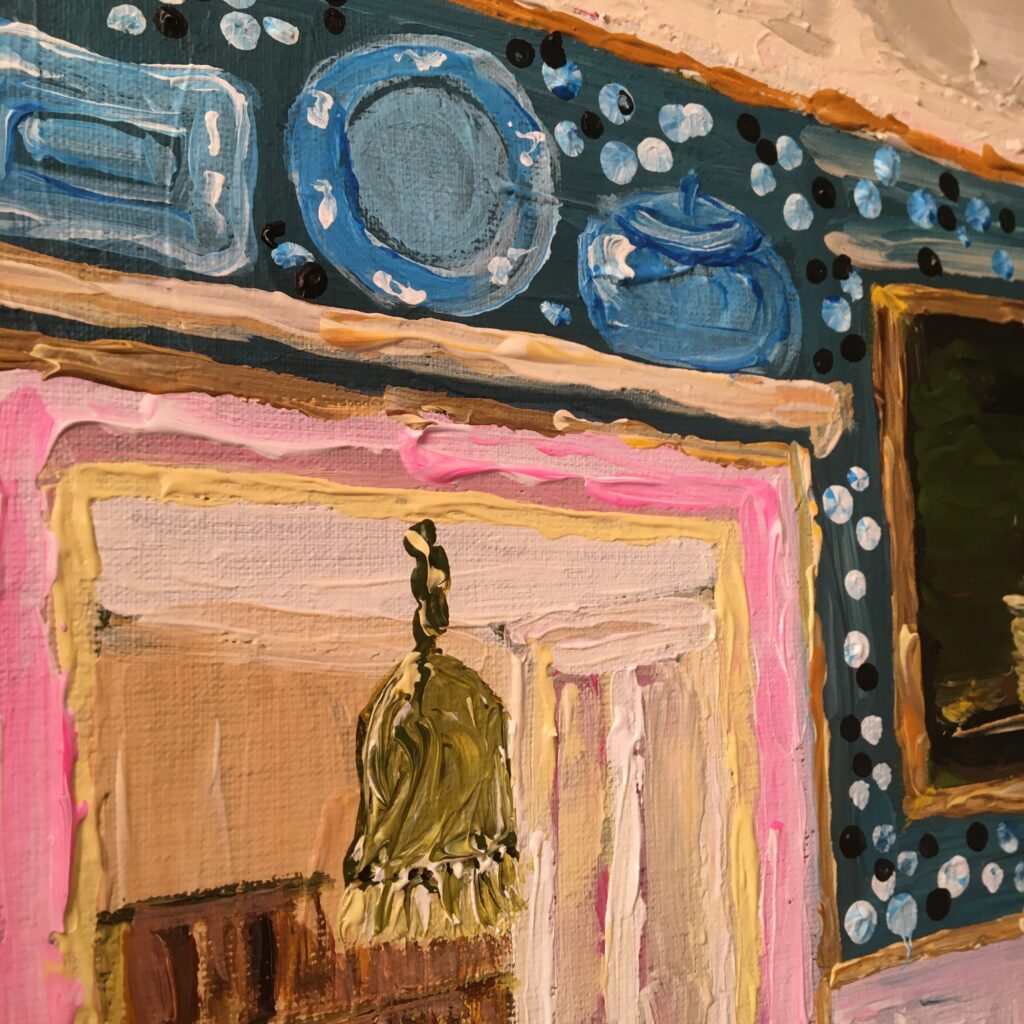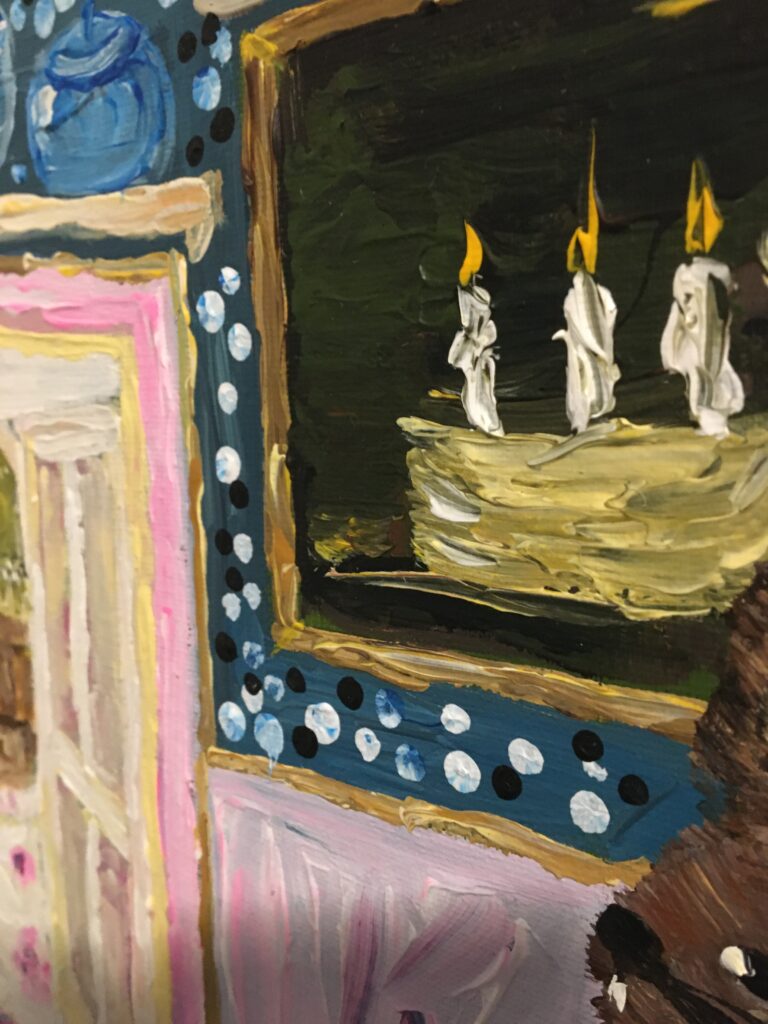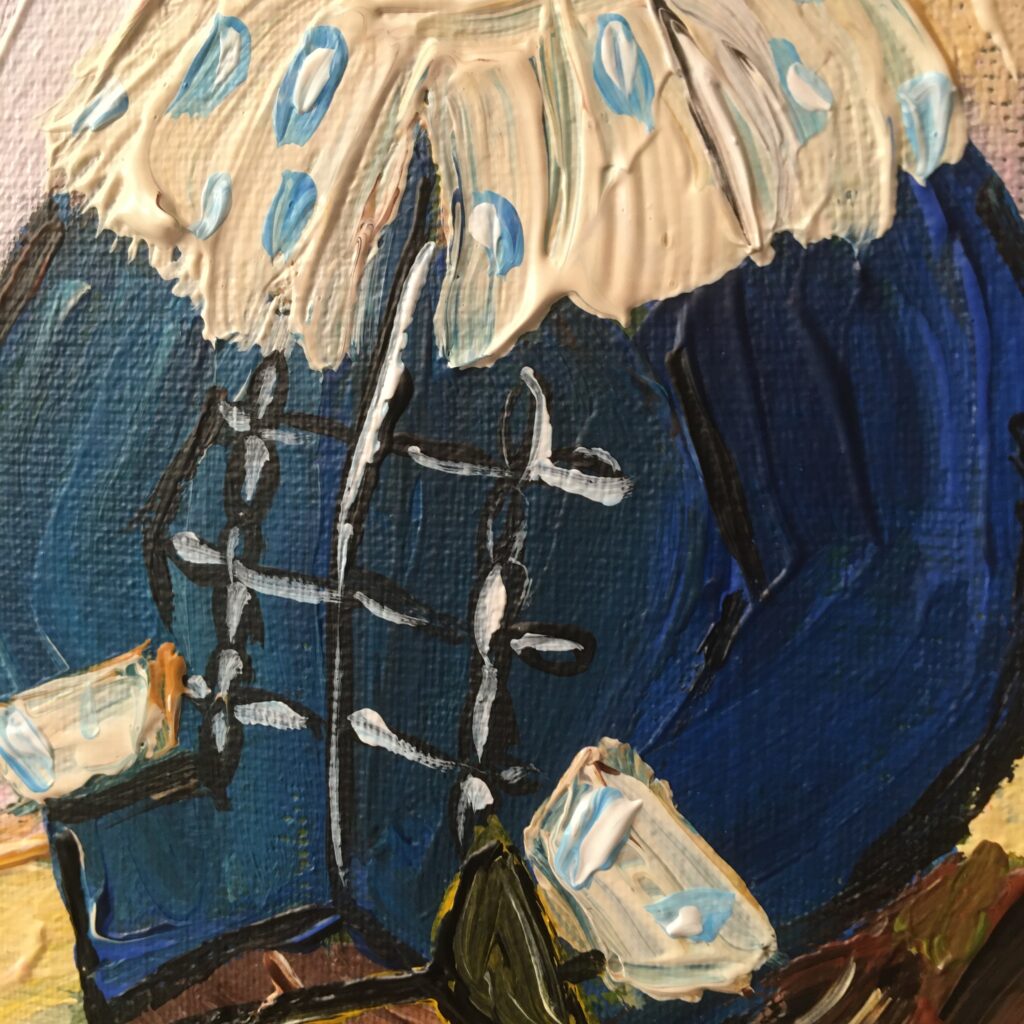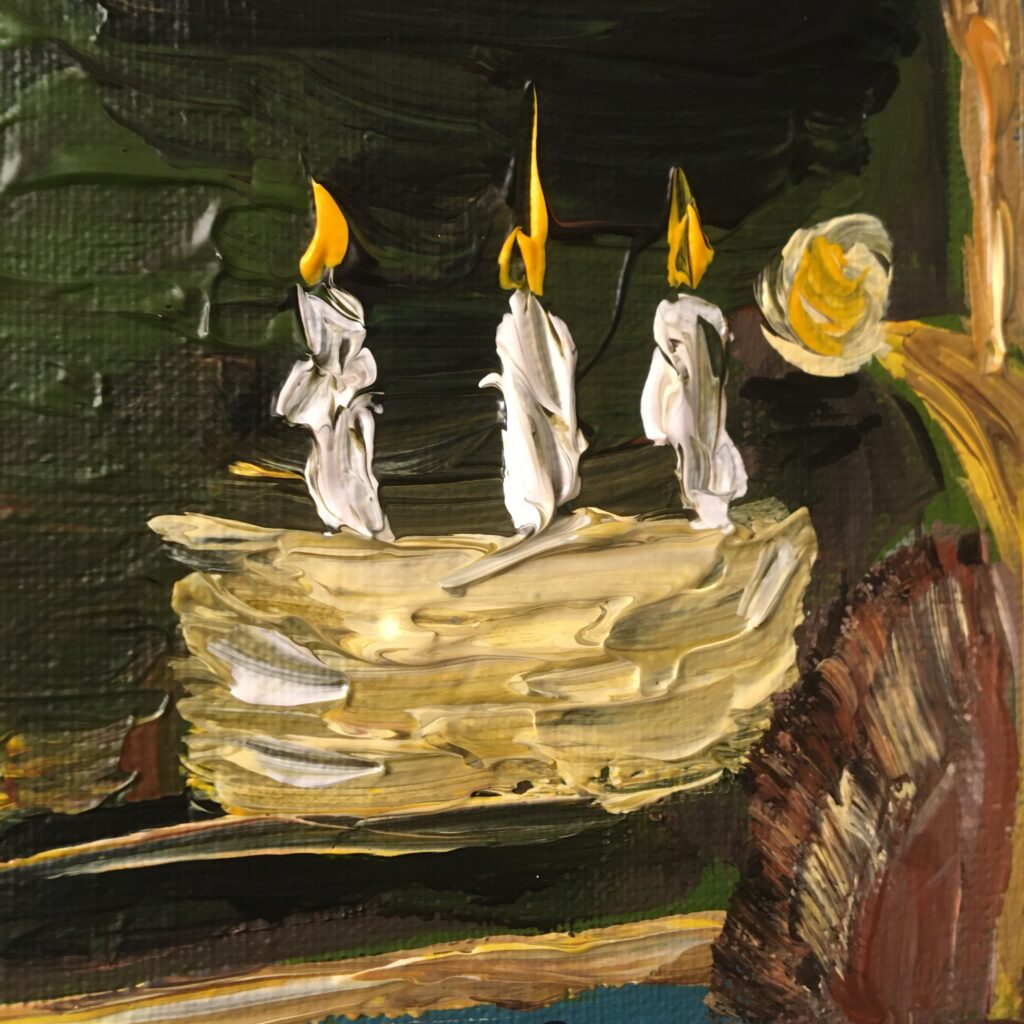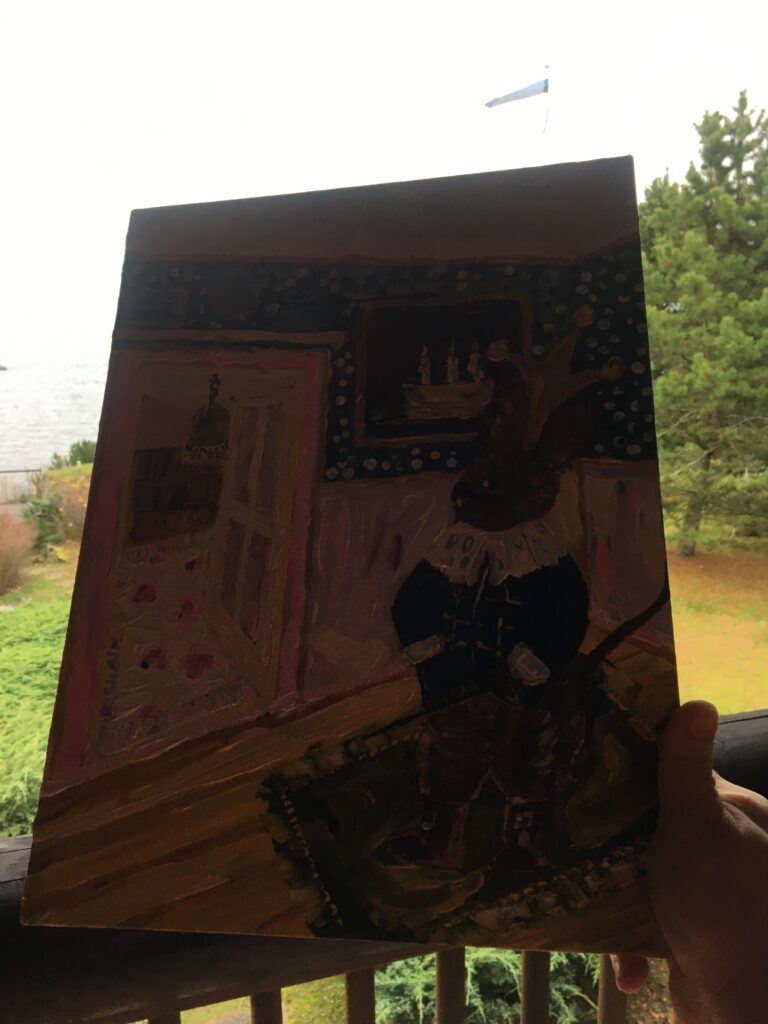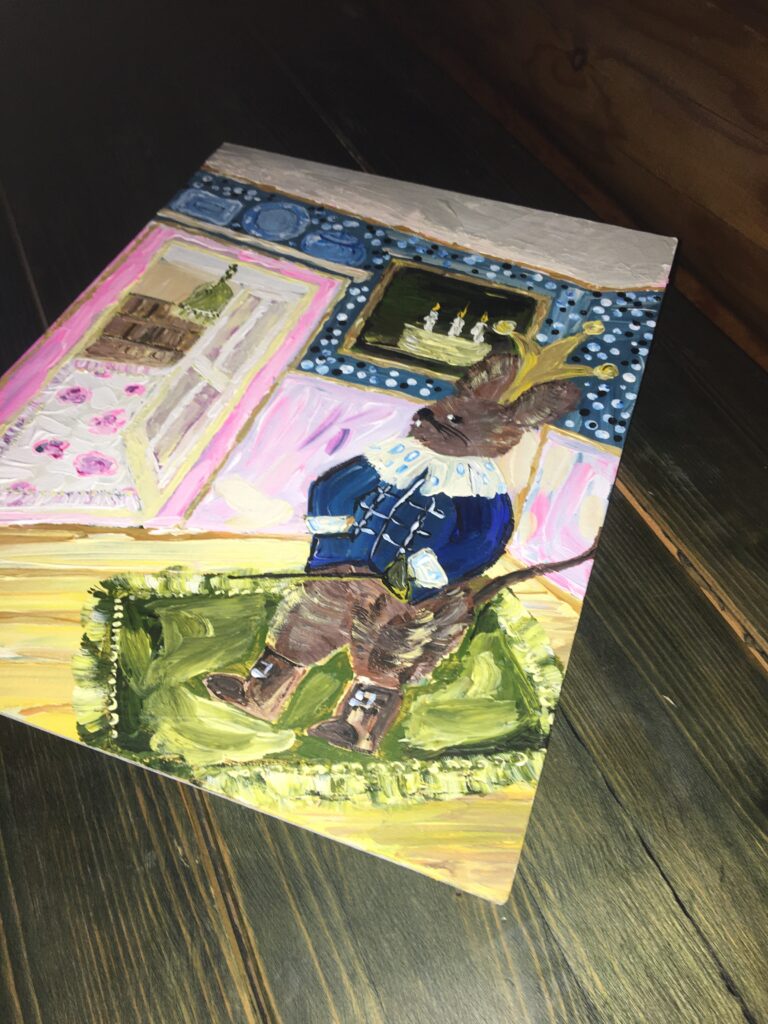 Look also the other paintings from this Mouse-series:
Vaata ka Hiire-seeria teisi maale: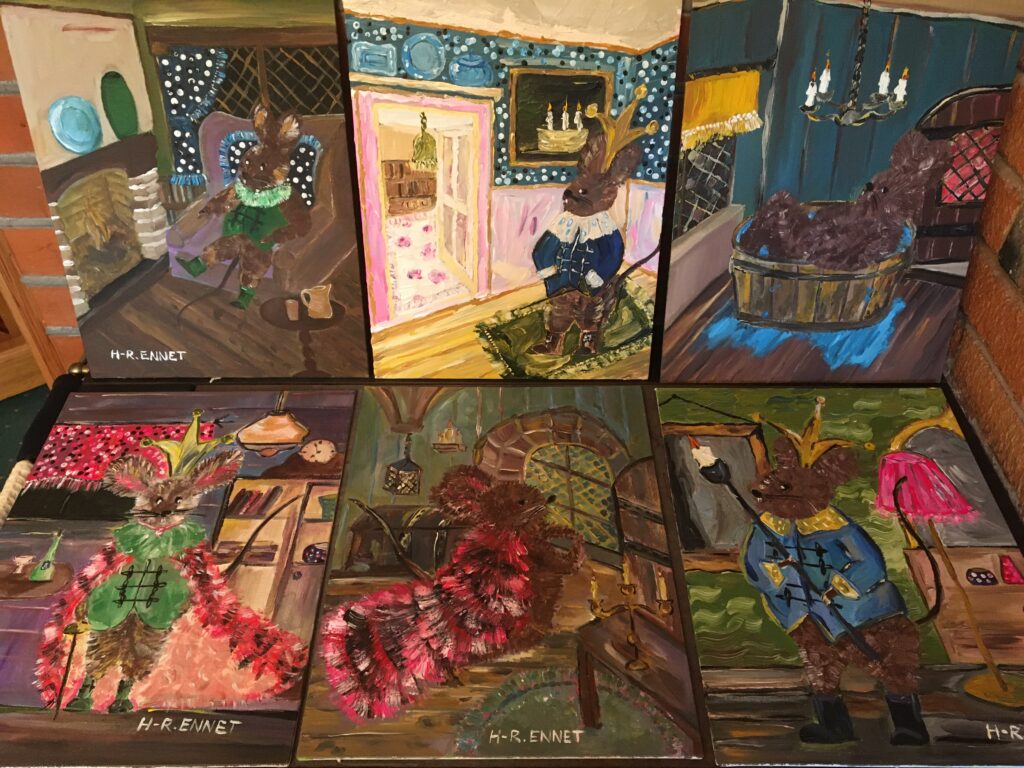 #16 Paintings by Helena-Reet Ennet: "His Highness Mouse the First" (series – painting nr.1), September 2020 + children's book idea!
#17 Paintings by Helena-Reet Ennet: "His Highness Mouse the First" (series – painting nr.2), September 2020
#18 Paintings by Helena-Reet Ennet: "His Highness Mouse the First" (series – painting nr.3), September 2020
#19 Paintings by Helena-Reet Ennet: "His Highness Mouse the First" (series – painting nr.4), September 2020
#20 Paintings by Helena-Reet Ennet: "His Highness Mouse the First" (series – painting nr.5), October 2020
#21 Paintings by Helena-Reet Ennet: "His Highness Mouse the First" (series – painting nr.6), October 2020
---
---