#25 Paintings by Helena-Reet Ennet: "His Highness Mouse the First" (series – painting nr.9), October 2020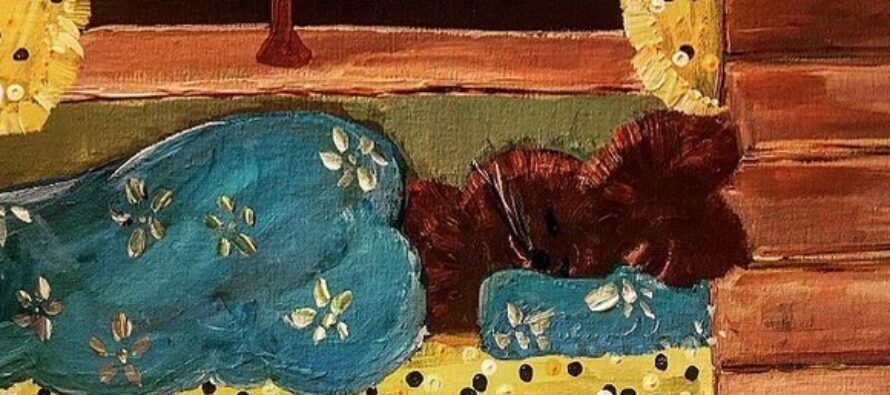 The ninth painting from my "His Highness Mouse the First" series is ready! On this picture the small mouse boy is sleeping. As always, there are spotty details which add some extra childishness and joy, I think (this time curtains and the bed are dotted). There are more interesting details I added – for example a large gorgeous Hanukkah Menorah on the windowsill, an old-fashioned vintage commode with many drawers and a clock on top and slippers in front of the bed. In the meantime, I thought I make some ceramic plates on the wall above the curtain and flowerpot on the windowsill as well, but I haven't done it yet. Since the painting is unsigned (because I want to save all the paintings on a memory stick for book illustrations before signing), who knows, maybe I will add details to some of my paintings at the last minute, who knows… I will let you know then.
As always, I paint with acrylic colors (they dry quickly, do not stain the brushes and are somehow more comfortable to use). While I painted this picture, I felt first time that a similar handwriting is beginning to emerge and there are certain nice details which reappear in my paintings (dots, candles, wooden floors, fringes on curtains and carpets). I have also found out what bothers me and what I try to avoid. For example, I like to use a lot of color, but I think it's only beautiful if I emphasize individual details with a thicker color, not overdo it with what I used to do sometimes. I also don't like intense (neon) tones  and light bright tones when they dominate – again I like the details, but I don't like them to previle. Ah yeah .. one more thing what I'm doing now (I already mentioned it in an earlier blog)  I'm making a light sketch before I start, I think things through … in the past I just I put the brush in the pot and started in the mood: "let's see what comes here" Icccc.. 🙂
—
Üheksas pilt "Tema Kõrgeausus Hiir Esimene" maalide seeriast on valmis! Sellel hiirepoiss tudub. Nagu ikka on täpilisi detaile, mis minu meelest lisavad lapselikkust ja rõõmu (seekord kardinad ning voodi). Detailidest tooks veel välja suure uhke Hanukkia aknalaual, vanaaegse kummuti millel kell ning sussid voodi ees. Vahepeal mõtlesin, et teen veel kardinapuu kohale taldrikuid seinale ja veel lillepoti aknalauale, aga hetkel pole veel teinud. Kuna maal on signeerimata (sest tahan kõik maalid enne allkirjastamist raamatu illustratsioonide tarvis mälupulgale võtta), siis kes teab, võib-olla lisan veel viimasel minutil detaile juurde mõnele maalile. Eks paistab, kui teen, eks siis annan teada.
Nagu ikka maalin akrüülvärvidega (kuivavad kiiresti, ei määri pintsleid ning on kuidagi mugavamad kasutada). Seda pilti tehes tundsin, et maali-seerial hakkab tekkima ühtlane käekiri ning detailid mis korduvad mitmetel maalidel (täpid, küünlad, puitpõrandad, narmad kardinatel ning vaibal).. Samuti olen selgeks saanud, mis mind häirib ja mida ma proovin vältida. Näiteks meeldib mulle kasutada palju värvi, ent minu meelest jääb see ilus vaid siis, kui rõhutada üksikuid detaile paksema värviga, mitte liialdada sellega, mis mul vahel kombeks. Samuti ei armasta ma väga ekrsaid ja heledaid toone, kui need domineerivad – detailidena jälle meeldib aga ülekaalus ei meeldi. Ah jaaa.. seda ka teen nüüd (mainisin vist juba varasemas blogis ka), et mõtlen ikka enne, mida joonistan ja teen ka kerge visandi… varem pistsin lihtsalt pintsli värvi sisse ning hakkasin tegema stiilis: "vaatame, mis siit tuleb" Hahaa 🙂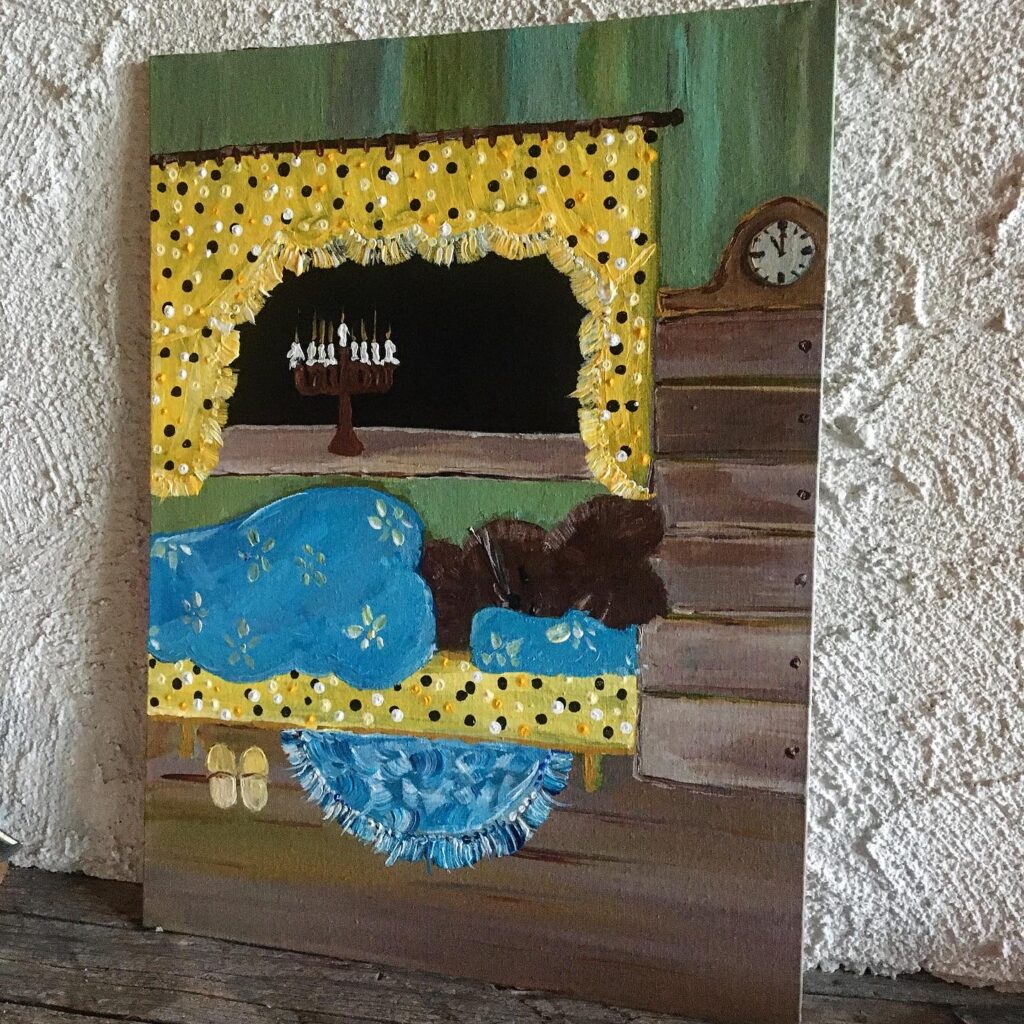 "His Highness Mouse the First" (series – painting nr.9)
acrylic painting (30x40cm)
not signed yet
{painted by Helena-Reet Ennet, 2020 October}
Here are some examples of partial work and some details:
Siin on näha näiteid poolikust tööst ja toon välja mõned detailid valmis maalist: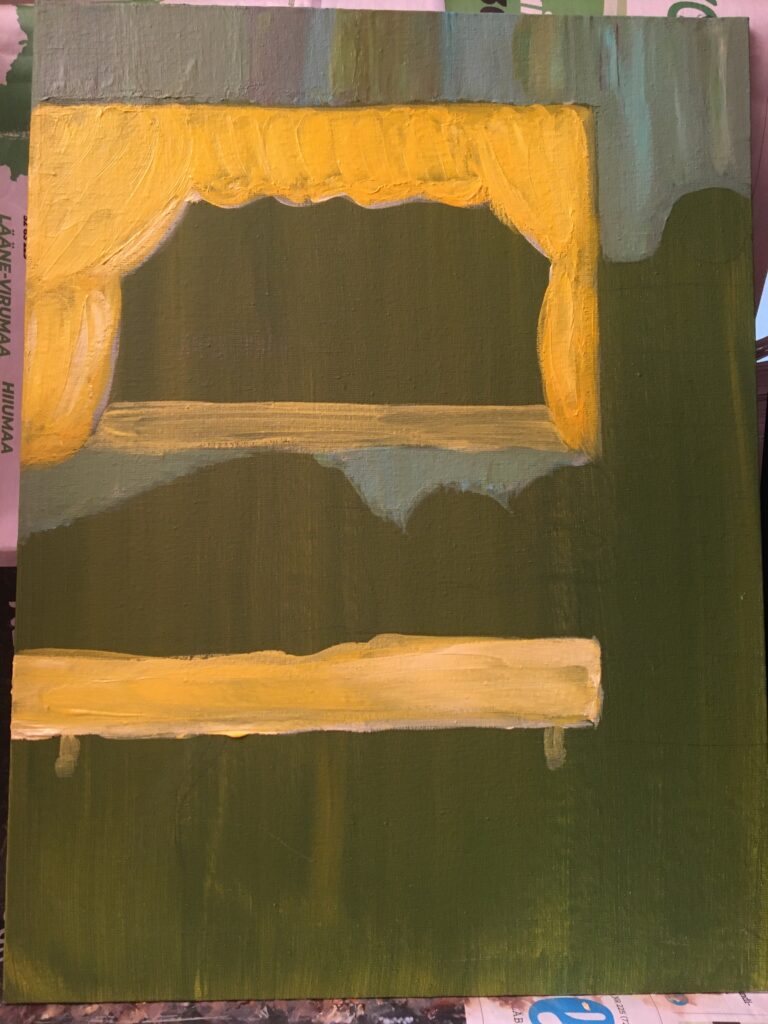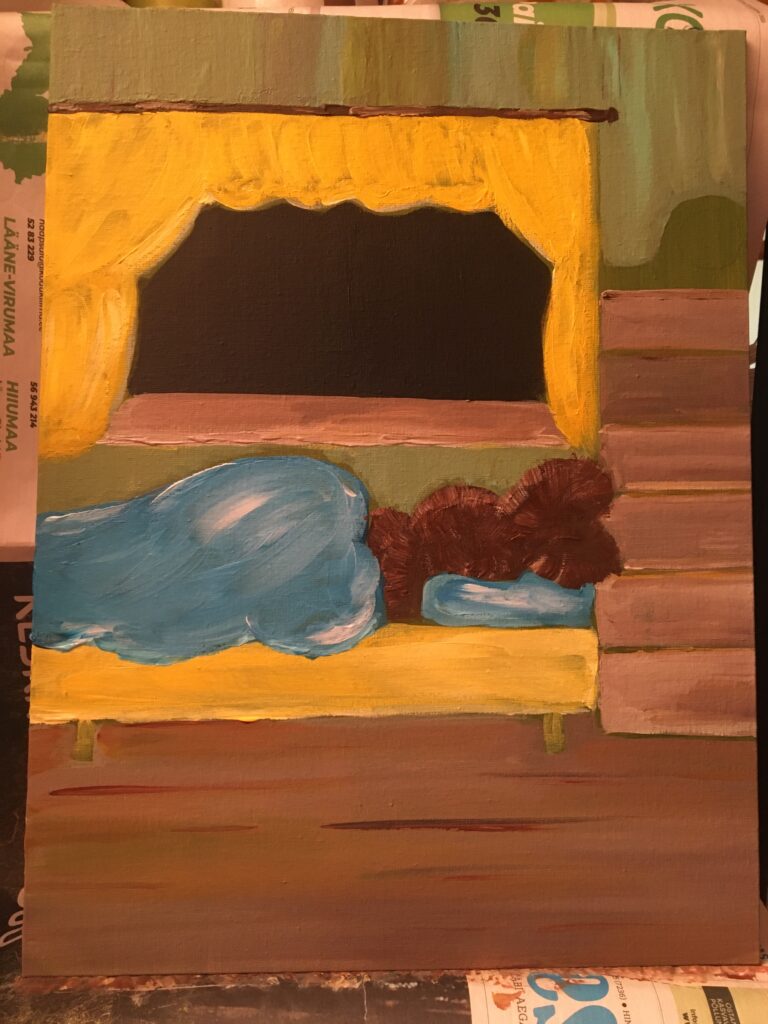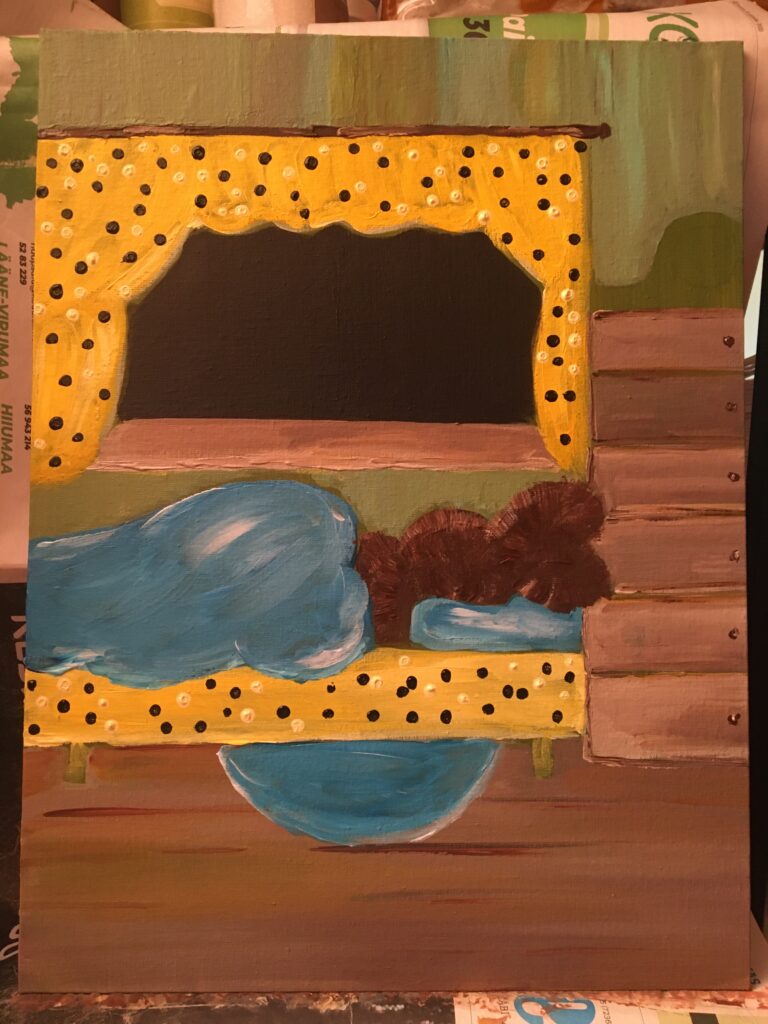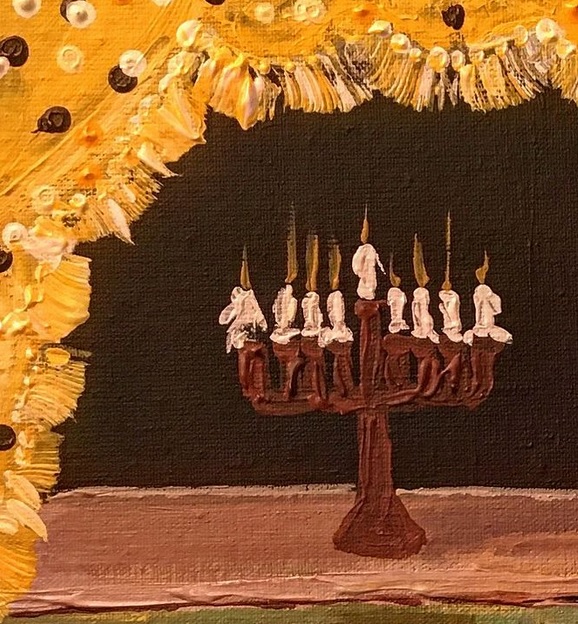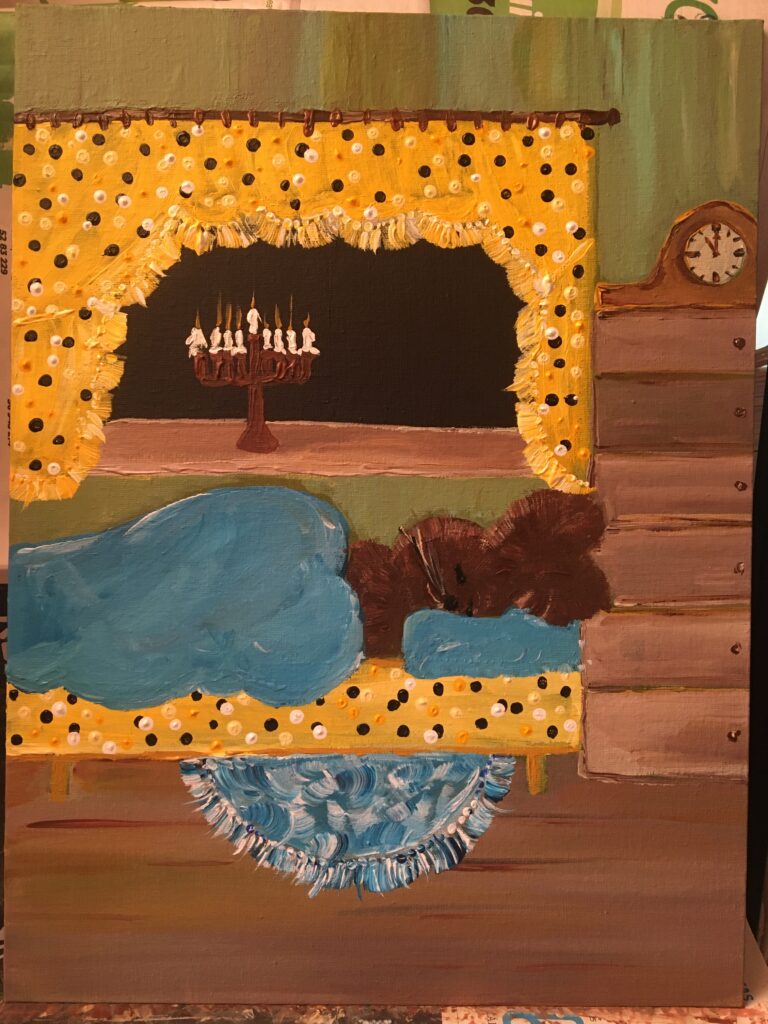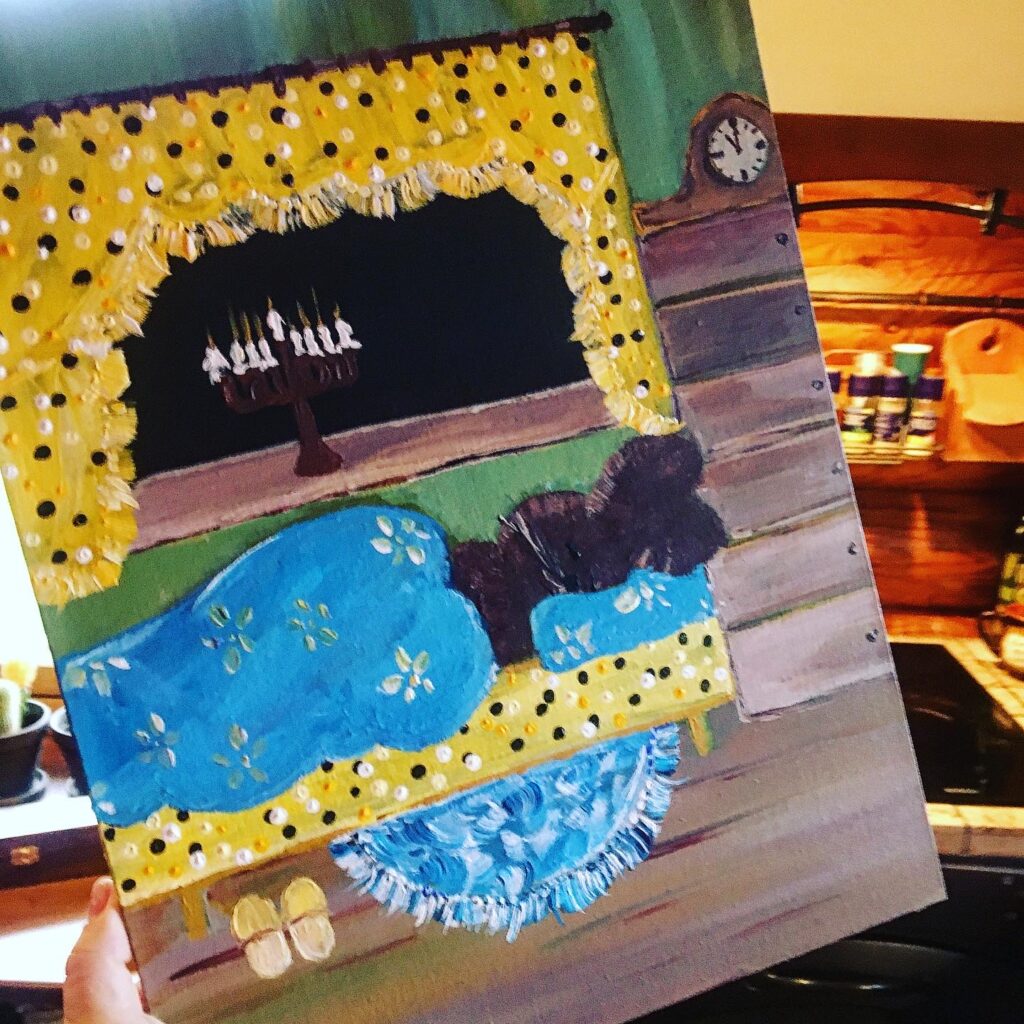 Look also the other paintings from this Mouse-series:
Vaata ka Hiire-seeria teisi maale: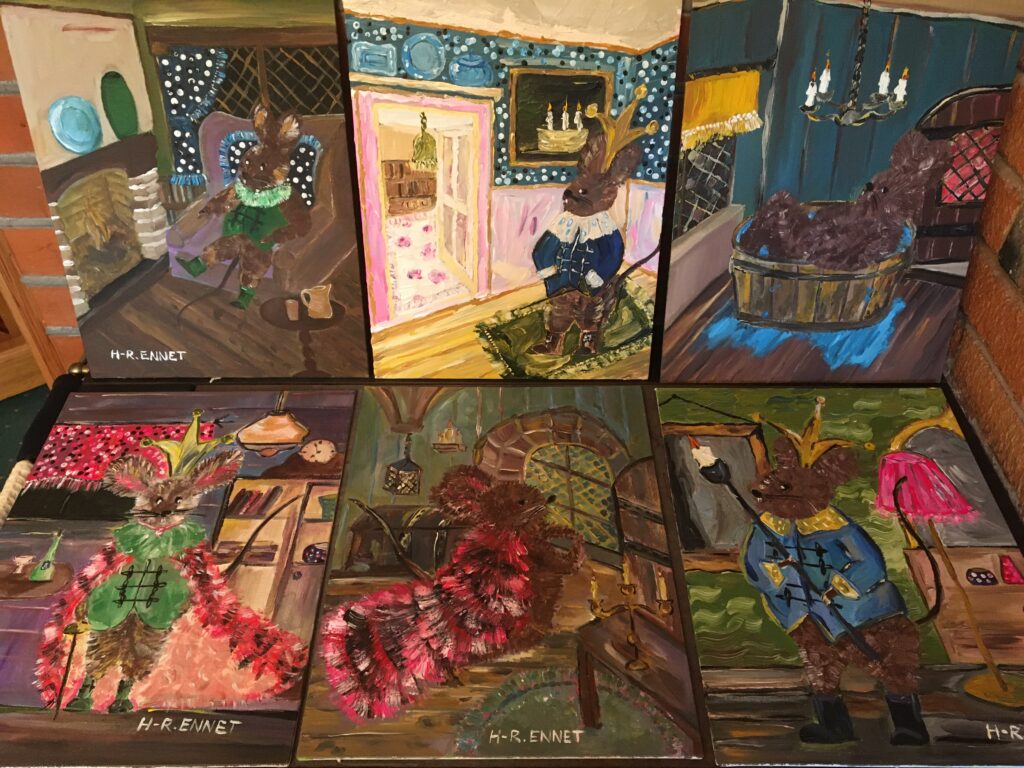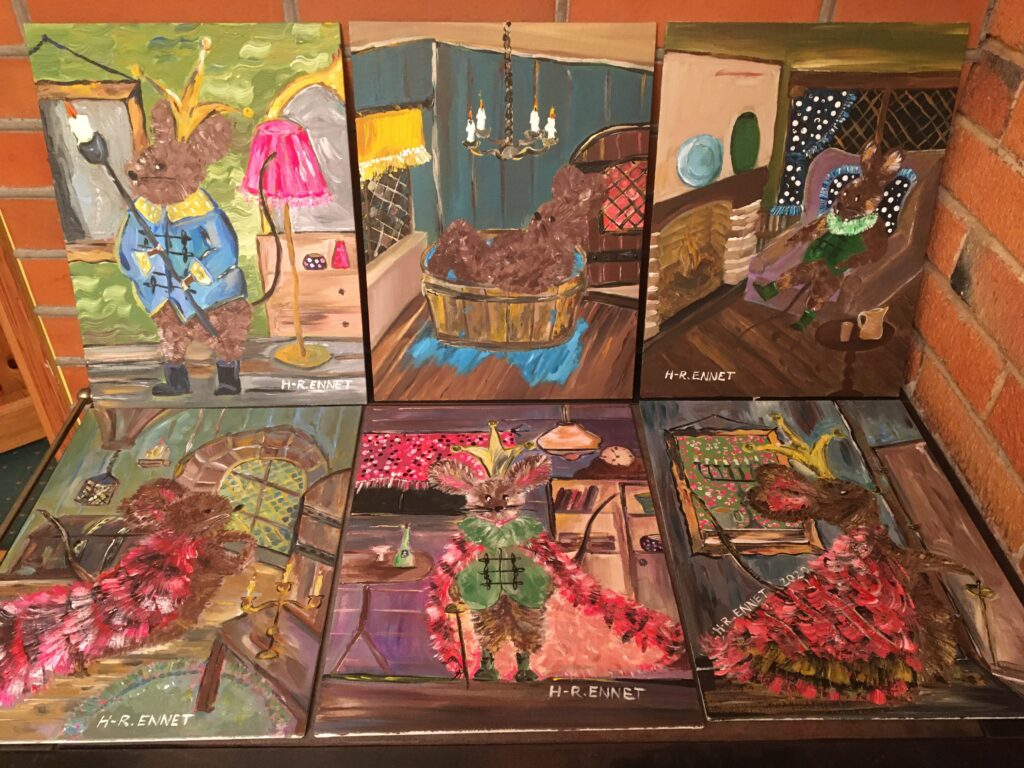 #16 Paintings by Helena-Reet Ennet: "His Highness Mouse the First" (series – painting nr.1), September 2020 + children's book idea!
#17 Paintings by Helena-Reet Ennet: "His Highness Mouse the First" (series – painting nr.2), September 2020
#18 Paintings by Helena-Reet Ennet: "His Highness Mouse the First" (series – painting nr.3), September 2020
#19 Paintings by Helena-Reet Ennet: "His Highness Mouse the First" (series – painting nr.4), September 2020
#20 Paintings by Helena-Reet Ennet: "His Highness Mouse the First" (series – painting nr.5), October 2020
#21 Paintings by Helena-Reet Ennet: "His Highness Mouse the First" (series – painting nr.6), October 2020
#22 Paintings by Helena-Reet Ennet: "His Highness Mouse the First" (series – painting nr.7), October 2020
#24 Paintings by Helena-Reet Ennet: "His Highness Mouse the First" (series – painting nr.8), October 2020
---
---