#27 Paintings by Helena-Reet Ennet: "His Highness Mouse the First" (series – painting nr.11), November 2020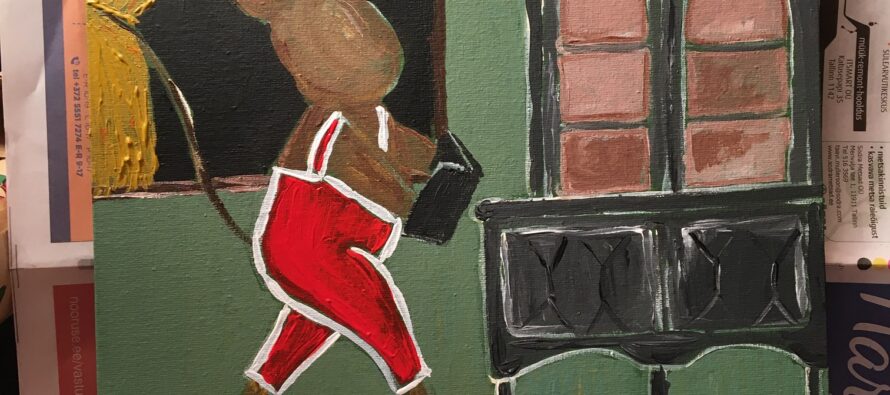 I have done several new paintings since my last blog post, but I have not made any articles in my Elisheva & Shoshana (art) blog  because this mouse painting is still incomplete.  I thought I would finish the painting first and then I will write about it but. . Well you see .. April is already over but this painting (started in November 2020) is still unfinished. Now I decided to make a post and once it is complete I will make a new post (hopefully). 🙂
This painting has a nice "antique" style. I really like how this mouse came out (he is hurrying book in his hand ) and I also like this antique cupboard (I got inspiration from the cupboard in my own kitchen) and I just love the chandelier with candles. Candles (as well as the dots) run tightly through my mouse paintings.

—
Olen vahepeal mitu uut maali teinud, aga oma Elisheva & Shoshana (kunsti)blogisse pole sissekandeid just seetõttu teinud, et see hiiremaal jäi poolikuks (on hetkel veel lõpetamata) ning mõtlesin, et teen maali enne valmis ning siis kajastan järejest kõiki maale ka siin blogis. No näete.. aprill hakkab juba lõppema aga see maal (alustatud novembris 2020) on ediselt lõpetamata. Otsustasin, et teen postituse ära ja eks siis hiljem teeb uue postituse või täiendab seda postitust, kui maal päris valmis. 
Sellel maalil on mõnus "antiikne" hõng juures. Mulle endale väga meeldib see hiire poos (kiirustab raamat käes) ning samuti meeldib see antiikne kapp (inspiratsiooni sain oma köögis olevalt kapilt) ning küünaldega lühter. Küünalde detail (nagu ka täpid), jooksevad mu hiiremaalidest tihedalt läbi.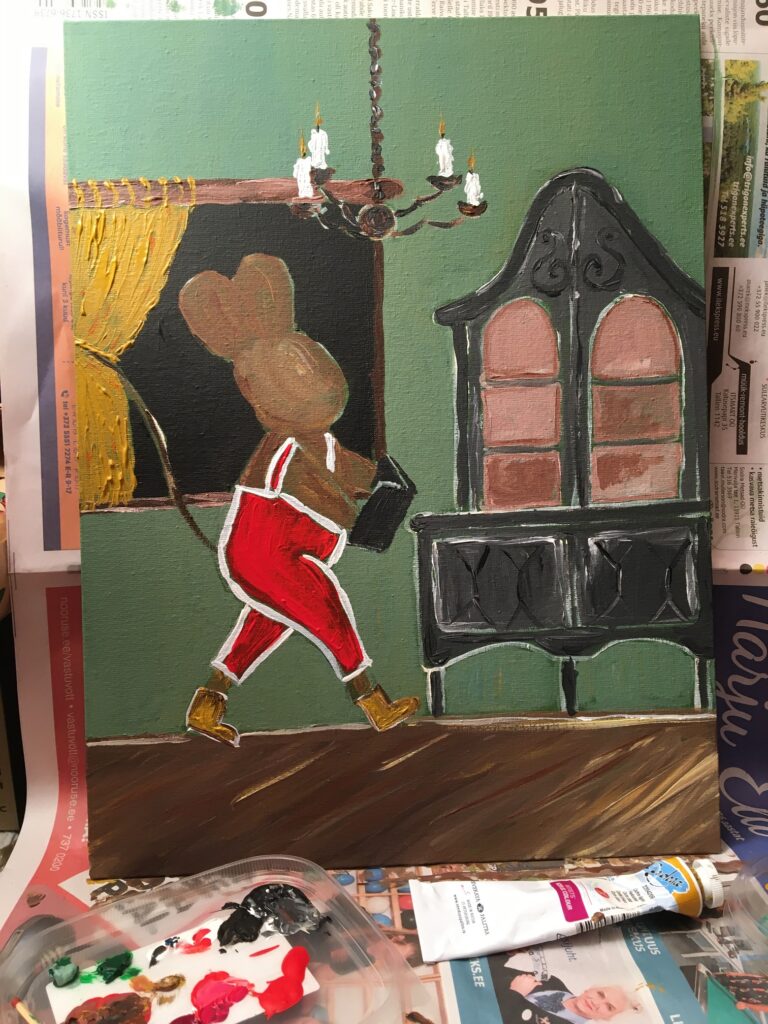 "His Highness Mouse the First" (series – painting nr.11)
acrylic painting (30x40cm)
not signed yet, not finished yet (eyes, small details)
{painted by Helena-Reet Ennet, 2020 November}
Here are some details /examples of my work:
Siin on näha näiteid poolikust tööst ja "peaaegu" valmis maalist: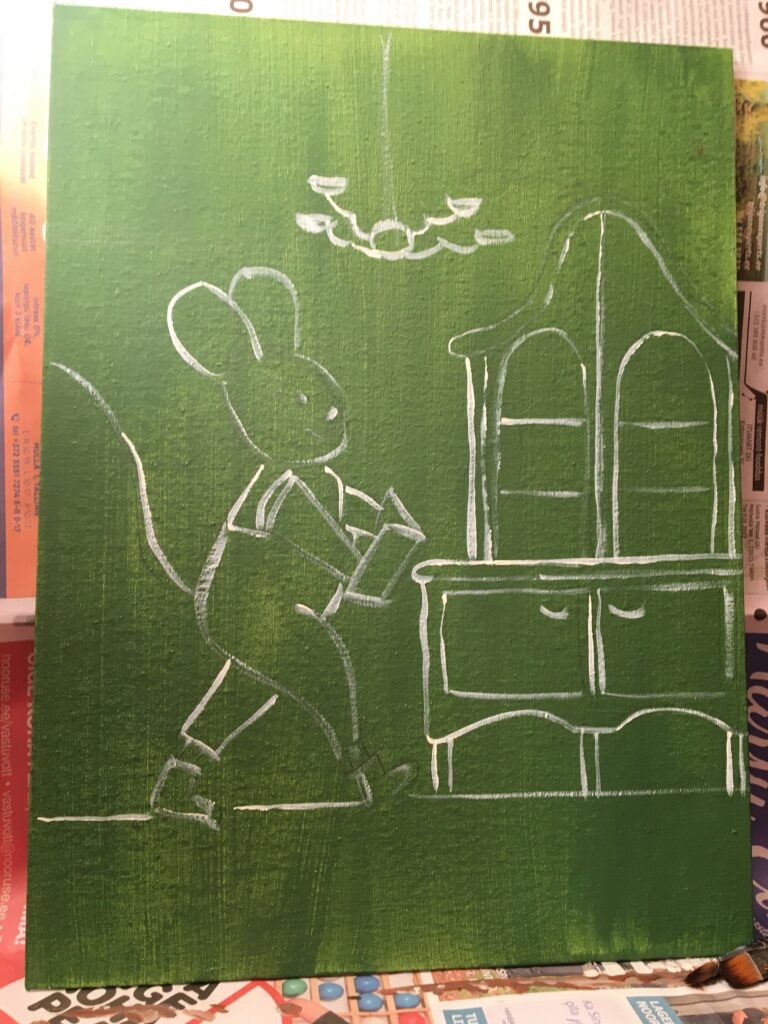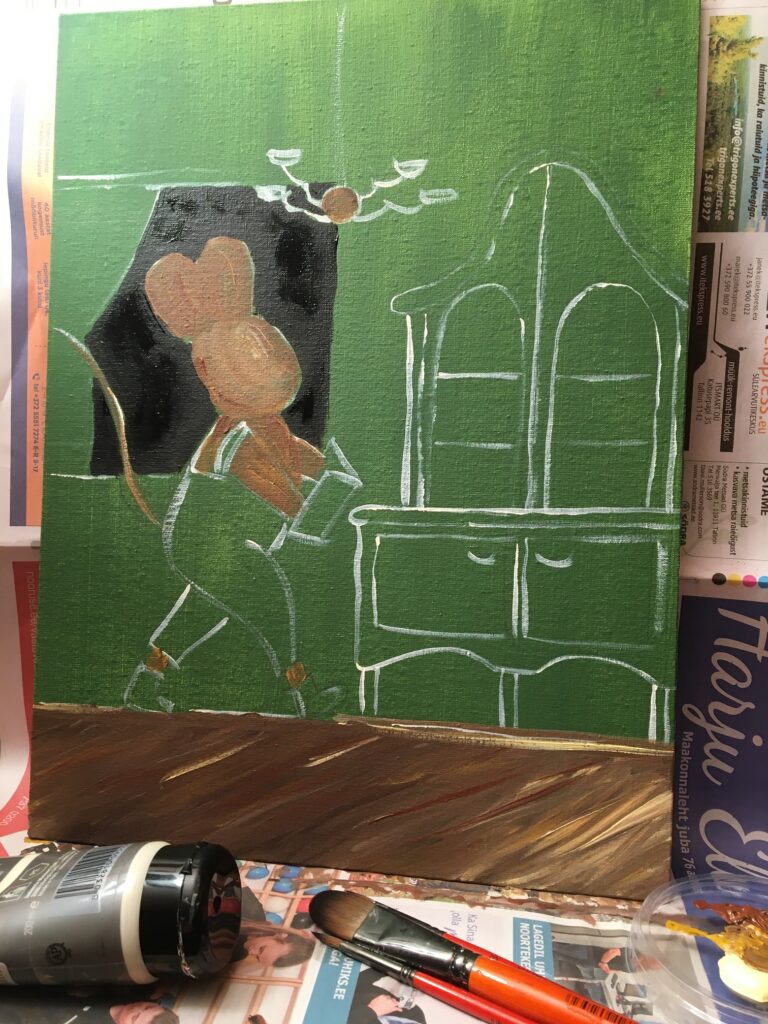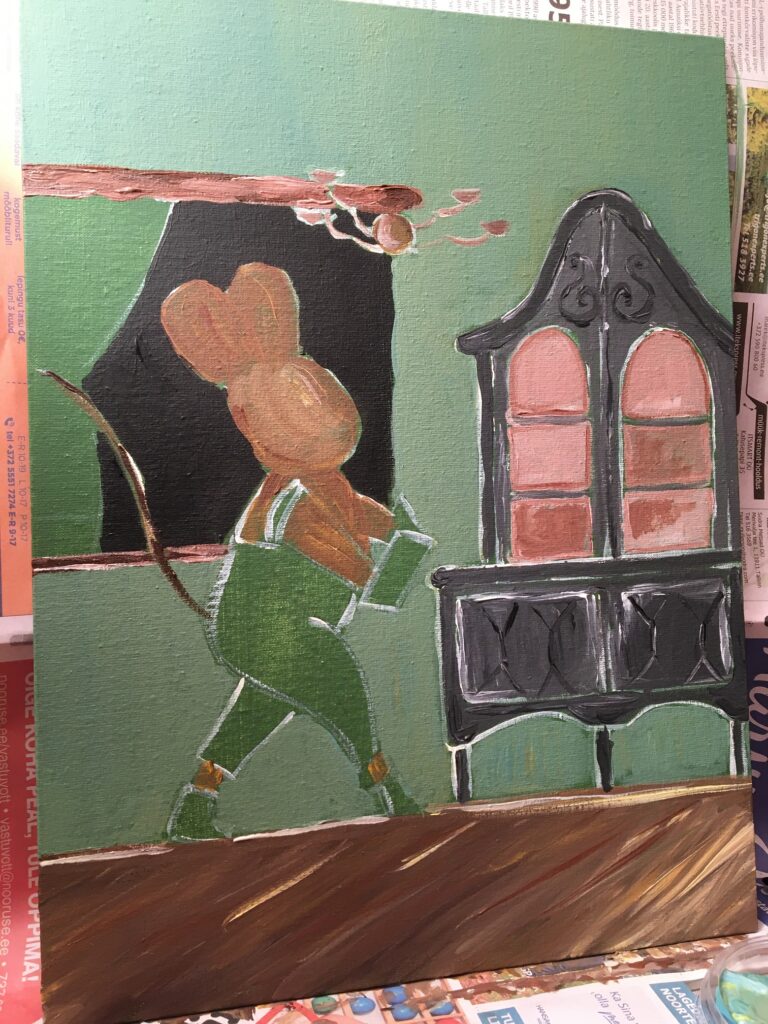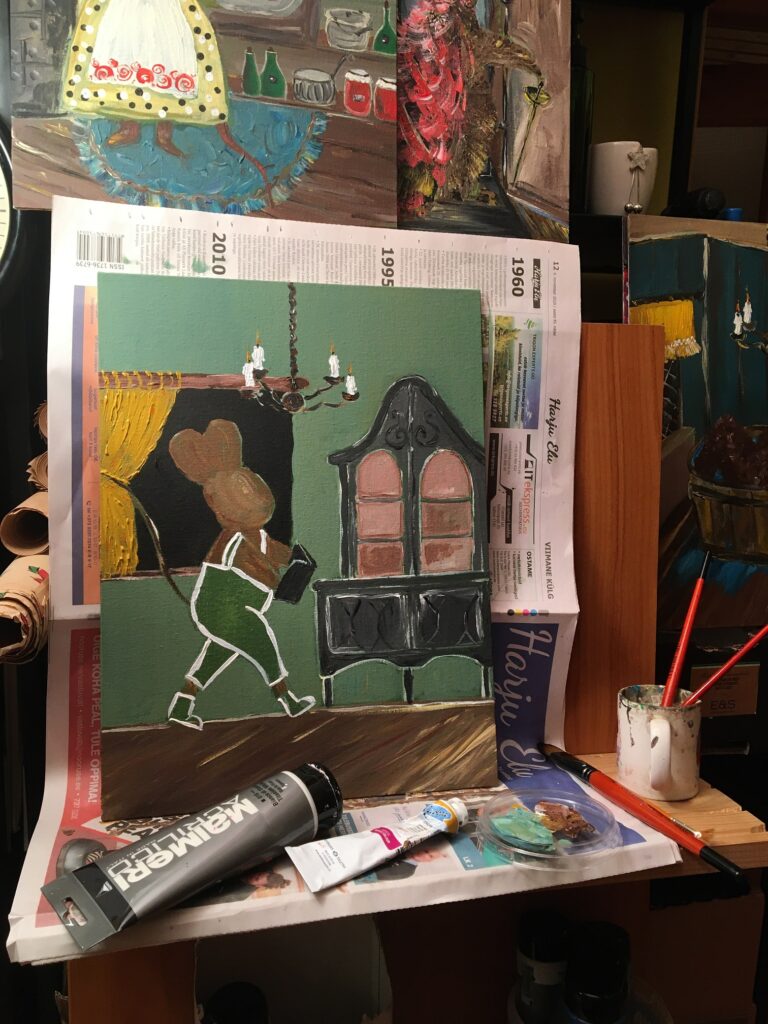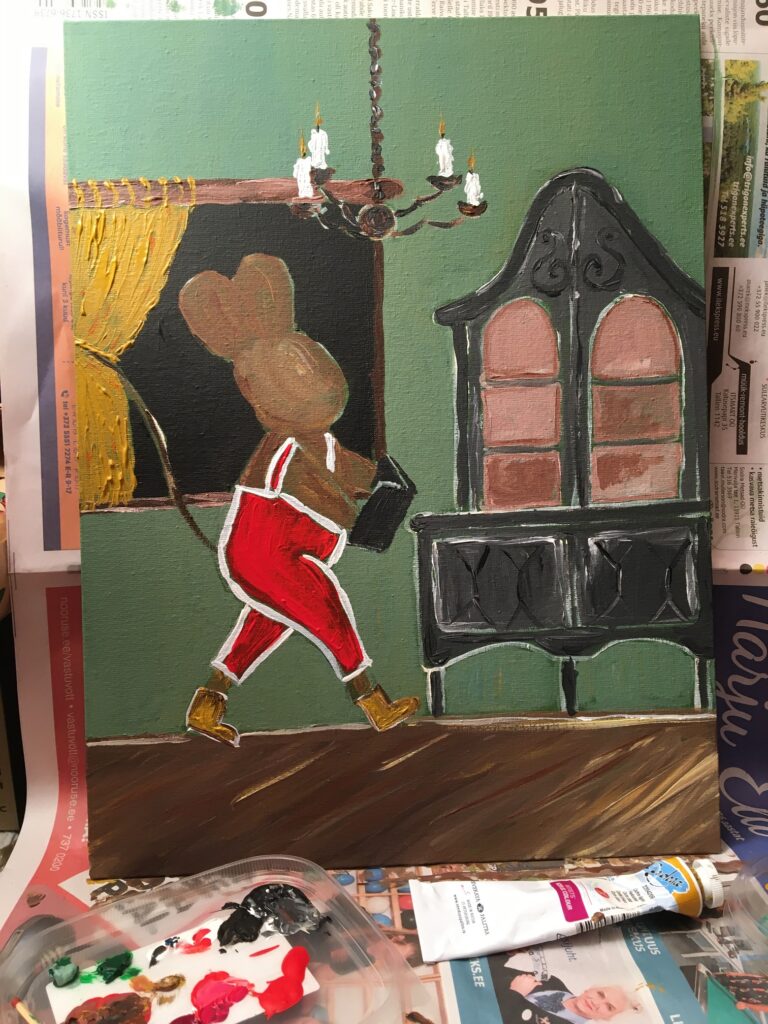 Look also the other paintings from this Mouse-series:
Vaata ka Hiire-seeria teisi maale: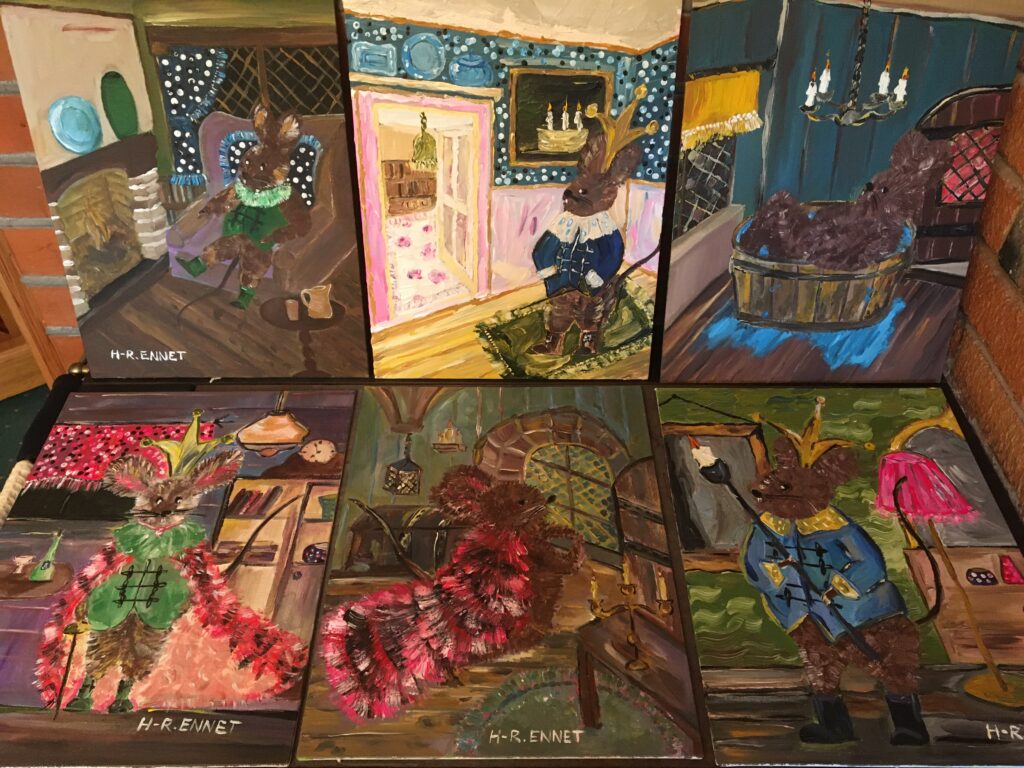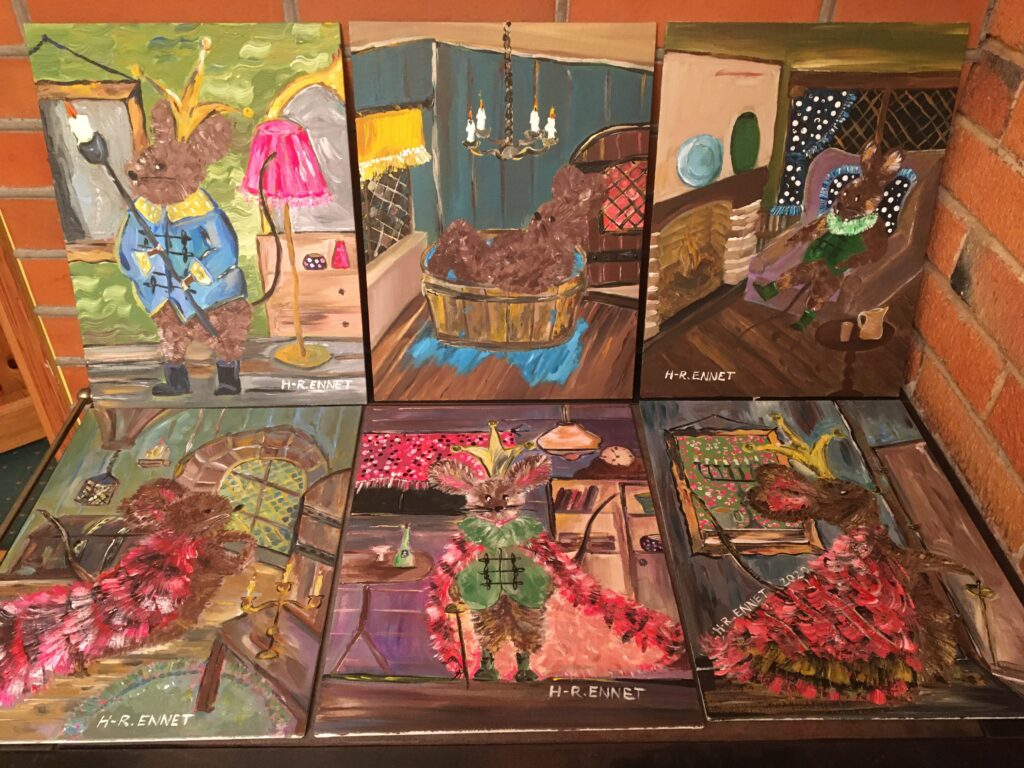 #16 Paintings by Helena-Reet Ennet: "His Highness Mouse the First" (series – painting nr.1), September 2020 + children's book idea!
#17 Paintings by Helena-Reet Ennet: "His Highness Mouse the First" (series – painting nr.2), September 2020
#18 Paintings by Helena-Reet Ennet: "His Highness Mouse the First" (series – painting nr.3), September 2020
#19 Paintings by Helena-Reet Ennet: "His Highness Mouse the First" (series – painting nr.4), September 2020
#20 Paintings by Helena-Reet Ennet: "His Highness Mouse the First" (series – painting nr.5), October 2020
#21 Paintings by Helena-Reet Ennet: "His Highness Mouse the First" (series – painting nr.6), October 2020
#22 Paintings by Helena-Reet Ennet: "His Highness Mouse the First" (series – painting nr.7), October 2020
#24 Paintings by Helena-Reet Ennet: "His Highness Mouse the First" (series – painting nr.8), October 2020
#25 Paintings by Helena-Reet Ennet: "His Highness Mouse the First" (series – painting nr.9), October 2020
#26 Paintings by Helena-Reet Ennet: "His Highness Mouse the First" (series – painting nr.10), October 2020
---
---