#31 Paintings by Helena-Reet Ennet: "His Highness Mouse the First" (series – painting nr.13), March 2021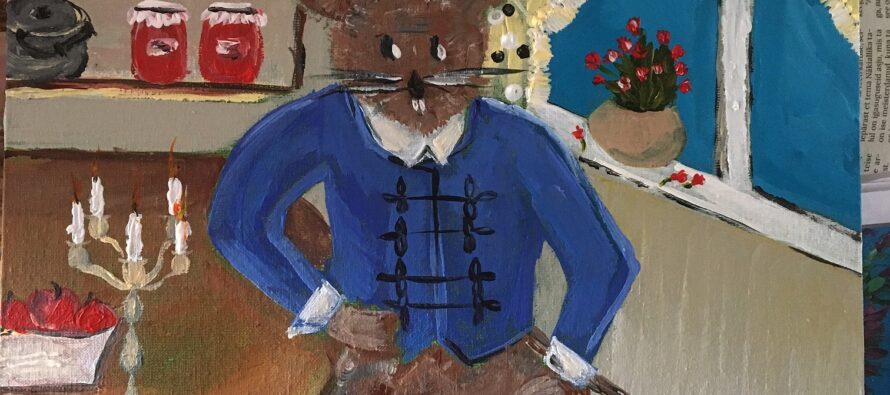 Thirteen paintings from my mouse series are ready! Puuuuuh! As I shouted out earlier, I promised to write a children's book called "His Highness Mouse the First" and illustrate it with my own acrylic paintings. Today, there are 14 paintings painted and two chapters written! However, I am far behind the schedule I set for myself, but at the same time I am happy that things are still in full swing – everything takes a hundred times more time than I expected, but quietly things are still progressing. I think that you have to set high and hard-to-reach goals, then you will strive more and the result will be better in any case.
My art exhibition "Our domestic witch kitchen" (Our Home´s Witch Kitchen) will be in the Estonian National Museum (ERM) this summer. I make preparations for the exhibition – I make plans, paint, collect and make summaries of different herbs, together with Ivanka Shoshana we make ceramic dishes (cups, plates, bowls, pots, etc.), etc. I was really hoping to get the book ready by the time of the exhibition, but it seems more and more that unfortunately I will not be ready by then. You can certainly see the paintings which are ready and already planned for the book in the exhibition, but the first premiere of the book will most likely not take place. It is a pity, but I don't want to publish it when I´m in a hurry. When I publish the book, I want to be 100% satisfied with what I have done.
But now about this painting. It is #13 from this series and I used a model to draw it. This sitting posture inspired me. In the painting, the mouse sits next to the kitchen table wearing blue boots and a blue gorgeous jacket.  Behind him is a shelf with plates and jars, and a window with yellow black-and-white spotted curtains.
—
Kolmeteistkümnes maal minu hiire-seeriast on valmis! Puuuuuh! Nagu ma varasemalt välja hõikasin, lubasin kirjutada lasteraamatu nimega "Tema Kõrgeausus Hiir Esimene" ning selle ise oma akrüülmaalidega illustreerida. Tänaseks on valmis on 14-maali ning kaks peatükki! Olen iseenda poolt endale seatud graafikust tublisti maas aga samas õnnelik, et asjad on ikkagi töös – kõik võtab küll sada korda rohkem aega kui lootsin, aga vaikselt siiski asjad edenevad. Arvan, et tulebki seada kõrged ja raskelt püütavad eesmärgid, siis pingutab rohkem ning tulemus on igal juhul parem kui siis, kui on endale liiga kergeltpüütavad eesmärgid seatud.
Minu Eesti Rahva Muuseumis (ERM) juba sellel suvel ilmavalgust nägev kunstinäitus "Meie kodune nõiaköök" on nö "töös". Teen ettevalmistusi näituseks – koostan plaane, maalin, kogun ningn teen kokkuvõtteid ravimtaimedest, teeme koos Ivanka Shoshanaga keraamilisi nõusid (tasse, taldrikuid, vaagnaid, potte jne) jne. Väga lootsin, et saan näituse ajaks raamatu valmis, aga aina enam tundub, et nii see olema ei saa. Kindlasti näeb näitusel juba valmisolevaid raamatusse planeeritavaid maale, ent raamatu esmaesitlustsuure tõenäosusega ei toimu.. Kahju küll, aga ei taha üle nurga ja liig-kiirustades seda teha. Kui raamatu välja annan, soovin, et oleksin tehtuga 100% rahul.
Aga nüüd sellest maalist. See on 13-s maal ning selle joonistamisel kasutasin modelli. See istumispoos inspireeris mind. Maalil istub hiir laua ääres siniste saabastega ja sinises uhkes pintsakus, üks käsi toetab põlvele ning küünarnukk toetab köögilauale. Tema seljataga on riiul taldrikute ning moospurkidega ning aken kollaste musta-valge täpiliste kardinatega.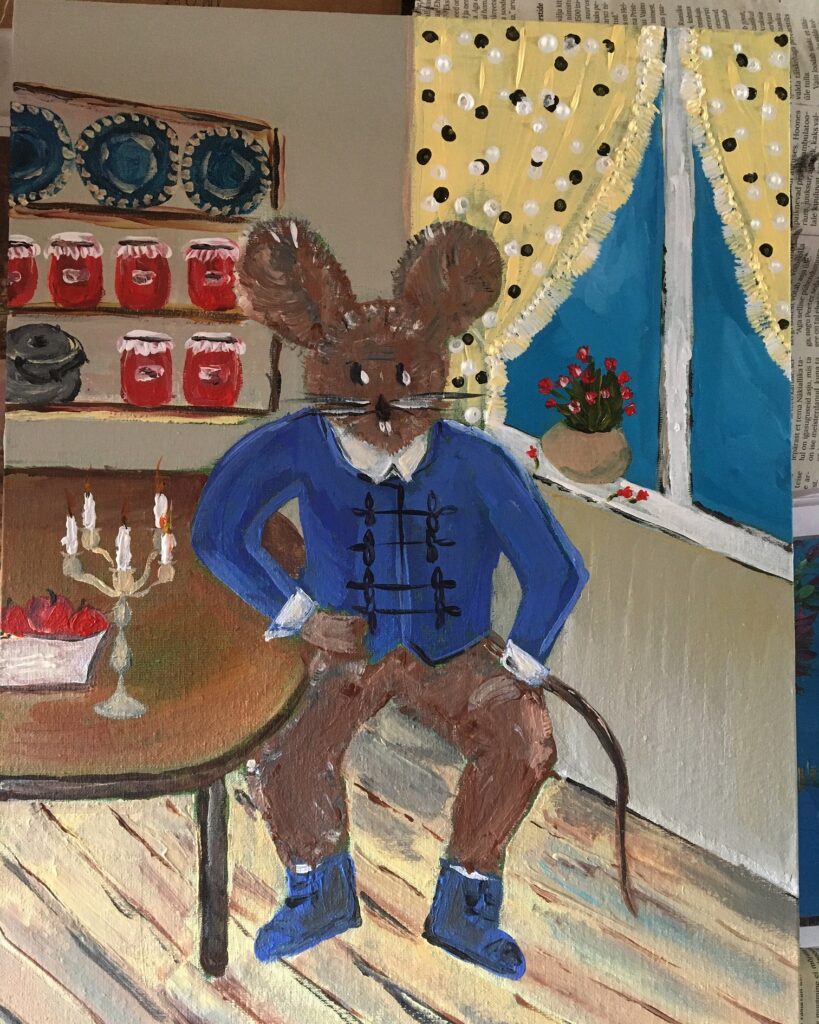 "His Highness Mouse the First" (series – painting nr.13)
acrylic painting (30x40cm)
not signed yet
{painted by Helena-Reet Ennet, 2021 March}
Here are some more pics + my inspirtion picture:
Siin veel mõned pildid maalist + inspiratsioonipilt: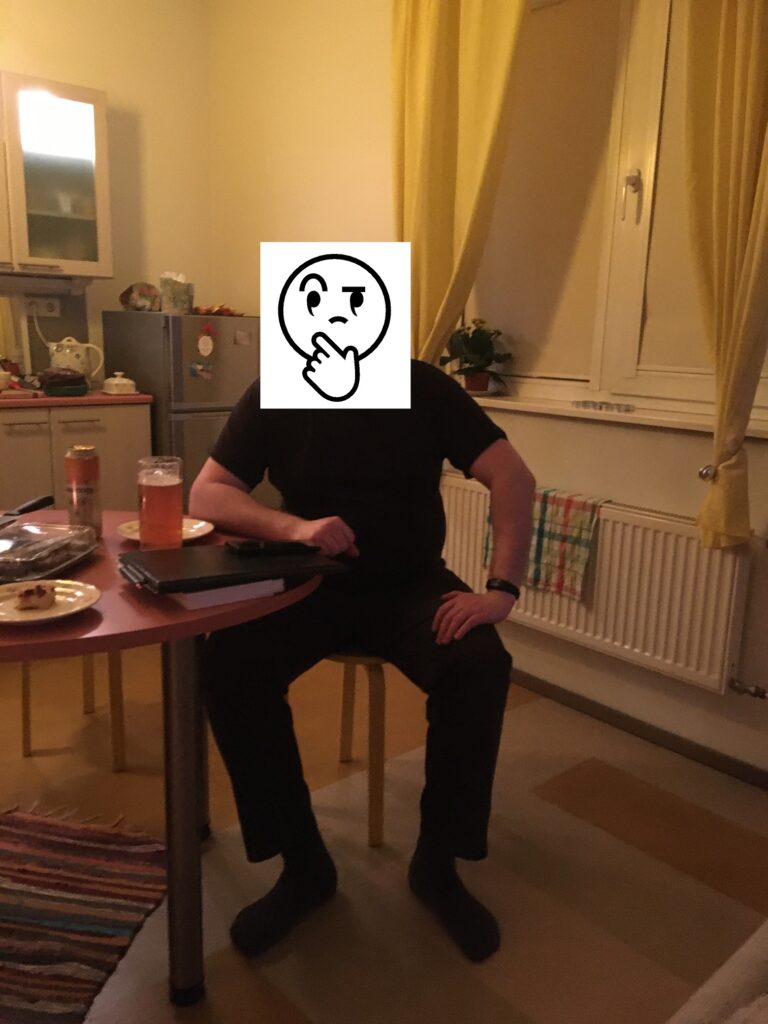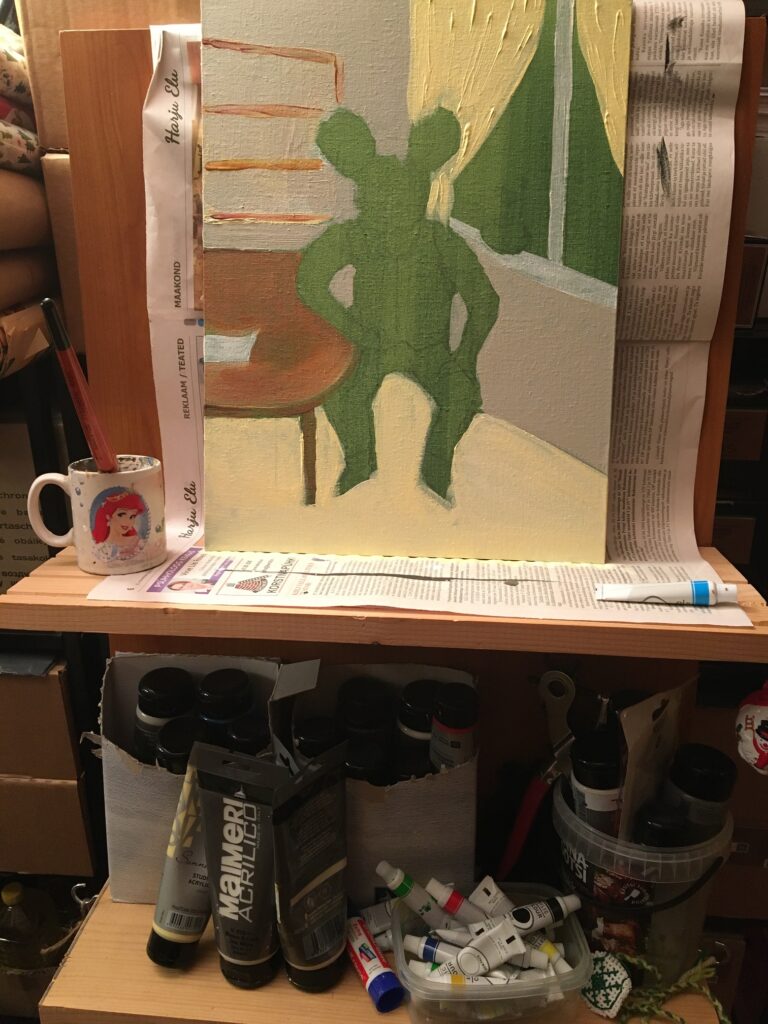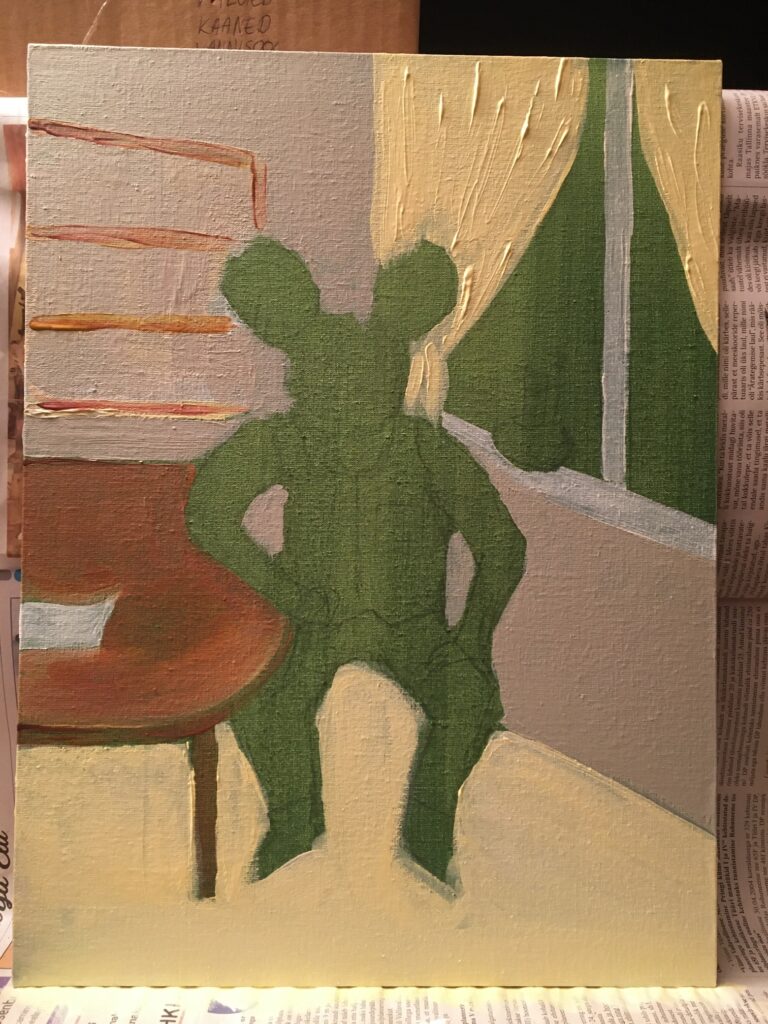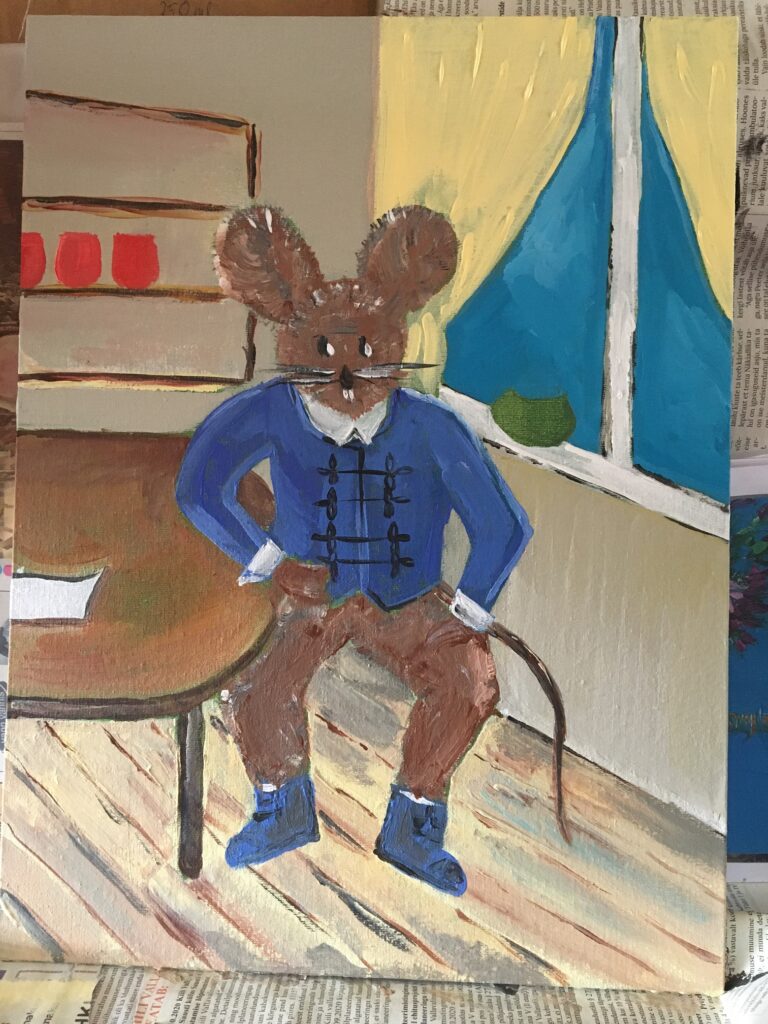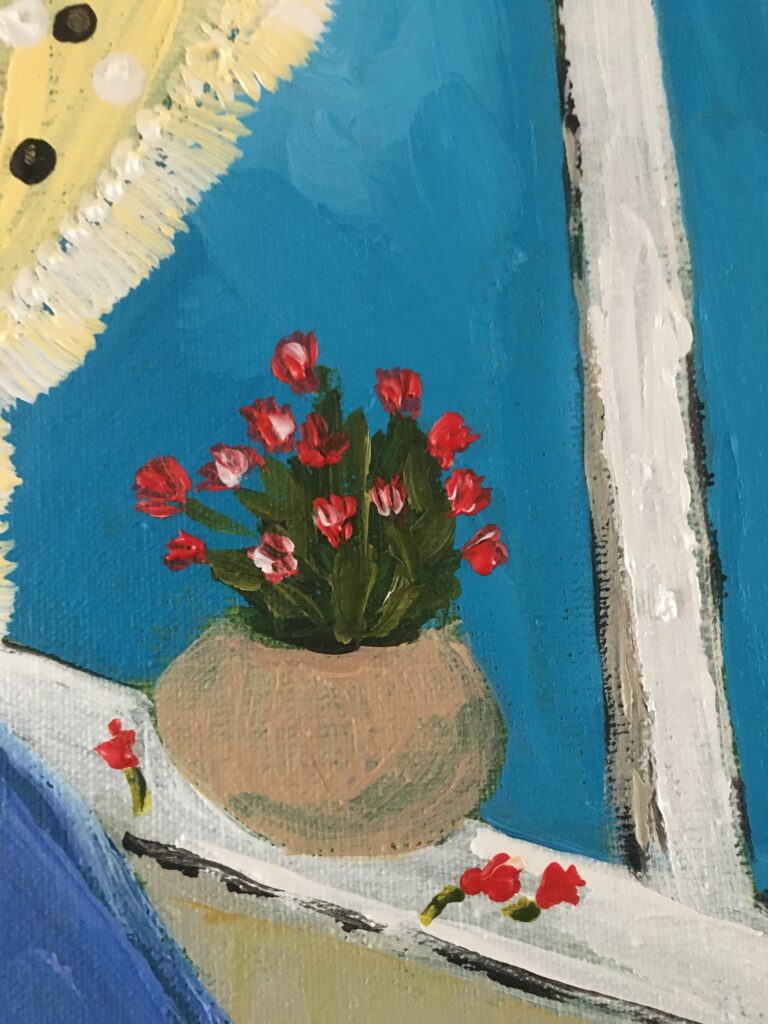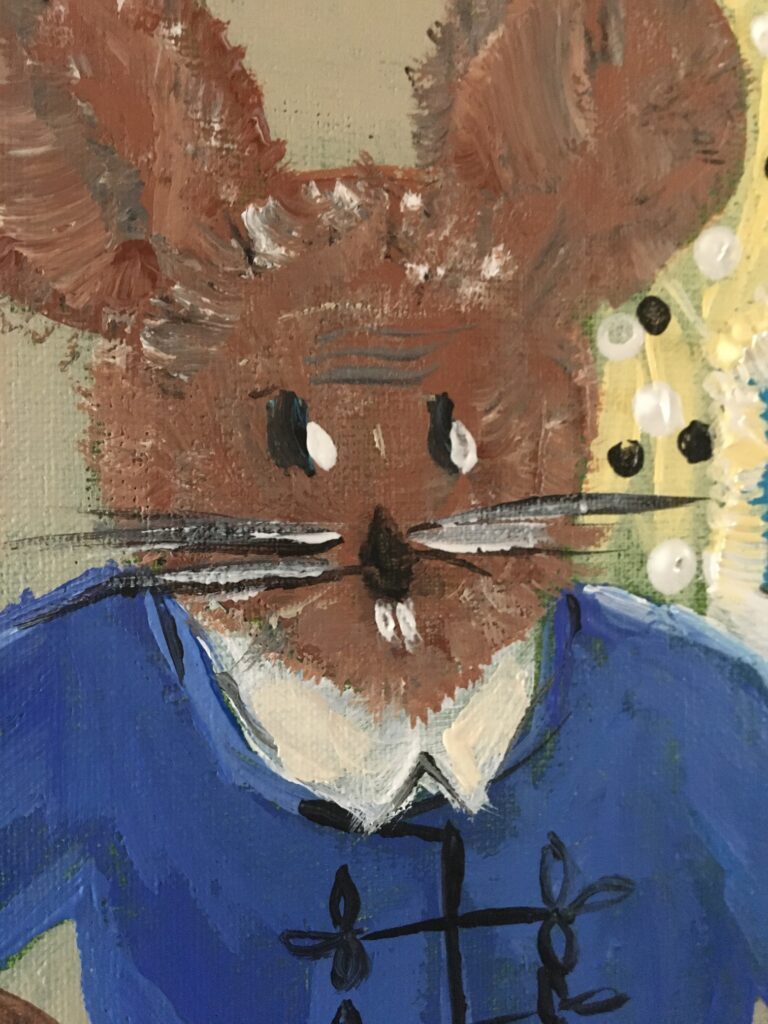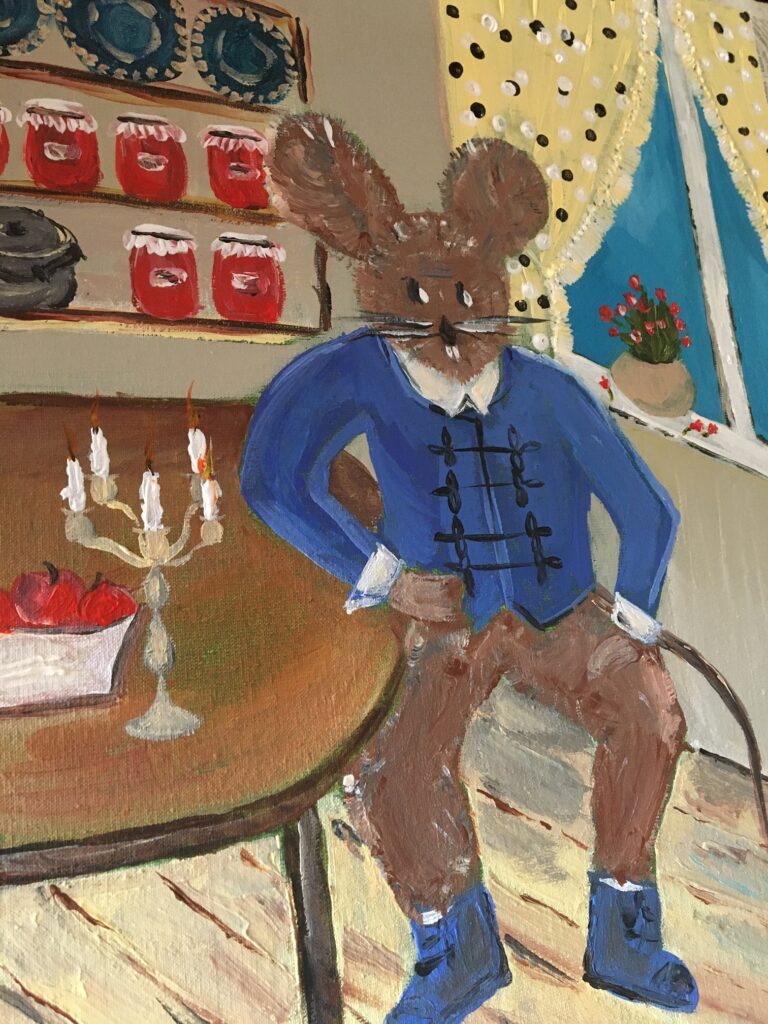 Look also the other paintings from this Mouse-series:
Vaata ka Hiire-seeria teisi maale: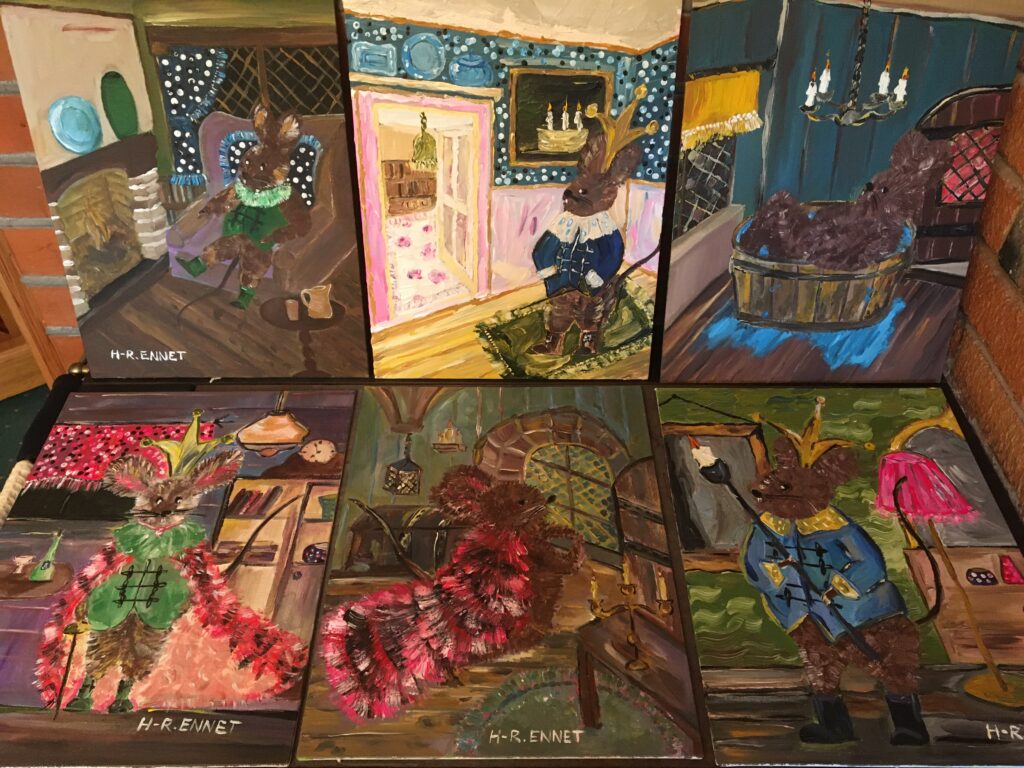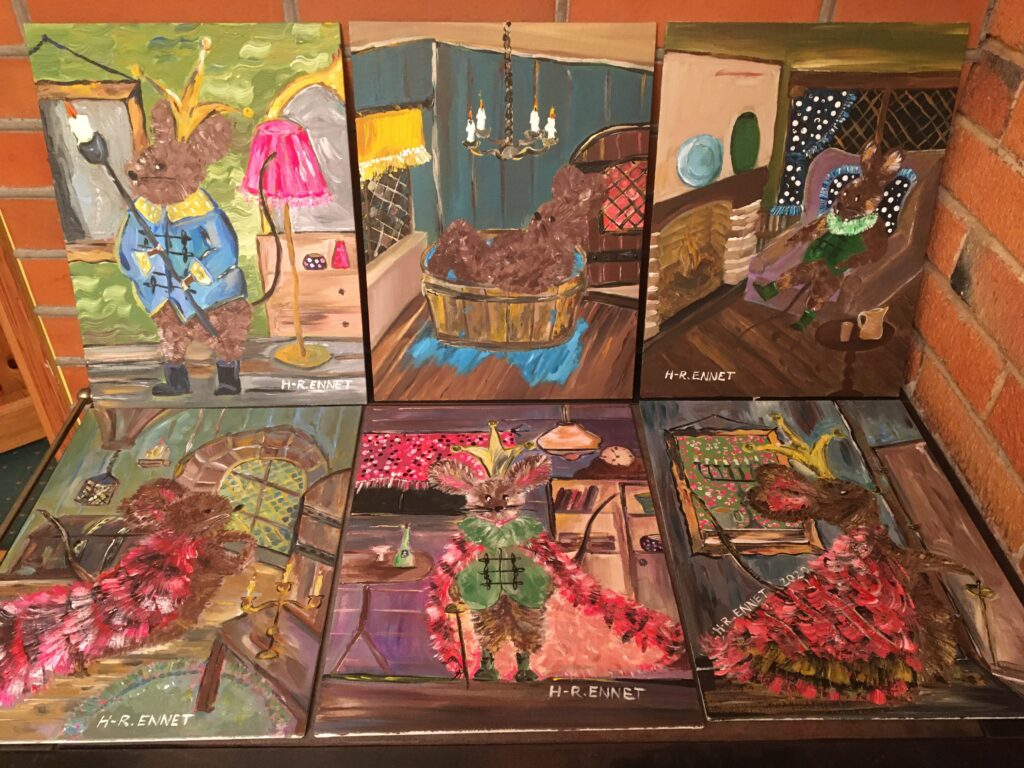 #16 Paintings by Helena-Reet Ennet: "His Highness Mouse the First" (series – painting nr.1), September 2020 + children's book idea!
#17 Paintings by Helena-Reet Ennet: "His Highness Mouse the First" (series – painting nr.2), September 2020
#18 Paintings by Helena-Reet Ennet: "His Highness Mouse the First" (series – painting nr.3), September 2020
#19 Paintings by Helena-Reet Ennet: "His Highness Mouse the First" (series – painting nr.4), September 2020
#20 Paintings by Helena-Reet Ennet: "His Highness Mouse the First" (series – painting nr.5), October 2020
#21 Paintings by Helena-Reet Ennet: "His Highness Mouse the First" (series – painting nr.6), October 2020
#22 Paintings by Helena-Reet Ennet: "His Highness Mouse the First" (series – painting nr.7), October 2020
#24 Paintings by Helena-Reet Ennet: "His Highness Mouse the First" (series – painting nr.8), October 2020
#25 Paintings by Helena-Reet Ennet: "His Highness Mouse the First" (series – painting nr.9), October 2020
#26 Paintings by Helena-Reet Ennet: "His Highness Mouse the First" (series – painting nr.10), October 2020
#27 Paintings by Helena-Reet Ennet: "His Highness Mouse the First" (series – painting nr.11), November 2020
#30 Paintings by Helena-Reet Ennet: "His Highness Mouse the First" (series – painting nr.12), February 2021
---