#34 Paintings by Helena-Reet Ennet: "His Highness Mouse the First" (series – painting nr.15), January 2022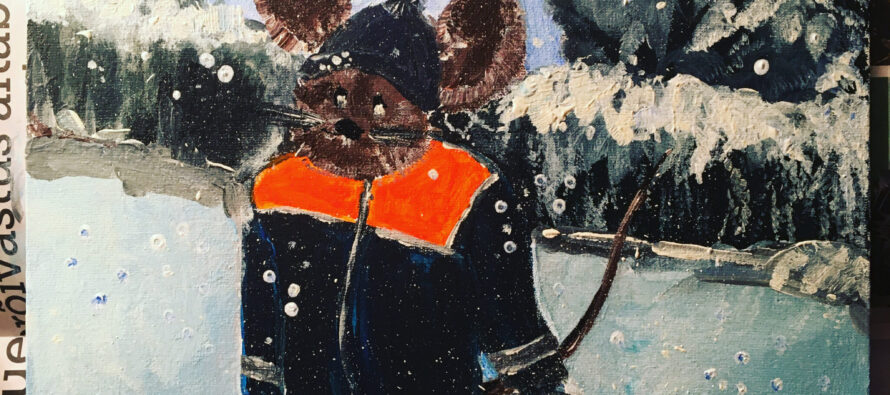 Happy New 2022nd Year! 🎉🎈 It has been a while since the last time I painted. The last flower painting "A Year of Love" was completed last year in April (read about the painting HERE) and the last mouse painting was completed last year in March (view HERE). Eight months have gone by quickly and actively. In the summer I was busy with my art and painting exhibition that was up all summer and autumn in the Estonian National Museum, then I worked on my media portals (NordenBladet and OHMYGOSSIP). ERM hosted the exhibition of 14 mice series paintings and visitors were able to listen to the first chapter from my children's book "His Highness Mouse the First".
This year, in addition to other tasks, I will proceed with writing the book and painting. I want the paintings to illustrate the book that will be published and they will also decorate the walls of our home in the children's rooms. As you can see, this painting is also currently not signed yet. This is because first I will have the paintings saved on a USB, to be used as illustrations for the book, and then I will sign the paintings and put them in a frame.
The painting series "His Highness Mouse the First" is the greatest art project in my life. When I met Allan on April 22nd 2020 in Palivere (Western Nigula parish in Estonia), I still didn't know that he would be my inspiration and that he would be my life partner, the new love of my life, an endless source of inspiration. Palivere is also the birthplace of the main character, mouse boy Ivar Apodemus. In the beginning of January, the fifteenth painting from the mice series was completed.
Mouse boy Ivar and his activities do not equal Allan with his activities, yet Allan with his warm aura, energy and love has been the source of inspiration and support for me while writing and painting. It has been in quite many of the paintings that the idea stemmed from photos of him, and I have tried to convey his posture.
How did this painting come into being?
For me the year began very actively and positively and yesterday I decided that I will paint again! But what should I paint? First, I was keen on doing another flower painting, but then I made up my mind that I will do a mouse painting instead. I would very much wish to publish the children's book already within the year 2022. The weather was snowy and Allan went outside to plow the snow. I remembered at once that last year I took lots of pictures of the garden and of Allan plowing the snow, and so I decided to paint a mouse and a snow shovel.
Below you can see pictures from my home in Saku, Murimäe Road, and pictures of Allan, which were the source of inspiration for the most recent painting. Meanwhile, Allan was waving at me from outside, and sending kisses, and I put all that warm feeling in the painting 🙂 So, such is the story of this painting. All of my mice series paintings have so far been painted with acrylic (portrait orientation canvas) and in the size 30x40cm.
—
Head uut 2022 aastat! 🎉🎈 Sellest on tükk aega kui viimati maalisin. Viimase lillemaali "Aasta armastust" tegin eelmise aasta aprillis (loe maalist SIIT) ning viimase hiiremaali eelmise aasta märtsis. Kaheksa kuud möödus kiirelt. Suvel tegelesin aktiivselt oma kunsti- ja maalinäitusega, mis oli terve suve ja sügise Eesti Rahva Muuseumis üleval ning seejärel tegelesin oma meediaväljaannetega (NordenBladet ja OHMYGOSSIP). ERM´is oli näitusel 14 hiiremaali ning külastajad said kuulata ka esimest peatükki minu lasteraamatust "Tema Kõrgeausus Hiir Esimene".
Sellel aastal jätkan teiste tööde kõrvalt taas raamatu kirjutamist ning maalimist. Tahan, et maalid illustreeriksid ilmuvat raamatut ning eraldiseisvana kaunistaksid kodus lastetubade seinu. Nagu te näete on ka see maal hetkel veel allkirjastamata. See ongi sellepärast, et kõigepealt lasen maalid mälupulgale tõmmata, et raamatu illustratsioonideks kasutada ning seejärel allkirjastan ja raamin.
Maaliseeria "Tema Kõrgeausus Hiir Esimesest" on suurim kunstialane ettevõtmine minu elus. Kui Allaniga 22.aprillil 2020 aastal Paliveres (Lääne-Nigula vald Eestis) tutvusin, ei teadnud ma veel, et ta hakkab mind nii inspireerima ning et temast saab mu uus elukaaslane, uus elu armastus ning lõputu inspiratsiooniallikas. Paliveres sündis ka peategelase, hiirepoiss Ivari, tegelaskuju. Jaanuari algul valmis nüüd viieteistkümnes hiiremaal sellest seeriast. Hiirepoiss Ivar ja tema tegemised ei ole ega võrdu Allan oma tegemistega, küll aga on Allan oma sooja oleku, energia ja armastusega mulle inspiratsiooniks ja toeks raamatu ja maalide valmimisel. Nii mõnelgi maalil olen võtnud ideid temast tehtud piltidelt ja püüdnud matkida tema kehahoiakuid.
Kuidas see maal sündis?
Aasta algas mul väga positiivselt ning tegusalt ning eile otsustasin, et nüüd hakkan maalima! Aga mida? Esialgu kibeles uut lillemaali tegema, aga siis otsustasin, et teen hiiremaali. Tahaksin väga juba selle aastanumbri sees lasteraamatu trükki lasta. Ilm oli lumine ja kaunis ning Allan läks õue lund lükkama. Mulle kohe meenus, et eelmisel aastal tegin palju lahedaid fotosid aiast ja lund lükkavast Allanist ning otsustasingi teha lumelabidaga hiire.
Allpool eelmise talve pildid minu kodust Sakus, Murimäe teel ning pilt Allanist, mille viimase maali inspiratsiooniks võtsin. Vahepeal Allan lehvitas mulle õuest ja saatis õhumusisid ning mina panin kogu selle sooja tunde maali sisse 🙂 Vot selline lugu selle maaliga. Minu hiiremaalid on siiani maalitud kõik akrüüliga (püstipidi seisvale lõuendile) ja suuruses (30x40cm).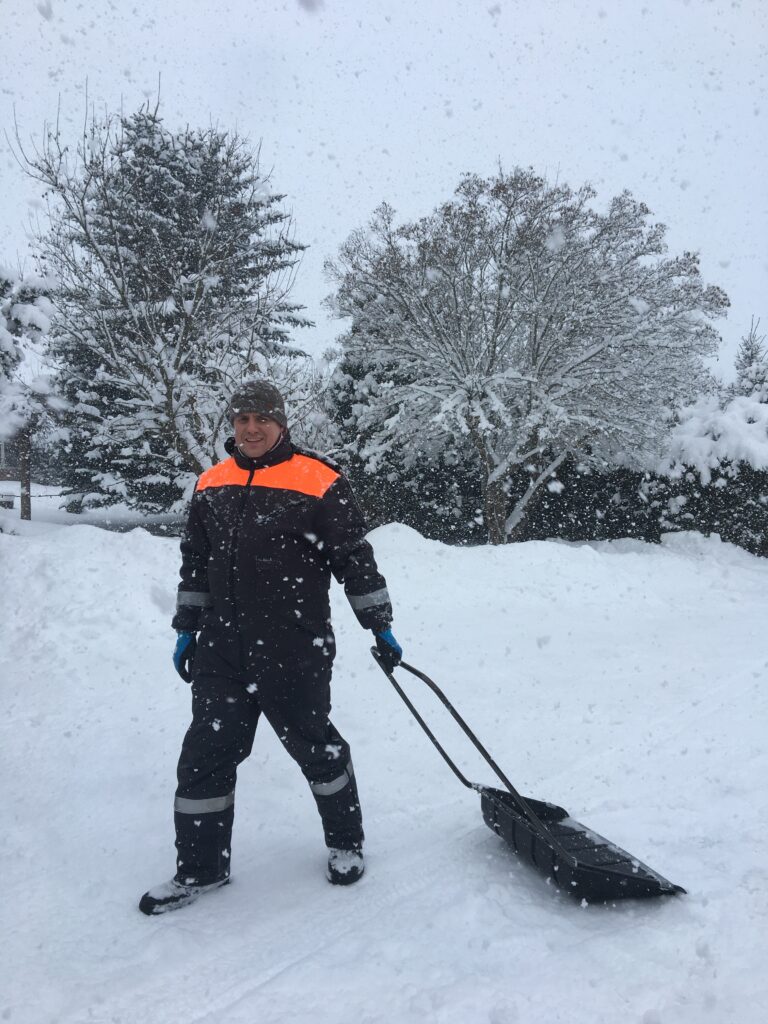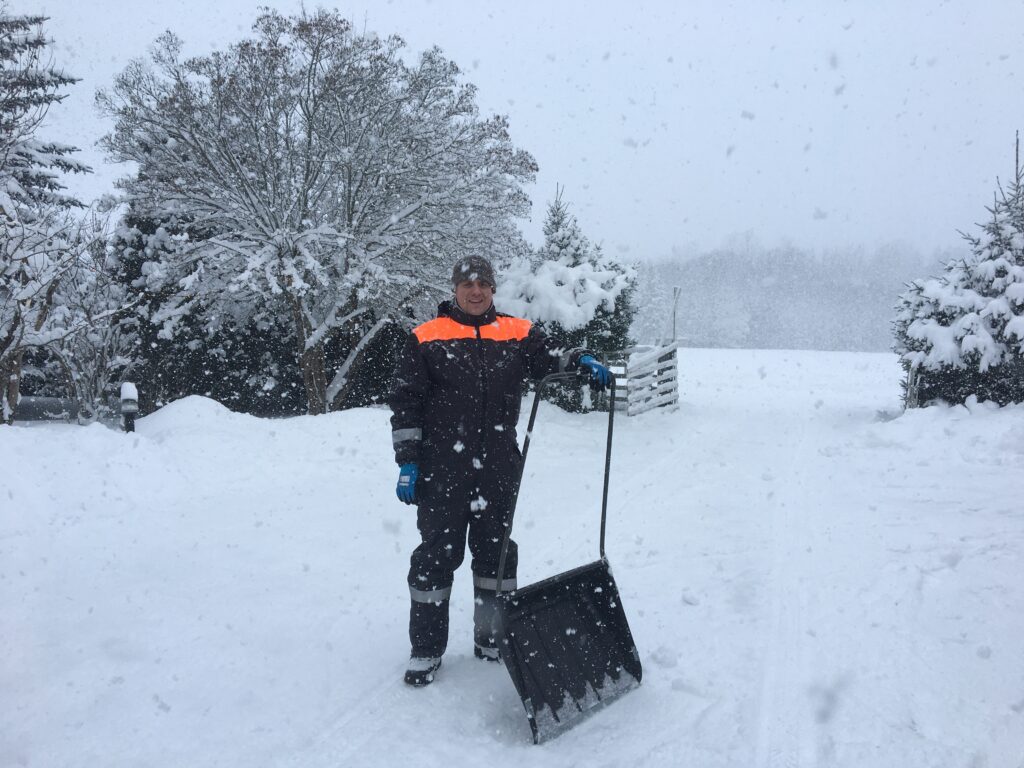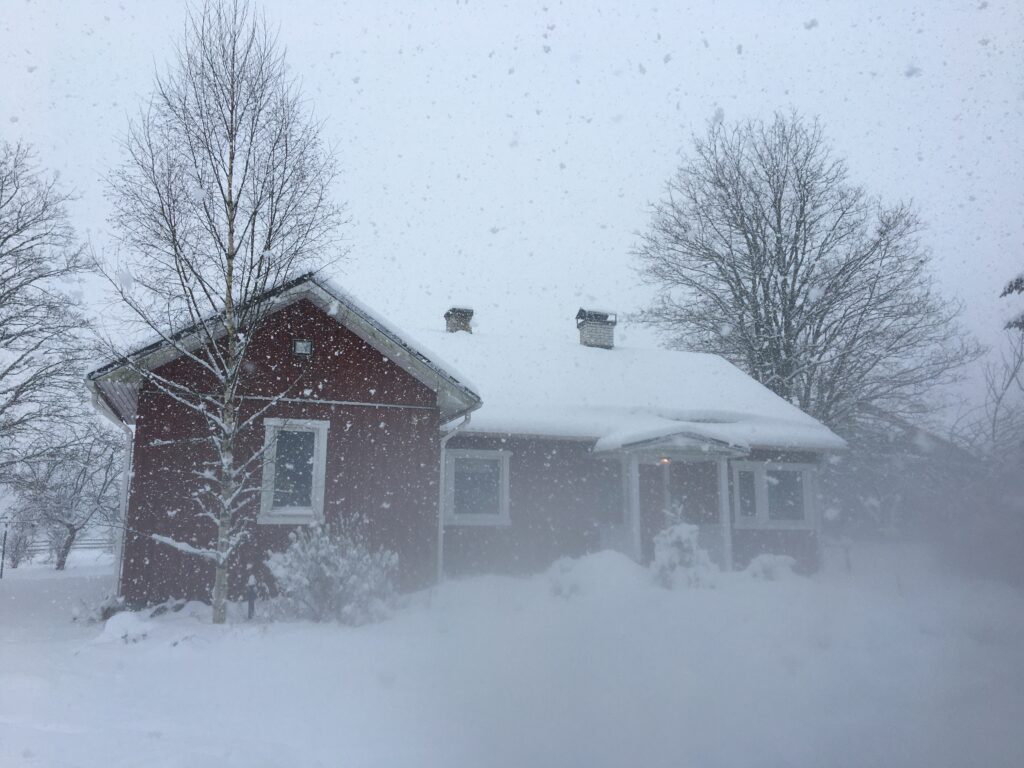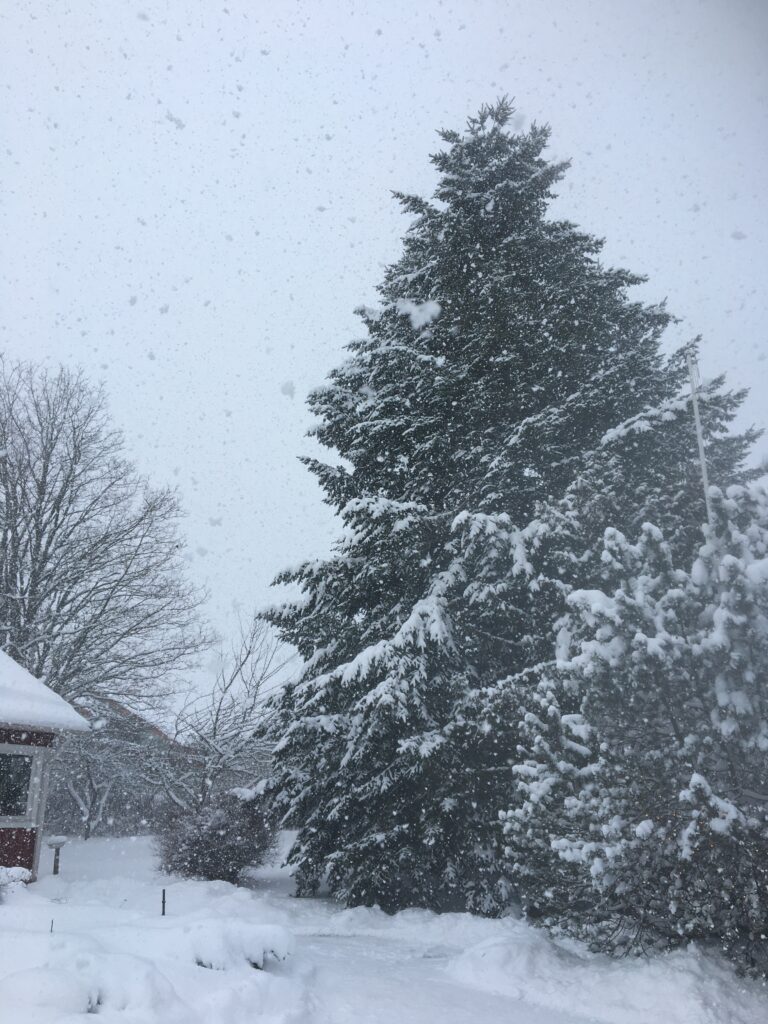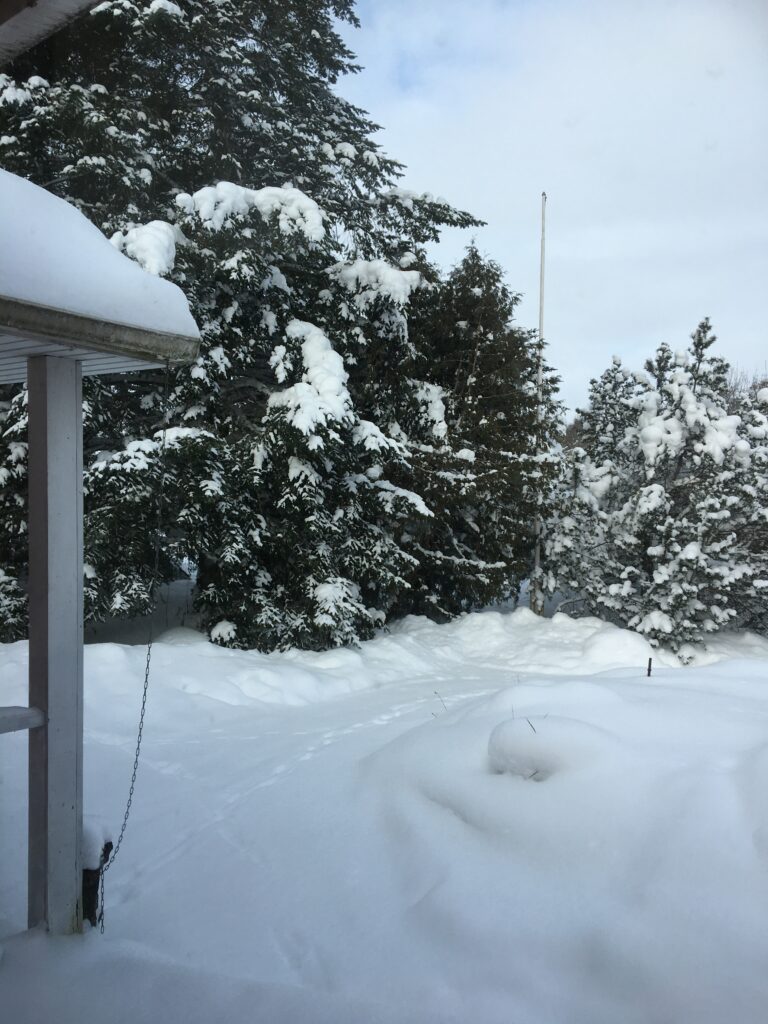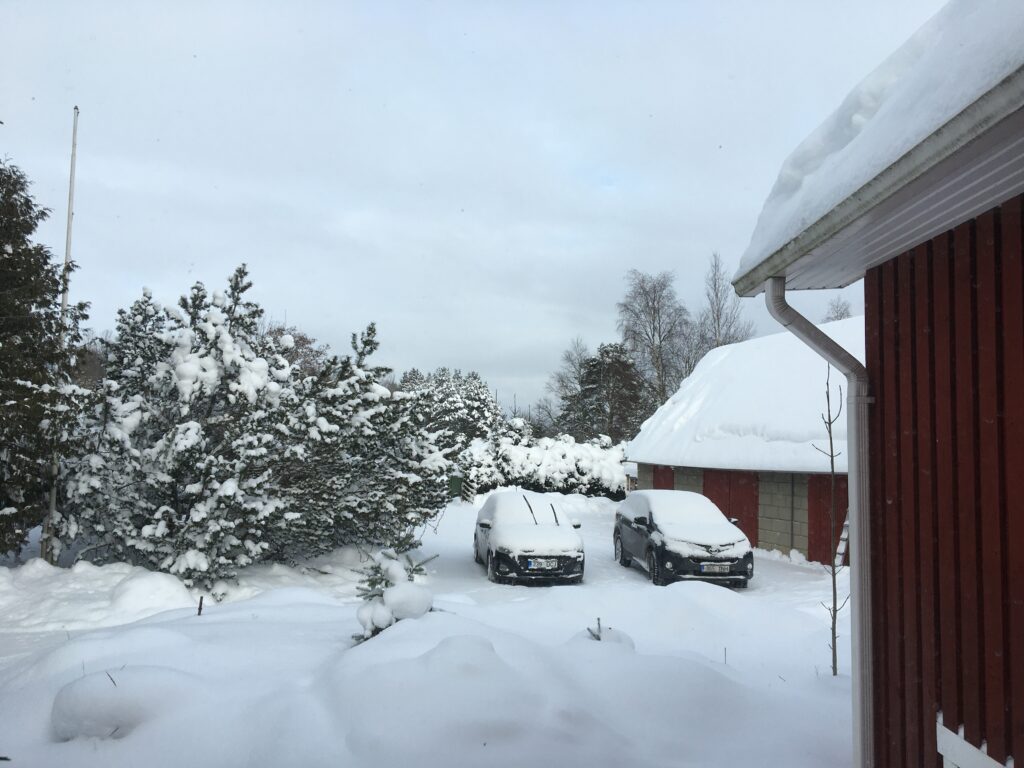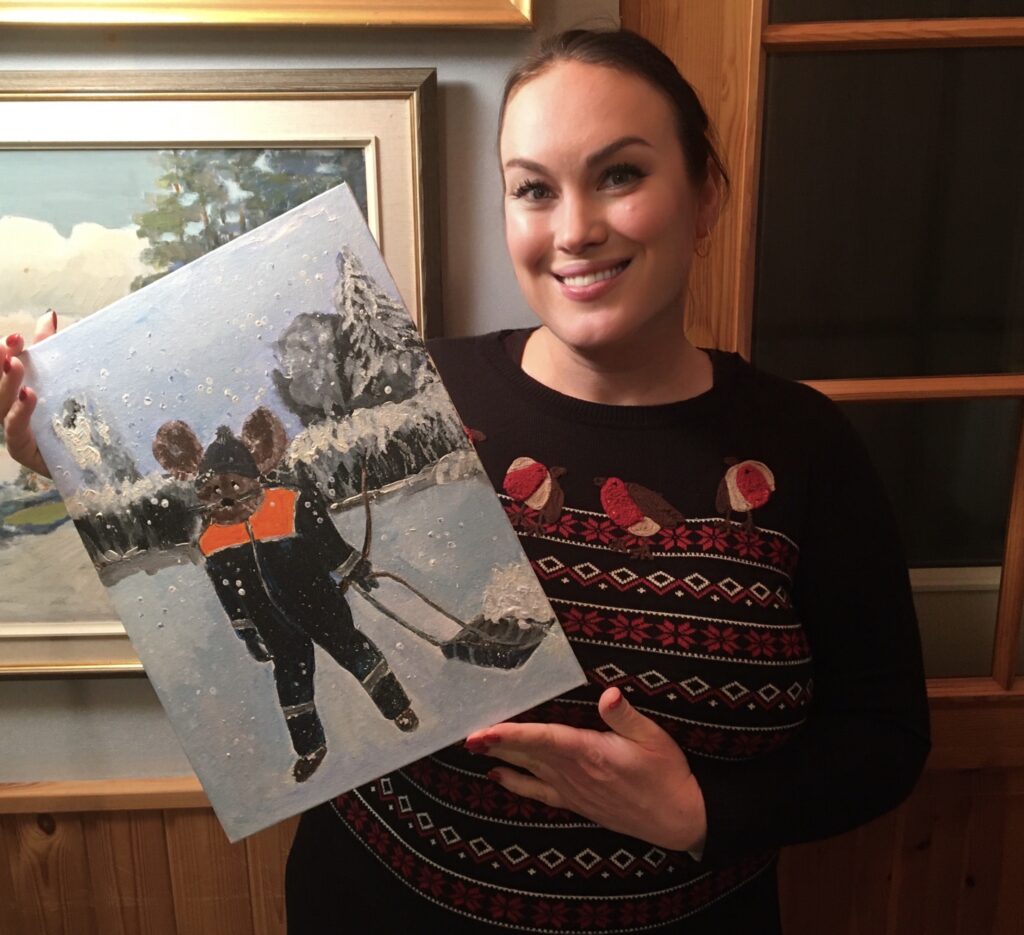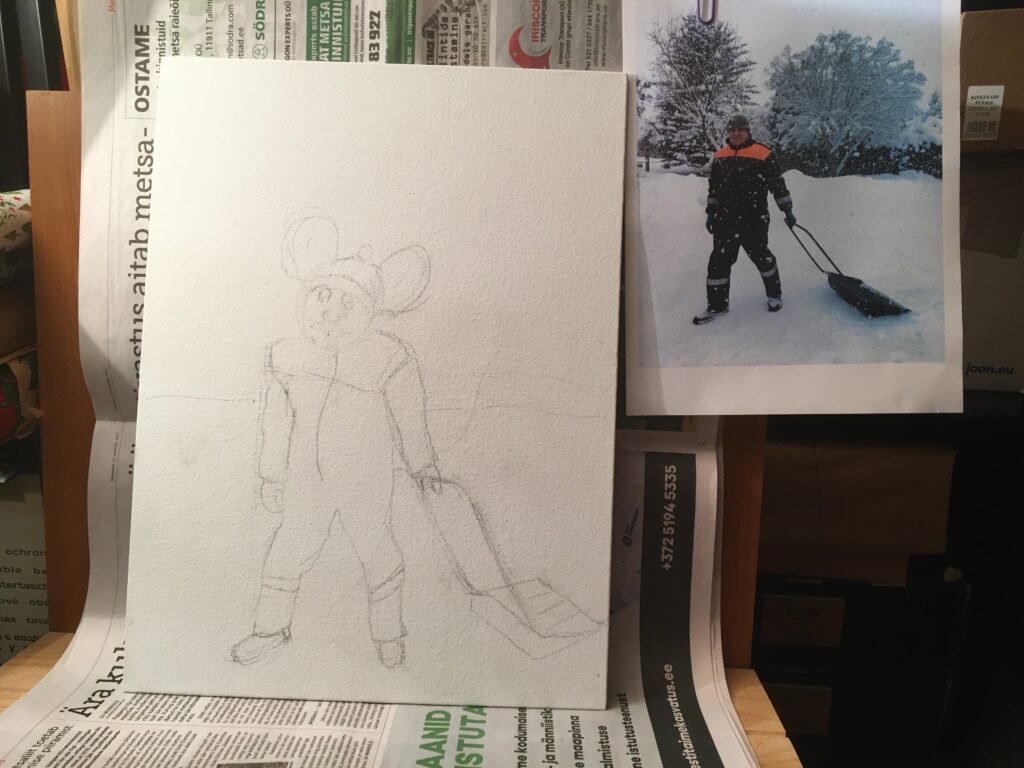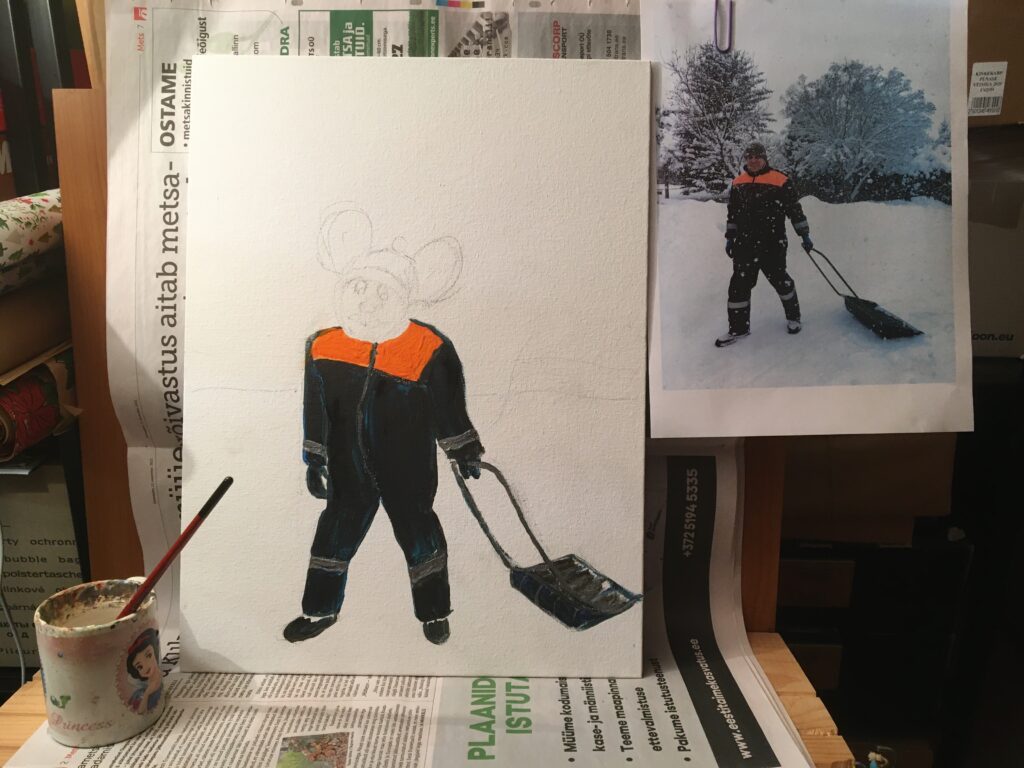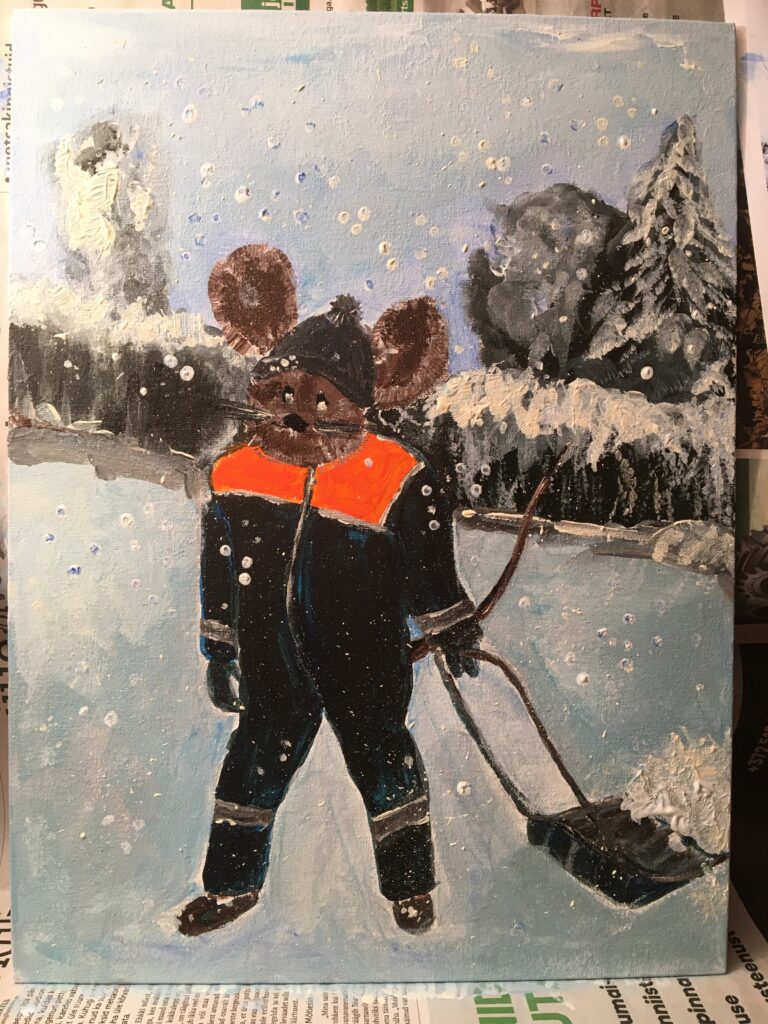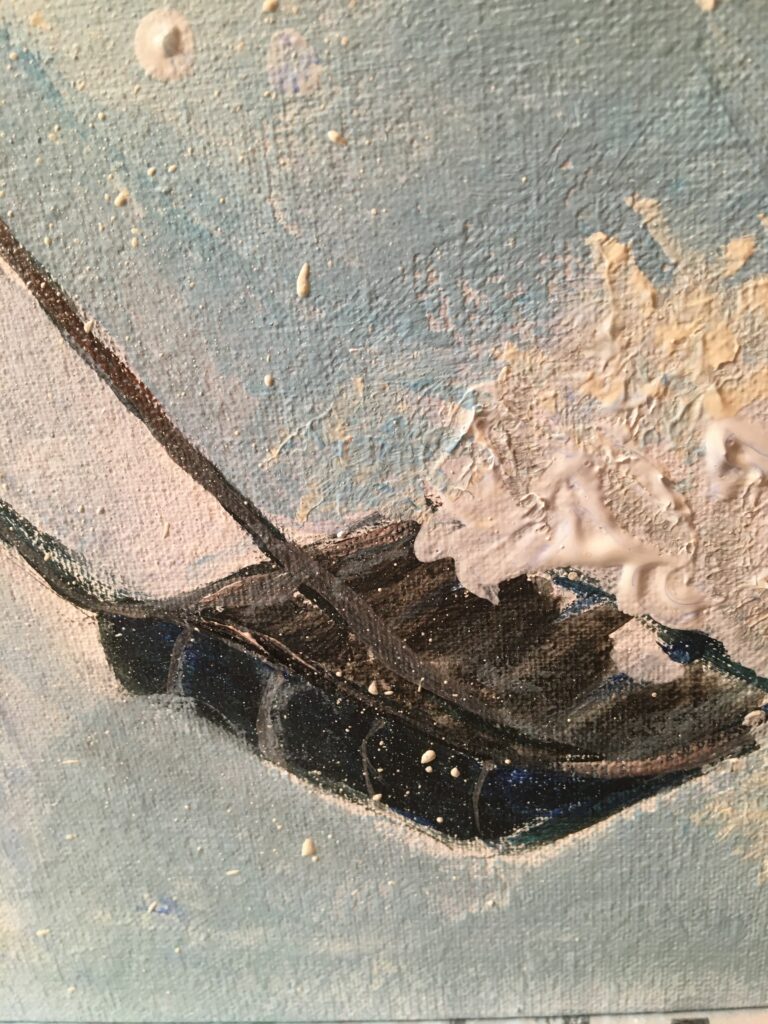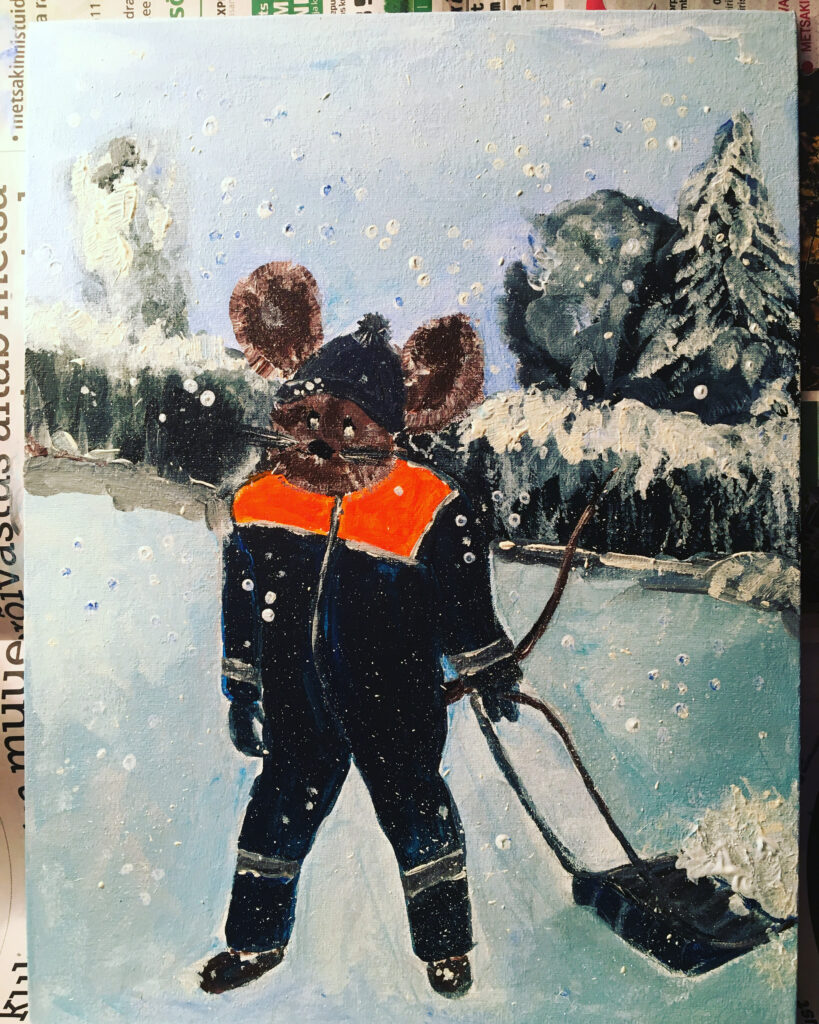 "His Highness Mouse the First" (series – painting nr.15)
acrylic painting (30x40cm)
not signed yet
{painted by Helena-Reet Ennet, 2022 January}
Look also the other paintings from this Mouse-series:
Vaata ka Hiire-seeria eelnevalt valminud maale:
#16 Paintings by Helena-Reet Ennet: "His Highness Mouse the First" (series – painting nr.1), September 2020 + children's book idea!
#17 Paintings by Helena-Reet Ennet: "His Highness Mouse the First" (series – painting nr.2), September 2020
#18 Paintings by Helena-Reet Ennet: "His Highness Mouse the First" (series – painting nr.3), September 2020
#19 Paintings by Helena-Reet Ennet: "His Highness Mouse the First" (series – painting nr.4), September 2020
#20 Paintings by Helena-Reet Ennet: "His Highness Mouse the First" (series – painting nr.5), October 2020
#21 Paintings by Helena-Reet Ennet: "His Highness Mouse the First" (series – painting nr.6), October 2020
#22 Paintings by Helena-Reet Ennet: "His Highness Mouse the First" (series – painting nr.7), October 2020
#24 Paintings by Helena-Reet Ennet: "His Highness Mouse the First" (series – painting nr.8), October 2020
#25 Paintings by Helena-Reet Ennet: "His Highness Mouse the First" (series – painting nr.9), October 2020
#26 Paintings by Helena-Reet Ennet: "His Highness Mouse the First" (series – painting nr.10), October 2020
#27 Paintings by Helena-Reet Ennet: "His Highness Mouse the First" (series – painting nr.11), November 2020
#30 Paintings by Helena-Reet Ennet: "His Highness Mouse the First" (series – painting nr.12), February 2021
#31 Paintings by Helena-Reet Ennet: "His Highness Mouse the First" (series – painting nr.13), March 2021
#32 Paintings by Helena-Reet Ennet: "His Highness Mouse the First" (series – painting nr.14), March 2021
---
---