#35 Paintings by Helena-Reet Ennet: "His Highness Mouse the First" (series – painting nr.16), January 2022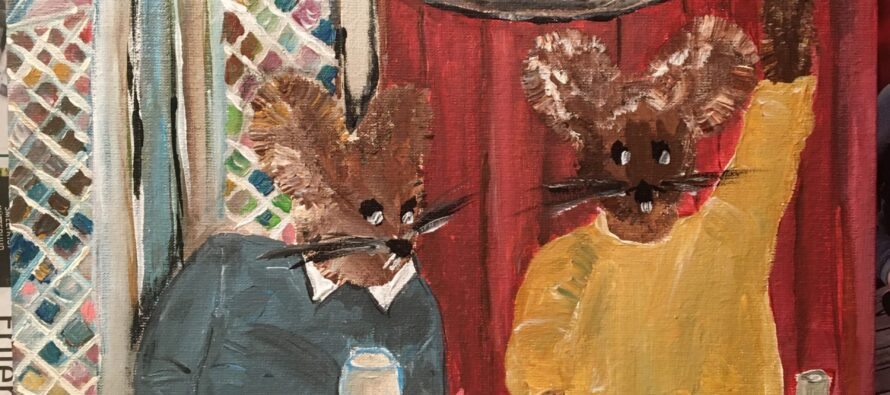 January has begun with bursts of creativity and during this year I have already completed two paintings that I also intend to use as illustrations to my children's book "His Highness Mouse the First"! The sixteenth mouse painting is ready (by another calculation, it is the thirty fifth acrylic painting of my freelance artist life)! This time the topic of the painting is a pub. The painting depicts two mouse boys, the men are seated behind a big green table and having drinks. The mouse on the left hand side is wearing a bluish gray jersey, underneath it a white collar shirt, and the mouse on the right hand side, with his hand high up, is wearing a yellow jersey and a golden bracelet. In the background there is a large gorgeous window with colorful panes, a large lamp with eight burning candles, reminding a large carriage wheel, and a wooden wall made from vertical red mahogany planks. There are orange small tablecloths on the table, sunglasses, shot glasses, a bottle of whiskey, and cans of beer. Just like the rest of the mice series paintings, it is an acrylic, 30x40cm canvas painting and yet unsigned.
—
Jaanuar on alanud loomingulise puhanguga ning olen alanud aastal juba kaks maali teinud, mida plaanin ühtlasi ka oma lasteraamatu "Tema Kõrgeausus Hiir Esimene" illustratsioonideks! Kuueteistkümnes hiiremaal on valmis (üldarvestuses on see minu 'vabakutselise kunstnikuelu' kolmekümne viies akrüülmaal)! Seekord on maali teemaks kõrts. Maalil on kaks hiiremeest, kes istuvad suure rohelise laua taga ja napsutavad. Vasakpoolne hiir kannab sinakashalli kampsunit, mille all on valge triiksärk ning parempoolne hiir, kellel käsi pikalt püsti, kollast kampsunit ning kuldset käeketti. Taustal on suur uhke värviliste ruutudega aken, kaheksa põleva küünlaga suur ümmargune tõllaratast meenutav lamp ning mahagon-punane püstistest laudadest puusein. Laual on veel oranzid linikud, päikseprillid, alkoholiklaasid, pudel viskit ning õllepurgid. Nagu ka teised hiiremaalid, on see akrüüliga 30x40cm suurusele lõuendile maalitud ning hetkel veel allkirjastamata.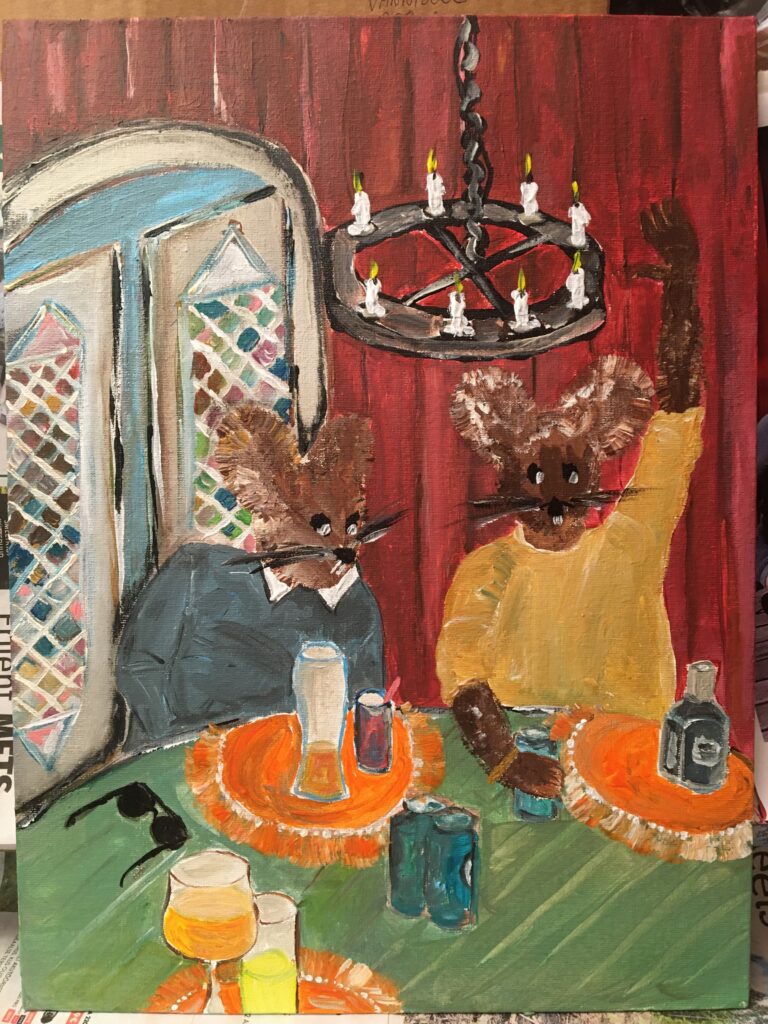 "His Highness Mouse the First" (series – painting nr.16)
acrylic painting (30x40cm)
not signed yet
{painted by Helena-Reet Ennet, 2022 January}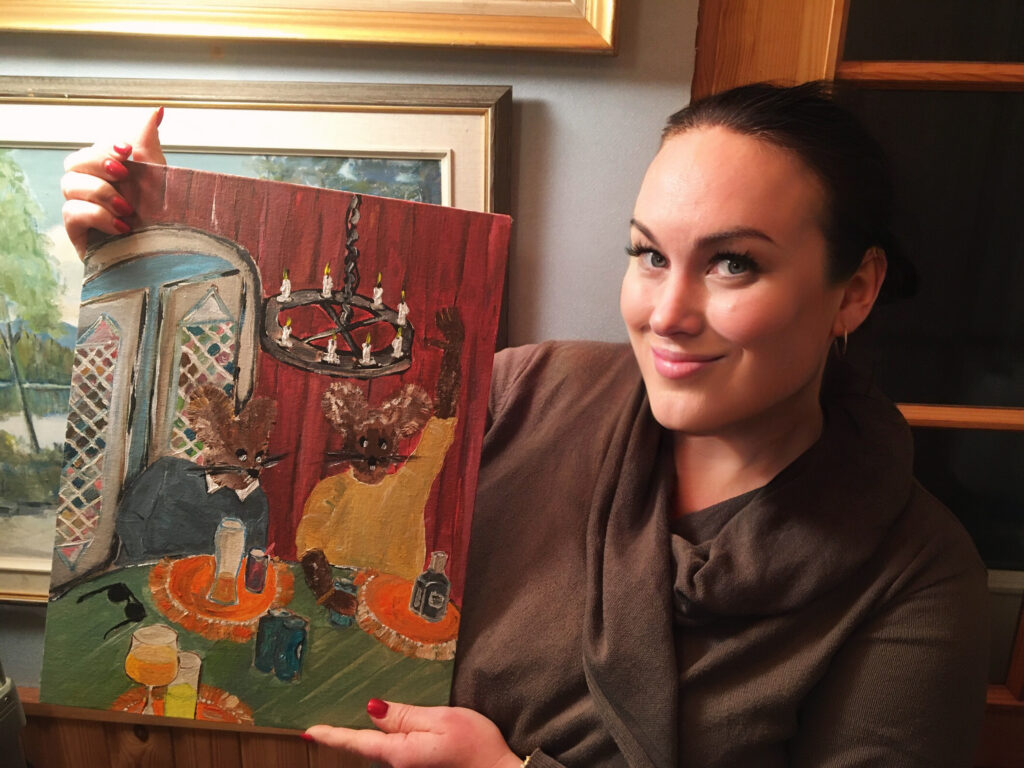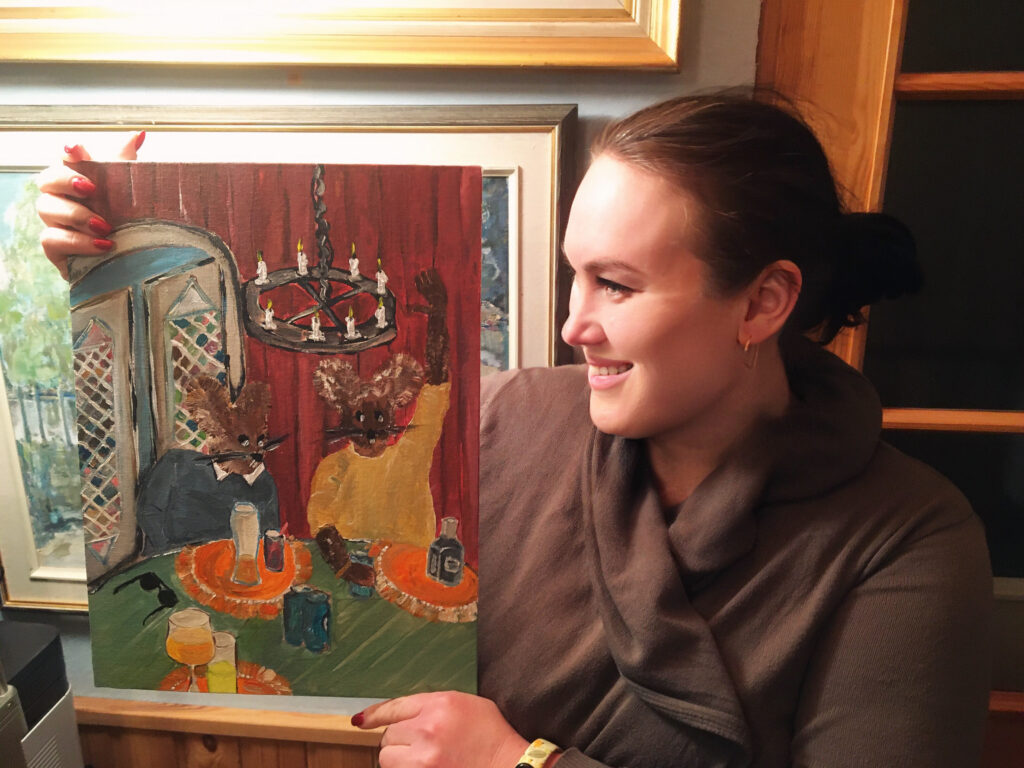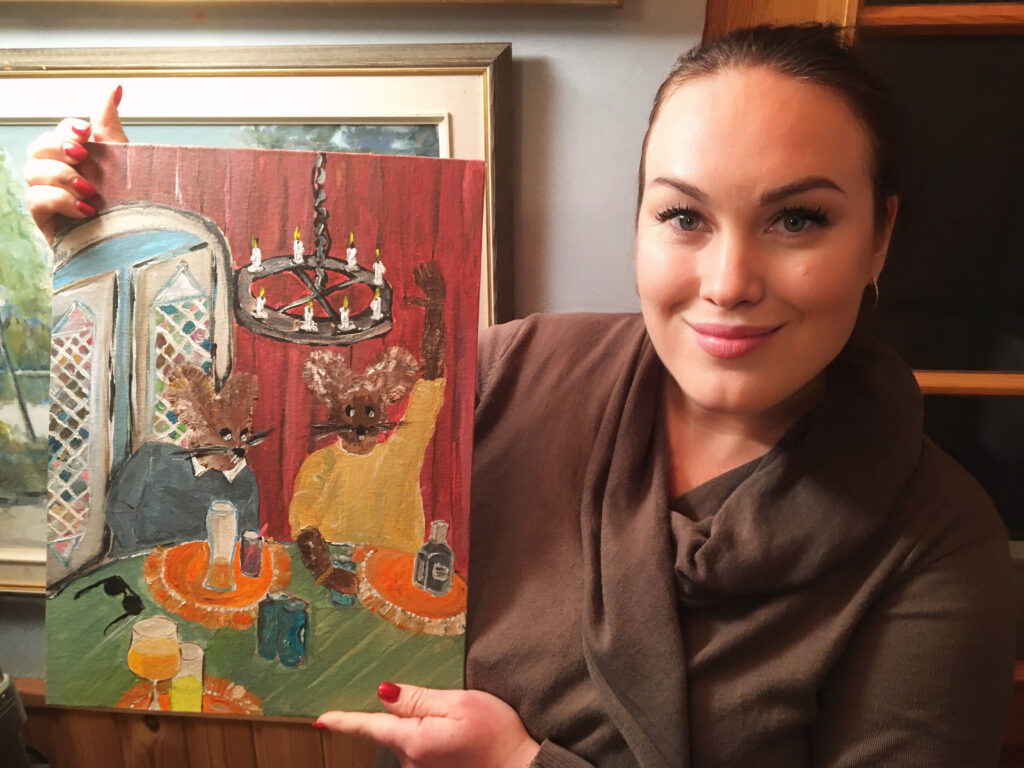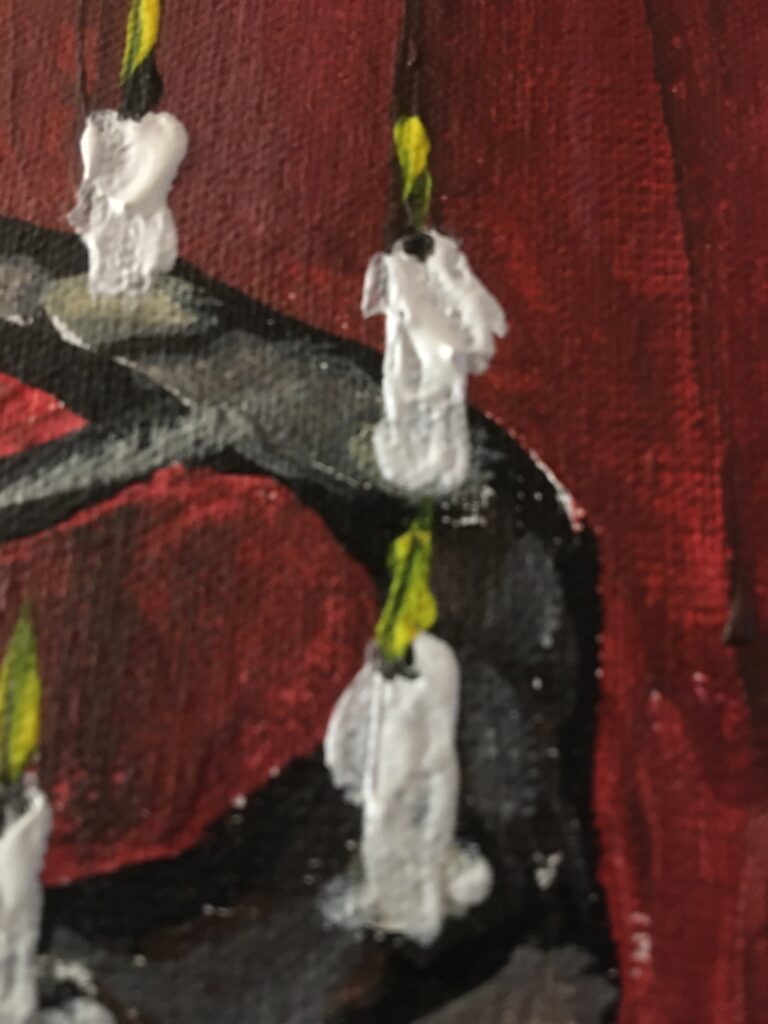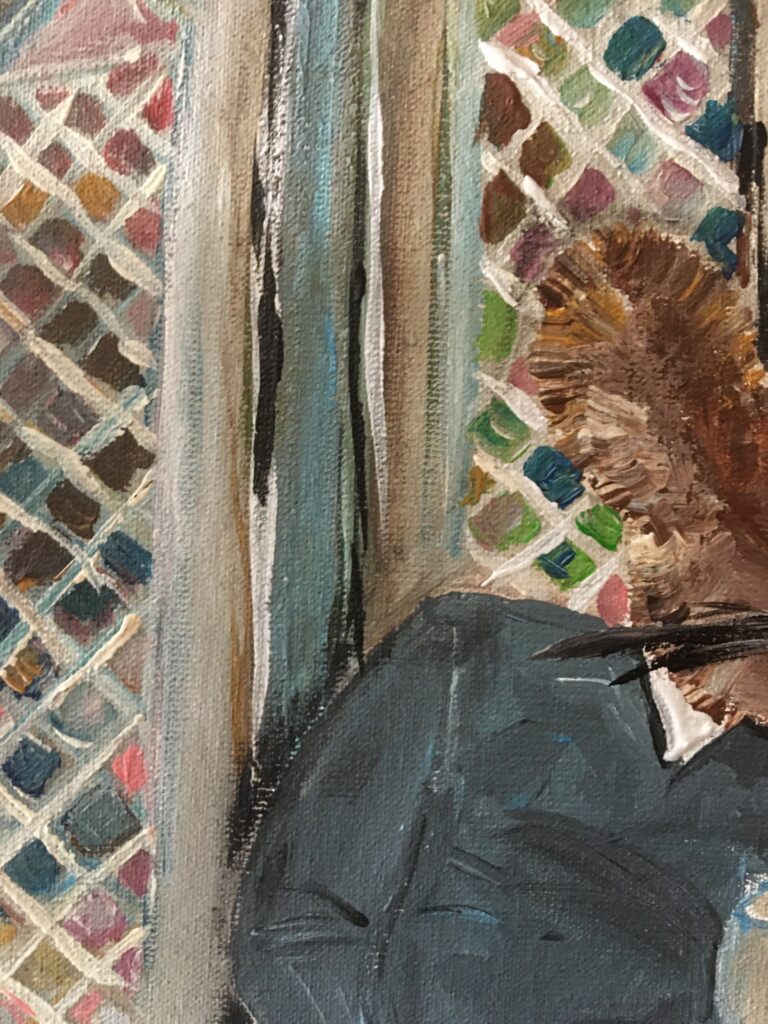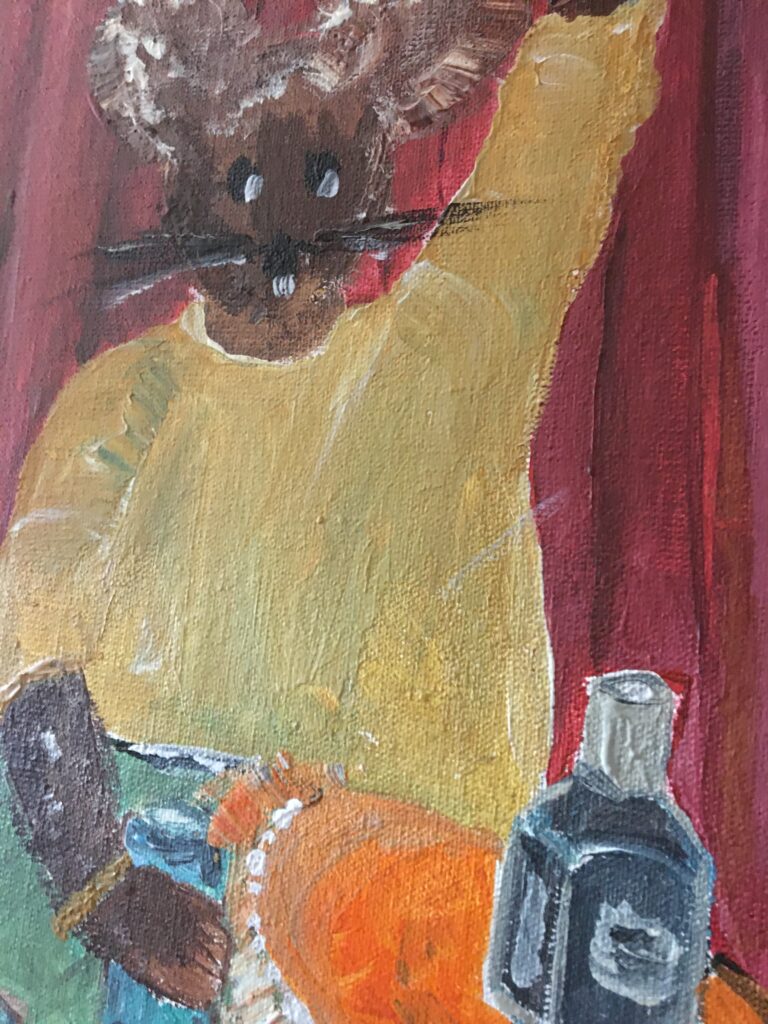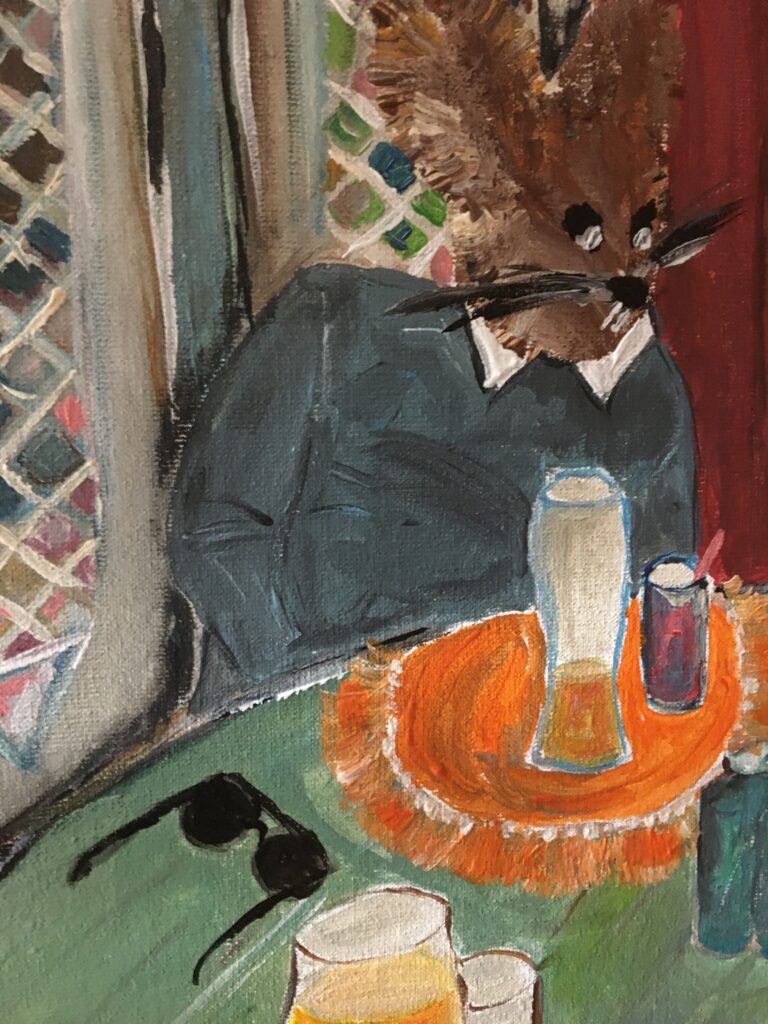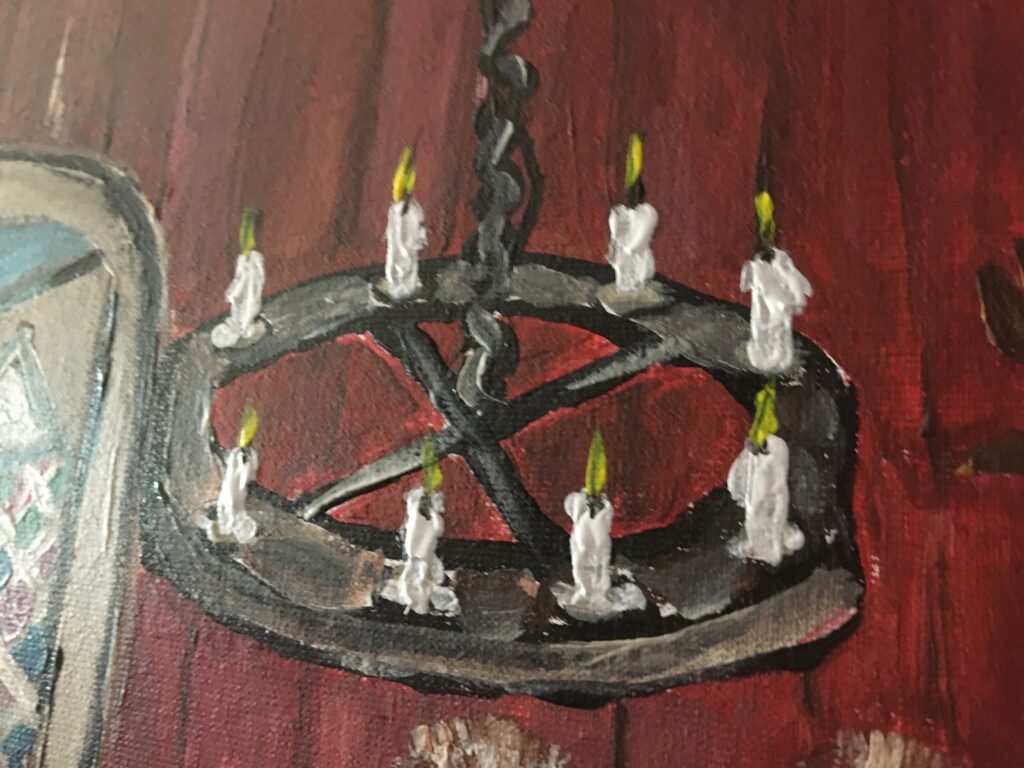 Look also the other paintings from this Mouse-series:
Vaata ka Hiire-seeria eelnevalt valminud maale:
#16 Paintings by Helena-Reet Ennet: "His Highness Mouse the First" (series – painting nr.1), September 2020 + children's book idea!
#17 Paintings by Helena-Reet Ennet: "His Highness Mouse the First" (series – painting nr.2), September 2020
#18 Paintings by Helena-Reet Ennet: "His Highness Mouse the First" (series – painting nr.3), September 2020
#19 Paintings by Helena-Reet Ennet: "His Highness Mouse the First" (series – painting nr.4), September 2020
#20 Paintings by Helena-Reet Ennet: "His Highness Mouse the First" (series – painting nr.5), October 2020
#21 Paintings by Helena-Reet Ennet: "His Highness Mouse the First" (series – painting nr.6), October 2020
#22 Paintings by Helena-Reet Ennet: "His Highness Mouse the First" (series – painting nr.7), October 2020
#24 Paintings by Helena-Reet Ennet: "His Highness Mouse the First" (series – painting nr.8), October 2020
#25 Paintings by Helena-Reet Ennet: "His Highness Mouse the First" (series – painting nr.9), October 2020
#26 Paintings by Helena-Reet Ennet: "His Highness Mouse the First" (series – painting nr.10), October 2020
#27 Paintings by Helena-Reet Ennet: "His Highness Mouse the First" (series – painting nr.11), November 2020
#30 Paintings by Helena-Reet Ennet: "His Highness Mouse the First" (series – painting nr.12), February 2021
#31 Paintings by Helena-Reet Ennet: "His Highness Mouse the First" (series – painting nr.13), March 2021
#32 Paintings by Helena-Reet Ennet: "His Highness Mouse the First" (series – painting nr.14), March 2021
#34 Paintings by Helena-Reet Ennet: "His Highness Mouse the First" (series – painting nr.15), January 2022
---